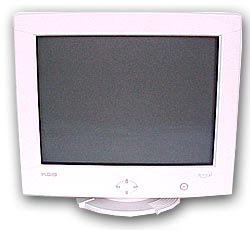 Geometry: The geometry on the KDS's display is excellent, all lines are perpendicular and straight.
Brightness / Contrast: There is good separation between the dark black shades as well as the lighter shades. The blackest shade is very dark and the whitest shade is quite bright.
High Voltage: During this test we noticed the external trace line bending very slightly. This motion was most visible on the vertical line, though it was also slightly seen on the horizontal line.
Colours: White is very pure and bright, no red or blue tints. The horizontal dampening wires are visible on the white background. Red seems a bit washed out, and could be more vibrant. Blue and Green are excellently reproduced and very vibrant.
Convergence: The corners of the display start to show the effects of lost convergence as the red and blue colours begin to deviate from the edges of the white grid. The blue colour is most visible on a pink grid, red is visible on the yellow grid and on the red-green-blue grid the blue is visible off center at the very corners.
Focus: Focus is very good in the corners where it can often become blurred.
Resolution: While looking at a pattern of vertical and horizontal variously sized lines the vertical lines appear slightly blurred together in a consistent fashion over the entire real estate of the display. This not overly significant however.
Moire: The KDS exhibits excellent moire except when the test moves to a solid screen of vertical 1 pix black and white lines. The lines appear blurred together. 1 pix horizontal lines are perfect and the 1pix squares start to show signs of the shadow mask.
Readability: As with most displays the text is sharpest at the very center, and very good at the corners.
Jitter: None whatsoever.
The KDS AV7TF supports a fairly conservative range of resolutions. The full list of manufacture supported resolutions and frequencies are listed below:
Display Resolutions:
Resolution
Freq Hor.
Freq Ver.
Standard
720x400
31.5kHz
70Hz
VGA
640x480
43.0kHz
85Hz
MAC
800x600
47.0kHz
75Hz
SVGA
800x600
53.7kHz
85Hz
SVGA
832x624
49.7kHz
75Hz
MAC
1024x768
60.0kHz
75Hz
XGA
1024x768
68.7kHz
85Hz
XGA
1280x1024
64.0kHz
60Hz
XGA