The KDS AV7TF is a really inexpensive 17" display with some very good qualities. While the 17" formfactor may seem overly small to many people, it is still alive an well for many people who are not interested in paying the premium prices for a larger 19" display.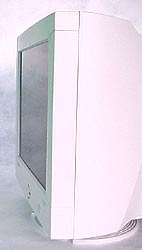 By combining the 17" formfactor with the very good quality FD Trinitron Flat face display tube, KDS has managed to offer a very good display to the market. While the effect is not quite the same a true LCD display, the flat face of the CRT has several advantages to the user. Typically distracting reflections are greatly cut down from stray overhead lighting, an the 0.24mm dot pitch produces a very clean image.
We did notice a slight deficiency in the display during the test at reproducing a vibrant red, but otherwise the points were largely minor, and would remain difficult to detect without the test program.
To sum up our opinions, the KDS AV7TF is a very good 17" display and is well worth considering should you be in the market for a monitor of this size.