KDS AV-7TF 17" True Flat Monitor Review
---
There is an unspoken competition between the various monitor manufacturers in regards to what is exactly a "flat" CRT display. While many of the monitors in question have a perfectly flat exterior, the real challenge lies on the other side of the glass. It is this unseen area that lies at the heart of the debate.
Of the many self titled flat CRT displays on the market there are essentially three varieties. The first type is produced with the internal side of the display glass curved in both the vertical and horizontal directions, the second display type has the glass curved in only the horizontal direction and the third uses glass which is perfectly flat.
The visual difference between the three varieties is slight, but noticeable under some circumstances. The KDS AV-7TF uses a FD Trinitron flat face display so the front glass is curved in the horizontal direction. Trinitron tubes use a grille mask which has two dampening wires running horizontally. There has always been a big discussion about these two very fine wires, and whether or not they are noticeable, distracting, or completely annoying. In our case, the wires were not immediately noticeable, and then only so on very light backgrounds. We didn't find them very bothersome at all.
KDS AV7TF Flat CRT:

17.0" True Flat FD Trinitron display
Dot pitch of 0.24mm
1280 x 1024 Resolution
Processor-based design and digital controls
Comes with: 6 foot power cord, manual.
Manufacturer: KDS (Korea Data Systems)
Cost: ~$340 CDN
As we were browsing through the instruction manual for the KDS AV7TF we noticed this comment about the best possible way to position a display. Never having heard this tip before I was a bit surprised, but I suppose it does make sense - even though I've never personally noticed the difference when moving my own display about.
"The earth's magnetic field may interfere with the magnetic field generated by the monitor causing a slight rotation of the image. The higher the performance of a monitor, the more susceptible the monitor will be to such interference. To get the best alignment, orient the monitor so that the face of the screen faces east, and choose the rotate control from the OSD menu."
You lean something new everyday I guess :-)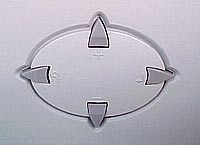 The display rotates 90 degrees on the horizontal plane, and 16 degrees up and down. The vertical of adjustment was more than adequate for us. The control panel for the display consists of only four buttons, in addition to the power switch. The control panel allows the user to navigate through the OSD and to access one-touch degauss.
The front bezel is bare otherwise, and reiterates the flatness of the display with some good post-it note area (a must as far as we're concerned).