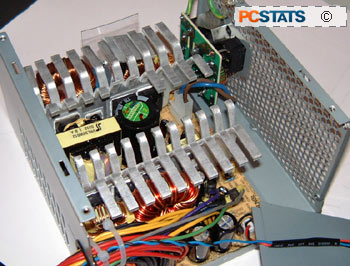 To help keep the power supply running at the highest efficiency and reliability, Seasonic have integrated a Forward converter into the Super Tornado. A forward converter is a DC to DC converter that stores electricity in the output inductor instead of the transformer. The company claims this method is more efficient then the traditional half bridge design which is found in most other power supplies on the market.
Forward Converters control electricity via a Power MOS (Metal Oxide Semiconductor) instead of a bipolar transistor. The advantage here is that the PowerMOS is much smaller and switches must faster than the transistor which tends to increase the overall powersupply efficiency by a finite amount.
Forward Converters are also a lot faster at switching voltages (the rate which DC voltages are switched on and off). The Seasonic Super Tornado can switch at 100KHz while standard PSU's apparently do the same process at 32KHz. Another advantage of using Power MOS is that it operates better over a wider temperature range while bipoloar transistors can lose stability at elevated temperatures should a fan fail for example.
Power Factor Correction:
Power factor is the ratio of actual AC input value when compared to power consumed by the various PSU system circuitry. Power supplies without PFC usually only have an actual PF rating of 50% (the rest is turned into heat energy). With PFC, first and foremost you'll notice that your system has better voltages as the onboard circuit controls the individual lines. An active PFC power supply will also draw less power, and will cost you less in electric bills over time.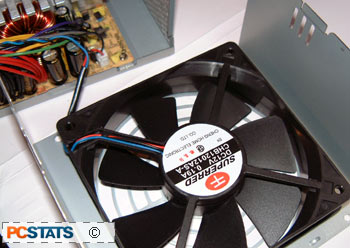 With the Seasonic Super Tornado there's actually an onboard circuit that controls where electricity is going and how much current is to be applied. Because of this setup, the efficiency of the Super Tornado PSU is listed at "close to 99%" by the manufacturer.
The Super Tornado 400W PSU does look quite special at first glance. As I'm sure you can see instead of going with multiple smaller fans which generate more noise, Seasonic have used one large (SuperRed CHB12012AS-A ) 120mm which pushes around 60 CFM of air while spinning at a top speed of 1700 RPM.
To help improve system exhaust, Seasonic went with a Honey Comb grill design because it tends to offer less resistance to airflow. If you're looking to tweak your voltages I think you'll have to look elsewhere as the power supply does not have any internal potentiometers which are enthusiast serviceable.