Seasonic state that the 3.3V rail can deliver 28 amps while the +5V rail can deliver 30 amps and together they have a combined wattage of 200W. The 12V rail can push 22 amps, -12V 0.8A and the +5VS 2 amps. Since we currently have no means of really stress testing the system with a load cell, we'll have to rely on the listed specs.

PCStats Test System Specs:
processor:
intel pentium 4 3.0ghz (800mhz)
clock speed:
15 x 200 mhz = 3.0 ghz
motherboards:

gigabyte ga-8knxp i875p

videocard:

ati radeon 9800 pro, catalyst 3.7

memory:

2x 256mb corsair xms3500 cas2

hard drive:
40gb western digital special ed.
cdrom:
nec 52x cd-rom
powersupply:
vantec 400w ion psu
heatsink:
avc sunflower
software setup
windowsxp build 2600
intel inf 5.00.1012
all voltages were read from the bios from the motherboard.
Listed Voltages
AMP
Lower Voltage
Upper Voltage
Jitter
+3.3V
28A
3.33v
3.33v
0.00v
+5.0V
30A
4.98v
5.02v
0.04v
+12V
22A
11.99v

12.02v

0.03v
-12V
0.8A
12.00v
12.00v
0.00v
+5.0Vsb
2A
4.99v
5.00v
0.01v
Talk about stable voltages! The 3.3V rail did not fluctuate one bit during use and the lowest the 5V rail hit was 4.98V! We're impressed with the 12V rail as well only going to 11.99V means that your system will be extremely stable.
According to Seasonic, the Super Tornado is built for gamers and overclockers, and I'd say they've delivered. Ask any enthusiast if they think power supplies are essential and you'll get a resounding yes! While the power supply is not much to look at, its performance speaks for itself and I'm sure overclockers out there would prefer something that works, and runs quietly.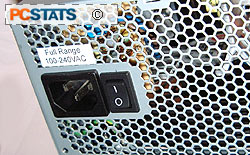 Seasonic was quite innovative with their Super Tornado power supply, instead of using multiple fans which have to spin at a higher RPM and produce more noise, they went with a low RPM 120mm fan instead.

This helps keep things quiet and the fan pushes enough airflow to keep the power supply nice and cool as well. Little things like going with the honey comb air vents shows that the manufacturer is serious about making their product as efficient as possible without sacrificing EMI shielding or airflow.

The 'Dr. Cable management system' is a good idea and the instructions on how to implement it are sufficiently clear for a new user to understand. Tack on eight molex and two floppy drive power connectors at nice length, and you should easily find Seasonic's 400W powersupply meets most requirements. We would have liked to see Seasonic bundle a few molex to Serial ATA cables as well, but you can't win them all. With a retail price of $145 CDN ($109 US) , the Seasonic SuperTornado is a little on the expensive side as powersupplies go. Though, if you're looking for a new power supply to keep your gaming/overclocked machine happy then I think you will be quite satisfied with this unit.

Find out about this and many other reviews by joining the Weekly PCstats.com Newsletter today!

Related Articles:

Here are a few other articles that you might enjoy as well...

1. PC Power & Cooling Turbo-Cool 510-PFC Power Supply


2. Vantec 470W Stealth Powersupply Review
3. Antec TruePower 430W Power Supply Review