Abstract: A medical primer for your computer, from dust bunnies to defragging, keep your computer in good health by giving it a yearly checkup!

Home > Reviews > Beginners Guides > PCSTATS
Cleaning and re-oiling fans.
Most case and heatsink fans are easily and cheaply replaceable at your local computer or electronics store, but if you do not feel like making the trip, here's the procedure for cleaning and oiling them, and hopefully squeezing a bit more life out of your investment.
Open the system while it is powered on in order to identify the fans that are causing trouble. Power off the system and remove the fans from the case. Clean all visible dust, dirt and residue from the fan blades and body with blown air and a soft cloth.
Note that compressed air should not be used to clean the fan blades as it will often spin the fan far faster than it is intended to, and may cause damage to the bearing inside, making the problem worse.
Static electricity is not an issue with fan parts, so any type of material may be used to clean it outside the computer case. Once the fan is clean, peel the sticker from the back of the fan, exposing the oil well. There may or may not be a rubber plug under the sticker protecting the oil well.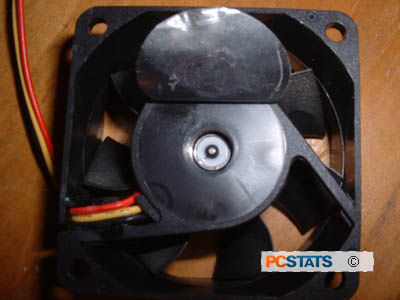 Once the sticker is removed, pry up the rubber plug with a fingernail or screwdriver if necessary and apply a single drop of oil to the inside of the fan. Replace the plug and sticker. Replace the fan and allow it to run for a minute or so to let the oil permeate the inside.
Hopefully this will eliminate your noise issues. Note that fans which have been exposed to excessive dust or hair may have particles clogging the fan assembly, in which case the oiling is only likely to help temporarily, if at all.
Standing dust on motherboards or PCI cards is actually not particularly harmful to the innards of your average PC unless it is allowed to collect in such quantities that it disables fans, chokes heatsinks (reducing their ability to pass heat) or clogs expansion slots.
Potentially much more harmful is the damage that can be caused by improper cleaning.
< Previous Page
© 2022 PCSTATS.com

Please respect the time and effort that went into creating each PCSTATS Beginners Guide, do not illegally copy. Thank you.

Next Page >