There are a few ways of removing unnecessary startup programs. You can go to 'start\programs\startup' which is a directory Windows XP uses to launch application shortcuts on boot-up. If you remove the shortcuts from this directory, the applications will not load on startup.
This directory can also be a repository for various badness such as spyware and virus software, so if there are files here which are not shortcuts and you don't recognize them, you may wish to consider removing them anyways, as Windows will not place critical files in this directory.
The next location for removing unnecessary startup files is the handy MSCONFIG utility that has been resurrected from the graveyard of Windows 9x specially for XP. Go to 'start\run' and type 'msconfig' to access the utility.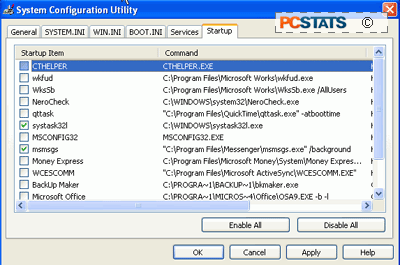 The 'startup' tab in MSCONFIG provides access to several other applications that are started at boot up and are running in the background. By examining their Filenames and directories, you should be able to get a feeling for what is necessary and what is not.
Be aware than several viruses and worms have a habit of disguising themselves with authoritative sounding Windows system file names, such as the Win32.spybot.worm present in the above screenshot as MSCONFIG32.EXE.
Leave these for now if you are not sure. The other method for removing these programs is through the programs themselves, as many applications, for example MSN messenger, contain the option to remove the software from startup.