While not really a performance enhancer, the Disk Cleanup utility will check your drive and compile a list of temporary and unnecessary files that you can delete to free up space on your PC. It also offers the option to compress older data files to save room. It can be found at 'start\programs\accessories\system tools\disk cleanup'
Finding and removing spyware
For a more detailed examination of what spyware is and how it can affect your computer, see our previous beginner's guide on the subject. For now, try downloading the Ad-Aware and Spybot search and destroy software mentioned in that guide. Update them both and run them to cleanse your system of unwanted software that may be slowing down your computer and Internet performance as well as compromising your privacy.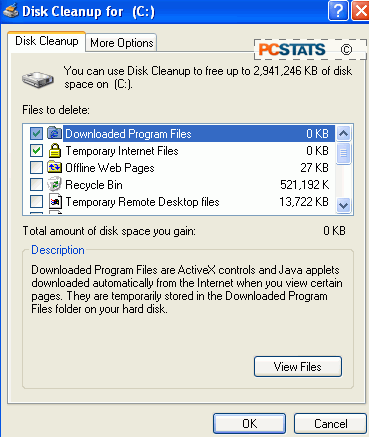 Scanning for Viruses

This is essential for the health of any PC, and may well improve your performance if your PC turns out to be infected, as several strains of computer virus may adversely affect your PC's operating efficiency. See our article on viruses and online security for more details.

Colin's Tip Archive

For further hardware and software performance tweaking information, consult the guru. Colin has compiled an excellent collection of tips and tricks, which you may find of use in your journey to restore your PC's lost youth.

Find out about this and many other reviews by joining the Weekly PCstats.com Newsletter today! Catch all of PCSTATS latest hardware reviews right here.