The outer flap protects the two deep inner pockets and the cargo pocket from wandering hands. Covered in Indium, and locked in place with the oh-so funky 747 seat buckle, the outer flap zips open to reveal a large pocket hidden inside. The zipper looks like it has been sewn on at an odd angle, but when you're wearing the Cargo over a shoulder the zipper ends up on the level.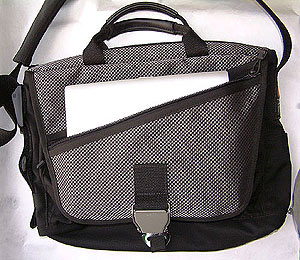 The pocket is quite large and can easily hold a pile of 8.5"x11" paper, or in this example an NEC Ultralite Crusoe-based notebook. Paper! Who uses paper? Most of the time this pocket carries the small and bulky things that won't fit in with the more regularly shaped stuff inside the bag. It is easy to reach with one hand behind the back thanks to some small zipper thingies, and since the pocket is closed on three sides, your stuff won't fall all over the side walk when you open it up.
The cargo pocket
The cargo pocket lies hidden behind the outer flap which folds up and out of the way to reveal this pocket and two others. In all honesty, the cargo pocket gets abused the most on this bag. Inside of it there is a small pocket to hold fragile things in place. The main pocket compartment is good for lugging around power adapters or NIC cables as it can bulge out a few inches.
Above and behind the cargo pocket are two deep pockets which I didn't find for quite some time after getting the bag - they are well hidden. The two deep pockets are perfectly shaped for holding a CD player and a stack of CD's (discs in sleeves are better, though the cargo pocket will hold about 8 jewel cases). In this example below we have these two pockets stuffed with a portable CD-ROM and floppy drive for the NEC Ultralite. There is a stack of CD's behind the USB floppy drive, but you can't really see them.