There is one last pocket on the Waterfield Cargo, but it's one that I haven't really used much. On the front of the bag just below where the 2" wide shoulder strap joins up is a small pocket for a cell phone, or something small like that. I'm tempted to use it to hold a water bottle but as it turns out, it isn't the right size for that - a pack of gum or Penguins would fit easily however.
Conclusions
Overall I must say that the Waterfield Cargo bag has fully met and exceed all of my expectations. The bag is completely functional and packs enough visual design treats to satisfy anyone. The construction and attention to detail is superb, and the materials tough and selected to last a long time.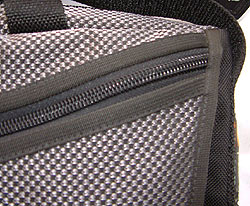 Having grown up expecting anything that looks like leather to in fact be pleather I was surprised to see that the handles on the bag were genuine 'cow skin'. The shoulder pad was a bit stiff at first, but the ample padding makes it quite comfortable to use on those heavy-lift days.
Most of all, the Waterfield Cargo is epitomized by the 747 seat buckle and Indium covering - strong, long lasting and elementally stylish.
The only downside to the whole bag is the price tag. Just like the Aeron and Ypsilon, good looks and high quality workmanship don't come cheap. Expect to pay ~ $200 USD.
For a bag that will last 10+ years that's well worth it. Comes in Lead, Blueball, Celeste, Peppercorn, Taxi and Black Ballistic colours from www.sfbags.com
UPDATE: September 2011 - This bag HAS lasted 10 years! After 10 years of daily use and at least 4 trips around the globe, the Waterfield Cargo Bag shows little worse for wear. The ballistic nylon hasn't ripped, the leather handles have held up... the only place it has worn is the outer pocket zipper which oaccasionaly skips a tooth.