The inner compartment is one large yellow nylon space which in the case of this size cargo bag (they come in small, medium and large sizes) is quite able to hold a full size notebook, a stack of press releases, the power adapter for the notebook, a few pads of paper, and all the little bits and pieces of daily business life that fit into the set of three pockets which line the compartment.

If you're the sort that relies upon a PalmPilot of Handspring Visor, the pockets are rightly sized to hold one of them, along with a BlackBerry, some business cards, and a small army of pens. A plastic clip is sewn into one corner to hold keys as well.
The newspaper pocket
I must admit I've never used this pocket for a news paper, but plenty of magazines, notes, manuals, and maps have made in there. The pocket is again lined in yellow and secured by a three inch strip of Velcro for easy access with one hand. It is about the same dimensions as the inner compartment but designed to hold thinner things, like a folded up newspaper.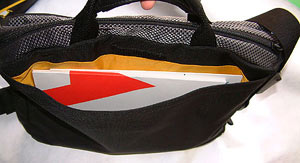 So far I've never had any problems with this pocket coming undone, or the Velcro not staying put.