SmartMedia Flash Memory
With the help of the very slim 128MB SmartMedia flash storage card, the 6900Z can store up to approximately 1330 640x480 resolution images, 398 1280x960pix images, 215 2048x1536pix images, 113 2832x2128pix images, 7 ultra high resolution 2832x2128 pix images or about 774 seconds of full motion movies. It is somewhat amazing that all of this data can be stored on something roughly half the size of a credit card, and no less thick.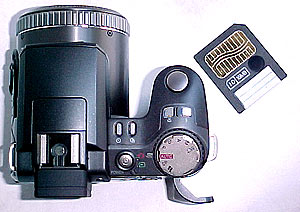 I've worked with a few different types of flash-based digital cameras over time and would have to say that the SmartMedia storage is one of the best to work with. Images are stored very quickly and the media is small and robust to last through many repeated insertions. On the lowest resolution setting (640x480), the photographer should be able to just manage a photo a second.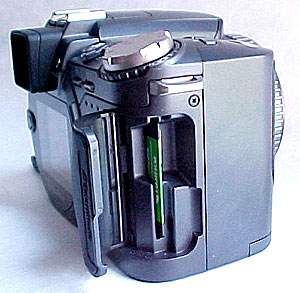 The SmartMedia card is stored in the camera behind a small rubberized flap. If the camera is inadvertently left on and the flap is opened it will cut power to prevent any damage to the media from occurring. There are no ejection mechanisms to remove the memory, it need simply be pulled out of the slot by hand.
The Camera: USB Connection
One of the best features to ever make it into a digital camera is USB support. Rather than removing images from the flash card media via some third-party reader, the camera can simply be connected with a special USB cable to the computer. Once the FinePix Viewer software (along with a few other programs) is installed on the host computer the camera will show up as a removable drive and the images or movies can be moved to the hard drive as you would move any file normally.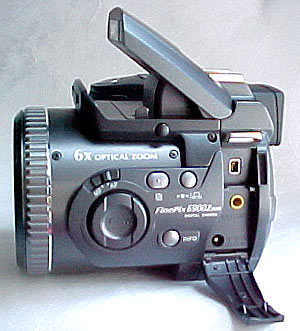 Behind a small flap which also hides the power input for recharging the cameras' 1300mAh lithium-ion battery and the input for the video hook up, the USB port lies in wait. The FinePix comes with a CD-ROM that makes it possible to connect the camera directly to the PC for file transfer.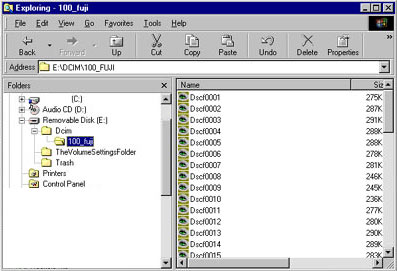 When connected, the flash storage card onboard the FinePix becomes a removable drive, and the FinePix Viewer software is launched. You have the option to edit out the frames which don't meet your criteria, or move all the images to another directory on the PC.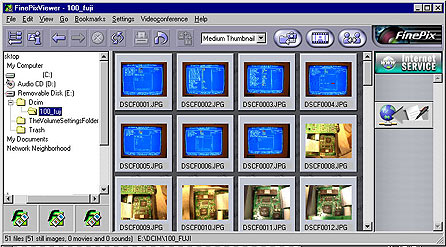 FinePix viewer is a handy utility which lets you browse through collections of images as thumbnails, and even offers some embedded features like video conferencing. All in all it is a useful piece of bundled software.