FujiFilm FinePix 6900Z 3.3MegaPixel Digital Camera
---
Digital cameras were once bulky, low-resolution pieces of expensive electronics with scant storage and little real world usefulness. If that was then, the FujiFilm FinePix 6900Z is now. Packing a powerful 3.3 megapixel honeycomb shaped Super CCD photodiode, dual LCD viewfinders, a Super-EBC 6X Fujinon zoom lens and graphite-black magnesium alloy body - the 6900Z is anything but ordinary.
At a cost of about $1600 CDN, the FinePix 6900Z is targeted at the professional consumer who requires a high quality digital camera for work, for play, or for hobby use. The SLR shape will comfort traditional photographers, as many of the same functions and settings are at their disposal in familiar locations.
Rather than just test this digital camera out by taking a few random photos here and there, we decided to test the FinePix in our working environment. Our faithful low-res Sony Mavica was set aside and the FinePix entered full service for about two weeks. During that time we had a chance to test out 6900Z as it might normally be used by you, the consumer. We've tried to cover most of the features the camera encapsulates, but since there are so many we may omit a few that related to your particular requirements.
Ships with the following:

Rechargable battery
16MB flash memory storage media
Lens cap
USB cable
Travel charger
Shoulder strap
CD-ROM driver disk / software
Instructions
Full spec sheet:
Metallic body with shutter trigger on hand grip
6.0 Million Pixel File (2832 x 2128) using Fujifilm 3.3 Million Octagonal Sensor Super CCD System
New Super CCD Technology with Fujifilm High Definition Color Technology
Newly designed 6X Aspherical Zoom Captures Images with Astonishing Clarity, f/2.8-f/11; 13 steps. (35 . 210mm, 35mm camera equivalent zoom).
Additional 3.7 X Digital Zoom in VGA mode (22.5X Total).
Manual Focus Control Ring on Lens
5 Frame Burst Mode at 2832*2128 Resolution
Built-in Miniature LCD Through-the- Lens Viewfinder and 2" Color LCD Playback Monitor.
Full Exposure override, Shutter and Aperture Priority with Manual Focus Control & Hot shoe mount.
Optional Lens Mounting Ring for use with 55mm Filters, 1.5x Telephoto lens or 0.79x wide angle lens.
AVI Video Capture Mode; Record and Playback.
Convenient USB port for Fast Computer File Transfers.
Super CCD Technology explained
The technology behind FujiFilm's Super CCD revolves around five main points; improved resolution and signal to noise ratio, high sensitivity, horizontal/vertical skipped readout, miniaturized CCD, and high-speed electronic shutter. These five attributes when combined, yield a very adaptable and competent imaging solution which boasts several improvements over traditional imaging techniques.
-Increased Sensitivity, Signal to Noise Ratio and Dynamic Range: Essentially all of these points relate to how the CCD is constructed and how the photodiodes are oriented. In the SuperCCD system, the photodiodes are octagonal and oriented in a honeycomb pattern (or on 45 degrees). The octagonal shape is more efficient and can capture light better thus producing more electrical charge in the pixels and yielding gains in sensitivity, etc.

-Improved Horizontal / Vertical Resolution: The octagonal honeycomb structure of the photodiodes is such that when we examine the spaces between the cells on the horizontal and vertical axis, the spaces are significantly less than standard grid configurations. This inherent property of the octagon enables improved resolution in these two axis, and hence better image representation.
| | |
| --- | --- |
| | |
| SuperCCD has narrow intervals on the perpendicular axis so vertical / horizontal resolution is higher than diagonal resolution. | Traditional CCD's have larger gaps on the perpendicular axis which affects resolution on the horizontal and vertical scale. |
-Horizontal Skipped Readout: The image sensor contains an integrated digital camcorder / still camera that can shoot still images and offer video imaging equal to the quality of a digital camcorder. The horizontal skipped readout in 1/2 or 1/3 ratio offers full RGB sampling with each pass at up to 30 frames/sec.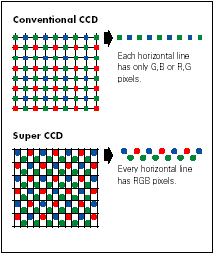 -Single Electronic Shutter: This may be a bit complex to grasp, but essentially the way in which SuperCCD photodiodes are constructed it is possible to use just an electronic shutter as opposed to a mechanical one. The positive side is that shutter speeds can be quite fast, and much more precise.
-Miniaturized CCD: The quality of the CCD is such that a smaller imaging device, and optics can be used. These imaging components can draw less electricity making it possible to create smaller more efficient camera systems.
Many of the techniques used in SuperCCD are based upon concepts derived from the way in which the human eye perceives images.