Now let's look at the actual procedure for converting VHS videotape to MPEG video clips.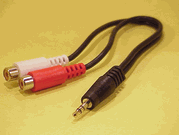 First, you will need to connect your VCR to your PC. Connect your VCR's video out to your video capture device's video in port. Generally this will be s-video or composite cable. Now connect the sound cable or cables (left/right) from the audio out of your VCR to the input of your soundcard via a RCA composite to mini-plug converter.
Now you need to make sure that you have the correct capture drivers loaded for your video capture device. If the device is your main video card, such as an Nvidia or ATI product, the capture drivers will probably not have been installed by default as they are separate from the main video drivers.
The installation CD for your video card should contain the capture drivers, or you can go directly to Nvidia's or ATI's website to download them yourself.

Note that when using newer Nvidia WDM drivers to capture video, you may experience image trouble with a white bar across the middle of the image. This is a result of the Macrovision copy protection scheme used in modern VCRs. One solution for this is to hunt down an older version of the WDM drivers. The 1.08 version should not give you any trouble.
Once you have located the drivers, install them and restart your system as necessary.
Now for the first test to make sure that everything is working correctly.
Fire up the Windows XP Movie Maker by going to 'start \ all programs \ accessories \ windows movie maker.'

Click the 'record' button to open the record window. Ensure that the video and audio capture devices shown to the left are correct.
Power on your VCR, insert a tape and play it. You should see the image on your screen in the record window and hear sound. If you do not, recheck your connections, and verify that the correct capture drivers were installed and that you restarted your system after their installation.
Now that the hardware is working correctly, it's time to choose what software to use to capture your video.
The basic choice is the Windows XP Movie Maker you are currently staring at. It's easy to use, and has the advantage of being already there. The disadvantage is that its capture options are rather lacking. Its default settings will give you excellent results, but you can't really go any higher in terms of quality if you'd like something better.
Failing that, there are a couple of other freeware options that we will explore. You can also use the software (if any) that was included with your video card, or a professional package like Adobe Premiere. There are a lot of options, but for this article we will limit ourselves to the free and built-in ones WinXP comes with.