If you are not happy with the results you are getting from Windows Movie Maker and wish to explore some other options, you have a few choices.
Note that if you are unhappy with the results from movie maker because of the performance of the video, due to choppiness or long pauses, your computer may not be fast enough to compress video while capturing it, which is what movie maker does. As we mentioned before, trying to compress video during recording places a heavy load on your system's processor and memory.
If you have a slower system, but a good amount of free drive space, try using one of the programs below to capture 'raw' video (without compression), then compress it after you have finished recording. You might find this gives you better results.
If you have no problem with performance so far, but you'd like to explore ways to get higher quality video captures, you can play around with some of the other programs we detail below. The first thing you should do though, is download some extra compression codecs. These are installed on your machine just like drivers, and can be made use of by various video capture software.
For starters, grab the codec pack here as it has a good set of high quality video compression codecs. You can also try Nimo's 'lite' codec pack here.
Install all codecs after downloading the pack(s), but be aware that the version of the DivX5.1.1 codec included here contains adware which you may want to avoid or remove. See our article on adware and spyware for details.
Now let's take a look at a couple of easy-to-use freeware video capture programs and one not so easy to use, but more flexible one.
Using STOIK video capture
This freeware program is similar in functionality to the Windows movie maker, with the added advantage of letting you use downloaded codecs to improve the performance of the video capture. STOIK can be downloaded here. Once that is done, install and load STOIK video capture.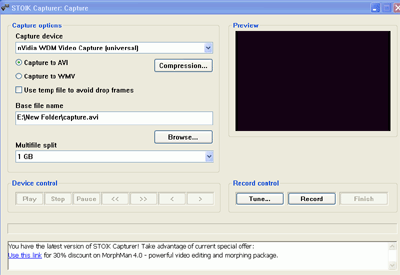 All the action takes place on this main window. As you can see, the preview window is right there, and should be active as soon as you press play on your VCR. If not, check your connection, and then check that you are using the correct capture device. If so, make sure the program is set to check the input method you are using by hitting the 'tune…' button, then selecting 'video input.'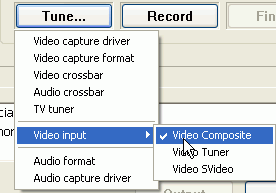 Now change the 'base file name' to the file, directory and drive where you would like to store the captured video.