Let's start with how to use Microsoft's built-in Movie making software. They actually released a second version of this a little while ago which considerably expanded its capabilities. If you haven't already, download it through Windows update: Go to 'start\all programs\windows update' and find new updates. It will be in the 'windows XP' category.
Download and install the update. Once that is complete, start Windows Movie Maker: "start \ all programs \ accessories \ windows movie maker.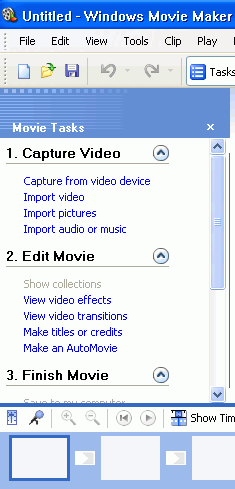 Click 'capture from video device' on the left-hand menu.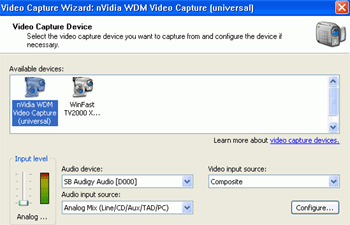 Now choose the video device that you wish to use to capture the file. Also make sure the correct sound card is selected under 'audio device.' Raise the 'input level' slider up to about halfway, as this represents the volume level of the captured audio. Select the correct 'video input source' (either composite, s-video, or TV-tuner). Click OK.