As we all know, every single card in the GeForce2 lineup is memory bandwidth limited, so it's a nice touch. Below is a chart which differentiates between the standard GF2 MX lineup.
| | | |
| --- | --- | --- |
| GeForce 2 MX | GeForce 2 MX200 | GeForce 2 MX400 |
| .18m | .18m | .18m |
| 175 MHz Core | 175 MHz Core | 200 MHz Core |
| 166 MHz Mem | 166 MHz Mem | 166 MHz Mem |
| 128bit SDR/64bit DDR | 64bit SDR | 128bit SDR/64bit DDR |
| 32MB/64MB | 32MB/64MB | 32MB/64MB |
| 2.7 GB/s bandwidth | 1.35 GB/s bandwidth | 2.7 GB/s bandwidth |
| 350 MPixel/s | 350 MPixel/s | 400 MPixel/s |
| 700 MTexel/s | 700 MTexel/s | 800 MTexel/s |
Unfortunately the drivers supplied with the care are that of the older nVidia Det. 7.xx line, however, there might be a method to this madness. It's been long known that the Det. 7.xx drivers are the fastest DirectX7 drivers available, so since this card was designed to take advantage of today's games and not tomorrow's everything should work out quite well.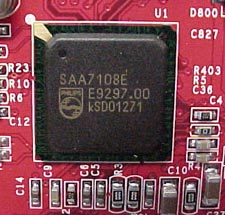 I'm not one to really use all the extra features present on the MSI MX400 Pro-VT32S, but it was nice to know they were there if required.
Video In, Video Out was courtesy of the Phillips 7108E chip. This isn't the best video chipset, but it's very economical and does the job. I did try watching DVD's on my 30" Toshiba TV, and I found the quality acceptable. It wasn't really quite up to par with my standalone DVD player, but it was ok.
Unfortunately, I wasn't able to take pictures of the quality because my pop is mad at me and wouldn't let me use his digital camera, [Colin tries to 'overclock' literally everything - Ed] so you're going to have to take my word for it!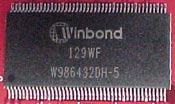 One thing in particular which I found very interesting was that neither nVidia's Coolbit's registry hack or NVMax could figure out the clock speed of the card, I had to use MSI's own 3D!Turbo utility.
As for overclocking, it was rather overclocker friendly - something which MSI is generally know for building into their products. The core did 10% more which is okay, but the memory could be pushed all the way up to 229 MHz up from 183 MHz. Of course, our sample did have 5 ns SDRAM which helped. When you look at the benchmarks, you'll see that overclocking the MX400 really leads to substantial performance gains.