For your work station, the mouse should be within easy reach so that you do not have to stretch every time you use it. Keeping it close to the keyboard reduces some risk of injury. You should be grasping the mouse from slightly above, so that your wrist is higher than your hand.
Good posture is important of course. If you don't have a good chair with back support consider getting one. Remember, just like your parents have always told you, avoid slumping.
Changing Monitor Refresh Rates
The monitor should be directly in front of you with the top of the screen at eye level or below. To reduce eyestrain while using a traditional Cathod Ray Tube (CRT) type monitor, set your refresh rate to 75Hz or higher.
Here how to do this: Right-click anywhere on the Windows desktop, select 'Properties' then the 'Settings' tab, then 'Advanced' followed by the 'Monitor' tab. Using the drop down box of available monitor refresh rates (ie. 60Hz) you can adjust the refresh rate setting a faster value (ie. 70Hz or 75Hz) that will be easier on the eyes. Refresh rate is the frequency that the screen redraws itself every second.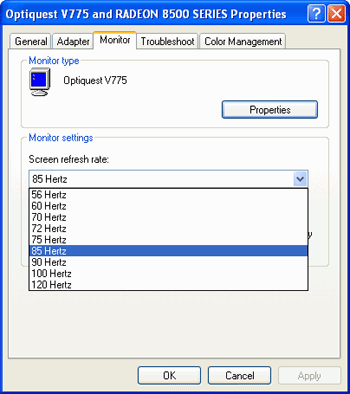 Refresh rates higher than 60Hz equal less perceptible screen flicker, which equals less strain on the eyes. Older CRT monitors may not be able to reach 75Hz or 80Hz refresh rates however, but the majority will at least go as far as 70Hz. Note that changing the refresh rate may cause a brief period of discomfort while your eyes adjust to the new speed.
Also note that if the 'monitor' tab indicates that you are using a 'default monitor' you may need to obtain the correct drivers for your monitor before you can change the refresh rate without hitting "unsupported frequency" errors. If you do don't worry, you just need to wait 15 sec before the computer resets the values if you don't agree to a little pop up box.
Pain and discomfort is the best indicator of repetitive strain injuries. If you are not experiencing anything worse than eyestrain after long periods of computer use, chances are your current setup suits you ergonomically.