There are many products out there intended to help you avoid repetitive strain injuries. We will not cover specific products too closely, but rather look at some genres with specific examples. Keep in mind that buying a new keyboard, wrist-rest or mouse will not cure an existing condition. They may well help ease the strain on your body, allowing it to eventually heal, but if you suspect you already have an RSI, seek medical help.
It may seem like a small discomfort now, but believe me, given the amount of work hours and even careers lost to RSI, it's worth taking seriously, and your doctor and co-workers should understand that.
Here are some of the most common types of ergonomic products that have been created to help prevent RSI in the first place.
Keyboard trays: Useful for ensuring that the keyboard and mouse are placed correctly level to or below the elbows. Test the position if possible before purchasing a desk with a tray.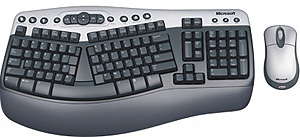 Wrist rests : Useful for resting the arms and wrists in-between typing periods. They should not be used while actually typing, as this can cause extra strain on the hands and wrists. Make sure they are not high enough to interfere with your natural typing motion.
Split keyboards: Keyboard design in which the main keys are split into two groups and angled at approximately 45 degrees to ensure that the wrists are kept straight while typing. Studies have shown that these are more comfortable in the long run, though they require some time to adjust to. Generally, the faster the typist, the longer the adjustment period. An example of a split keyboard is the Microsoft Natural Keyboard range.
Tented keyboards: A split keyboard in which the two halves are tilted outwards away from each other so that the palms of the hands face slightly inwards instead of straight down at the desk. These keyboards are based on the principal that working with the palms down distorts tendons in the fingers and wrist, increasing risk of injury over time.
Vertical keyboards: The tented keyboard taken to extremes. A split keyboard with the keys placed at 90-degree angles, so typing is done in the 'handshake position.' Can be very difficult to adjust to.

-The key layout of a Dvorak Keyboard.
Dvorak keyboard: An alternative key layout designed to place the most commonly used keys within easier reach. Can reduce risk of injury through reducing the range of movement needed to type, but requires complete re-learning of keyboard layout.