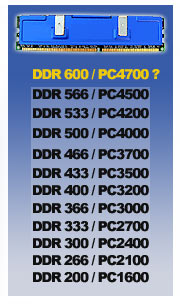 In highly competitive markets, once a major manufacturer releases a new and innovative product, the rest will surely follow close behind. If one manufacturer doesn't follow suit, their products are considered 'old tech'.
As always, everything always boils down to money and that's why we have this dilemma; to run faster memory with slower access times, or run slower memory with faster access times.
There are two trains of thought on this, the first is that high speed DIMM's (like PC4000 DDR) can make up for running slower timings by the amount of bandwidth provide the processor. Specifically, bandwidth is the amount of data that can be moved from one given device to another.
Most DIMM's that run tight timings, such as certain PC3200 & PC3500 modules, have to run the memory at lower MHz than the FSB. However, when overclocking to extreme speeds these DIMM's are bandwidth limiting the processor. What I mean by this, is that when the processor requires a great deal of bandwidth, the CPU will have to wait for another clock cycle before being filled, as the memory is just not fast enough to keep up at the same pace. Having a large pool of bandwidth is great when you're working with applications that process a lot of raw data, such as Photoshop or databases for example.
The other point of view is that CAS2-rated PC3200 & 3500 memory can make up for the lack of bandwidth because the memory has a lower latency that in effect moves data between the CPU and memory faster. Programs that do not require a large amount of bandwidth tend to benefit more from quicker data transfers between the memory and the rest of the computer; such as games or 3D applications.
Are the benchmarks skewed?
I know that's what some of you will be saying when you look at the benchmark suite, but let's be frank here. The enthusiast is more likely to overclock their home PC than one running the company web server, so it only makes sense that we focus our benchmarking effort on the applications that are most likely to be used. These include games and simple word processing. I can't see many enthusiasts overclocking their machines because they need to compile a database faster...
For the testing we'll be running the test system at 250 MHz FSB. When using the Corsair TwinX-4000 DIMM's the memory will be running in sync with the FSB while using 3-4-4-8 memory timings. While testing the Corsair XMS3500 CAS2 DIMM's, please note that the memory is running at 200 MHz (5:4 memory divider used) with timings of 2-2-2-5 .
Just for fun we also threw in some tests with the Corsair XMS3500 CAS2 clocked at 333 MHz (3:2 memory enabled) while using timings of 2-2-2-5.
PCStats Test System Specs:

Computer Hardware:

Processor:

Intel Pentium 4 2.4C*

Clock Speed:

12 x 250 MHz = 3 GHz

Motherboards:

Abit IC7 MAX3

Chipsets:

i875P

Videocard:

ATi Radeon 9800 Pro

Memory:

2x 512MB Corsair TwinX-4000
2x 512MB Corsair XMS3500 CAS2

Hard Drive:
20GB WD 7200 RPM HDD
CDROM:
NEC 52x CD-ROM
Floppy:

Panasonic 1.44MB Floppy Drive

Heatsink:
Prometeia Mach I
PowerSupply:
PC Power & Cooling TurboCool 510
Software Setup

WindowsXP Build 2600
Intel INF 5.20.1002
Catalyst 3.7

Workstation Benchmarks

Business Winstone 2002
Content Creation 2002
SiSoft Sandra 2004
PCMark2002
3DMark2001SE
AquaMark 3
Quake III Arena
UT2003
* - HyperThreading was enabled for all the tests.