Described by XGI as an "…entry level graphics solution." The Volari V3 is a Directx 8.1 compatible chip supporting up to 128mb of DDR. The V3 is a 2-pipeline, 2 texture unit design. The performance numbers quoted on the website are 300Mhz clock speed, 600MP/s fill rate. The V3 will use a 128-bit DDR memory bus, giving 9.6GB/s of bandwidth at a memory clock of 300Mhz.
The XP5 series is XGI's mobile graphics GPU, directly related to the Trident XP5. Composed of a 250Mhz core with two pixel pipelines, and one vertex and pixel shading unit respectively, the XP5 will ship in two different versions.
The 64 and 32MB versions will be the XP5m64 and XP5m32 respectively. The memory is clocked at 250Mhz DDR. XGI quotes performance numbers of 500 million Pixels/sec peak fill rate, 4 million texels/sec peak texture rate and 8GB of memory bandwidth.
The XGI Technology
BitFluent Architecture and the Volari Duo V8/V5 Ultra
The BitFluent Architecture is XGI's method of implementing dual graphics processors on a single video card, the Volari Duo. It is based on the simple principle of even data flow: One processor is connected to the AGP 8X bus in the usual manner, while the secondary processor connects to the first via a data bus with the same maximum bandwidth as the AGP 8X bus (2.1GB/sec).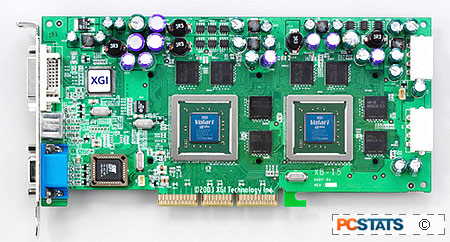 With BitFluent Architecture, XGI believe that potential data bottlenecks inside the card should be minimized.
The processors will work in parallel, each rendering their own separate frames for display, with each having access to their own frame buffer and DDR or DDR2 memory. This connection between the two GPUs is called the BitFluent Bridge.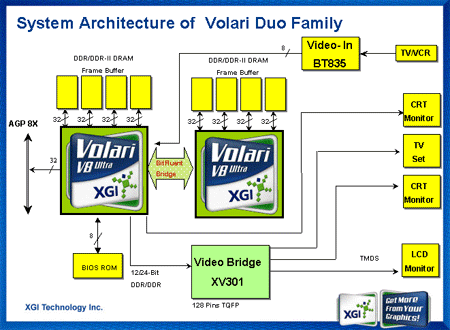 The only exception to this rule of thumb is that the secondary processor must pass data across the BitFluent Bridge and through the primary processor to get to the AGP bus.