Abstract: When XGI Technology announced the Volari line of graphics processors for the desktop and mobile market on September 15th, the collective response from the PC community was..."Wha...?"

Home > Reviews > Video Cards > XGI Volari
BroadBahn Memory Architecture
BroadBahn Memory Architecture is XGI Technology's proprietary memory architecture. According to XGI, it uses compression algorithms to increase the amount of data flowing between the GPU and the memory.

Also according to the company, the Broadbahn memory architecture consists of 4x32-bit channels carrying data to and from the DRAM. Internally, the card uses four separate buses, as you can see in the diagram above, each capable of accessing the four memory channels independently.
Essentially then, each separate memory-requiring component of the card has a 4x32 bit channel to the memory. XGI claims that this provides and effective 512-bit internal memory channel, increasing efficiency.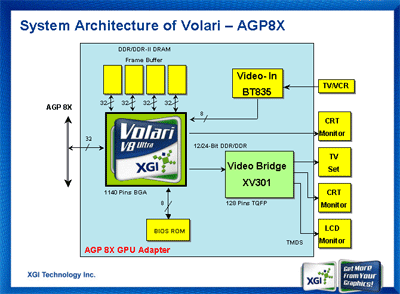 The Volari V8 processors take advantage of XGI's BroadBahn memory architecture, leverage compression-based algorithms to the ultimate end of effectively doubling the amount of data flowing to and from the DRAM. This helps optimize 3D rendering, image processing and media streaming applications.
V-Drive is another one of XGI's newly christened technologies. Again, no other specifics are available, but if you reverse engineer the paragraph below, it sounds like the Volari GPUs clock themselves down to save power when handling less demanding applications.
"Not all processing environments are created equal. The blistering demands imposed by full screen 3D applications will tax your GPU for all it's worth, leaving weaker processors in the dust. When it's time to pour on the muscle, V-Drive is like a short of pure adrenaline in the heat of the battle. V-Drive™ ratchets up processing power in perfectly timed response to computational demands, effortlessly delivering full frame graphics with flawless execution. Shift in to V-Drive™ and experience the ultimate in high-speed performance."
Next up, we look at XGI's CipherVideo Processor and ColorAmp Engine.