Abstract: When XGI Technology announced the Volari line of graphics processors for the desktop and mobile market on September 15th, the collective response from the PC community was..."Wha...?"

Home > Reviews > Video Cards > XGI Volari
The Volari Duo Series
The Volari Duo range will be composed of videocards equipped with a pair of Volari V8 or V5 processors or their higher clocked 'ultra' versions. Each processor can access up to 256MB of discrete DDR or DDR2 memory. Timings are set at 500Mhz for DDR2 and 375Mhz for regular DDR.
XGI claim a whopping 32GB bandwidth for the DDR2 configuration, though this is split between the two processors of course.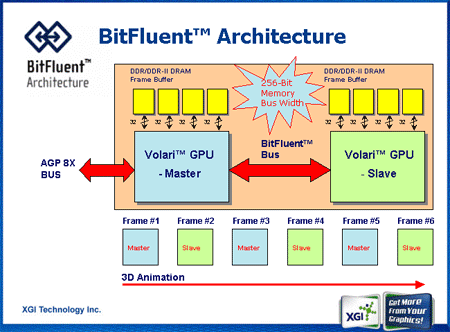 XGI's selling point for the Duo range is that in essence, a Duo V8 Ultra will have 16 pixel pipelines, 4 vertex shaders and 8 pixel shaders to work with. Since each processor is working independently on rendering separate data, XGI claims that close to "full efficiency" is being reached, and indeed the peak fill rates and texel rates that they quote are exactly double that of an individual V8 or V5 chip (5.6GP/s, 11.2GT/s for the Duo V8 Ultra).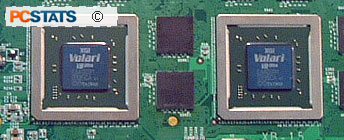 This is an imposing statistic on its own, though numbers do not necessarily add up to performance, as was seen in the case of the Matrox Parhelia.
The performance of the Duo will hinge both on the (as yet untried) ability of the V8 and V5 Ultra chips, and the efficiency of their co-operation.
The Volari Duo V8 seems extremely impressive on paper, and the internal BitFluent Architecture seems a logical way to even the load between the twin processors. If it all works the way it's supposed to, the question may be whether the AGP8X bus will be able to keep up with the card, or if the Volari Duo will "blow away 3D benchmark challenges like a pair of 9 millimeters."
The XGI Duo cards will also likely come equipped with two external power connectors, due to the high power requirements of the design.