| | |
| --- | --- |
| FujiFilm FinePix 2800Z 2.0MegaPixel Digital Camera | |
---
Our initial impressions of the FujiFilm FinePix 2800Z pegged it as a mid-level camera with overly simplified controls housed in a purely superfluous SLR body. However, we all know how misleading first impressions can be, and the 2800Z has proven itself quite admirably after all.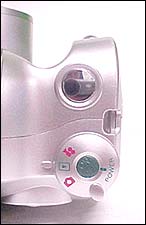 What made us initially think this camera was going to be just another rank and file digital camera with limited useability? Well it all has to do with the controls, or more correctly, the lack of them.
Colour Coded Buttons
The 2800 operates under exactly three modes which are determined by a small toggle switch located next to the power button. The power button is green for some reason and the modes are colour coordinated in a red-green-red fashion. The three being; 1. take pictures, 2. view pictures, 3. take movies.
In general the controls have an over-simplified feel to them and the SLR format feels like an afterthought rather than a format chosen out of necessity.
Gradually after about two weeks of constant use we came to appreciate the fact that the 2800 is a pretty capable digital camera for the average user. Now I know that more technical photographers will probably prefer a camera which gives them more control over the lens, but the average user should be satisfied here. Retailing for around $790CDN the 2800 is a mid-level 2 Megapixel camera useful for images up to 1600x1200 pixels in resolution. The camera can also take small movies (90sec with 16MB card) with sound and be used for video conferencing.
Ships with the following:

(x4) AA Batteries
16MB SmartMedia flash memory
Lens cap
USB cable
Shoulder strap
CD-ROM driver disk / software
Instructions
Bundled Software: FinePixViewer, DP Editor, PhotoDeluxe 4.0
Cost: $790CDN
Six sample images & one movie
The best way to test out a camera is to look at the raw images it can produce. To illustrate these facets, we snapped a few shots of the city at each resolution setting the FinePix 2800 supports, from 640x480 up to 1600x1280 (fine).
Additionally, since the 2800 also features a 6x optical zoom, we even through in a hi-res picture at full zoom for those interested in scrutinizing the cameras image quality under zoom first hand. Note, all images were shot with the camera on automatic settings.
The FinePix 2800 is also capable of capturing short low-resolution movies, so we also added a 10-second panorama shot (with sound no less). The image quality is acceptable for these types of 'movies' but it could stand to be improved upon. The thumbnails of the full-sized images are shown below. The full-size images are uncompressed and in their natural state.
640x480
123KB
1280x960 norm
3130KB
1280x960 Fine
640KB
1600x1200 norm
368KB
1600x1200 fine
762KB
1600x1200 zoom
370KB

10sec AVI film clip
2.2MB