With the 'file creation' box, you can change the naming format of your MP3s.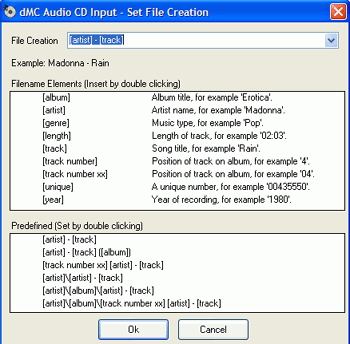 Pretty self explanatory...
Close the options screen for now; let's move on to the various options available for actually encoding the MP3 files from your music:
Encoding level (bit rate) vs. sound quality and size
Given that the 'bit rate' of an MP3 file is a direct measurement of how many bits of data the file transfers to the player for each second of the song's duration, you can see how this would affect the overall sound quality.
More data per second means more of the original sample of the song is being retained, which means higher sound quality... and so it does, to a point. The point is, audio is a subjective thing, and one person's take on how a particular song sounds encoded at a certain bit-rate will be different from another's opinion. It also weighs heavily on the quality of headphones or speakers you listen with.
With a pair of standard 'earbud' headphones for a portable MP3 player it really won't matter much if you choose 128kb/s, or 196kb/s. However, if you're a bit of an audiophile and intend to play back MP3s on a pair of Grado's headphones, you're much better off choosing the highest quality encoding rate possible. I swear by my Grado SR-80s, but the 'digital slurr' of a low quality MP3 certainly doesn't have anything to hide behind, so they can be unforgiving.
Most MP3 creation software will give you options for various bit-rates to increase or decrease the size of the file created and commensurately increase or decrease the sound quality. There are several common bit-rates that are widely used, and most software sticks to these ass they provide a wide range of quality and file size options.
64Kb/s: discernibly lower sound quality than the original CD recording, in general. Produces really small files though. 22 - 1 compression ratio.
96Kb/s: Considered 'near CD quality.' You will probably be able to tell the difference fairly easily between a file of this bit-rate and the original, at least if the original has a lot going on musically. 14 - 1 compression ratio.
128Kb/s: The border of what is considered 'CD quality' sound. Not co-incidentally, this is also by far the most popular bit-rate used to encode files, especially on the various peer-to-peer services. Delivers an 11 - 1 ratio of compression.
192Kb/s: A popular choice for slightly better quality and larger files. 7 - 1 compression ratio.
256Kb/s: Getting close to the upper limit. Sound quality should be virtually indistinguishable from the original, unless you are a true audiophile (and if you are, why are you creating MP3 files anyway?). 5 - 1 compression ratio.