There are several alternative formats available for compressing and encoding CD audio. Microsoft has its own format, WMA (Windows Media Audio), which is probably the second most popular (and supported) format for encoding music.
'Ogg Vorbis' is an open source format that originated in Linux, Apple uses the AAC format for its Itunes service, etc., etc. Most of these formats can claim increase quality at lower bit-rate settings as compared to MP3 files, but none of them (though WMA is getting close) offer the range of supporting software and hardware players that MP3 does.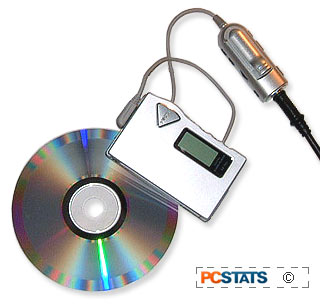 A vastly increasing range of electronics are available to playback MP3 files on your computer system or outside it. In terms of software, the media player built into Windows XP (as well as Windows 2000 and 9x/ME provided you have upgraded it from the Microsoft website) has the ability to play MP3 files, and comes with a variety of features designed to make the experience more enjoyable, including visualizations to add visuals to your music.
Several excellent free third-party applications are around, such as the popular Winamp by Nullsoft.
As for playing MP3 files outside your computer system, there are a variety of choices. While MP3 support in quality home stereo equipment is rare, virtually all home DVD players support MP3 playback, and can be easily hooked into your stereo system as you would for movies.
For portable music, all the major manufacturers including Panasonic and Sony now make portable CD players which support MP3 playback. As a typical 700MB recordable CD can easily hold over one hundred MP3 files, this is an excellent option. For an even more portable option, the small size of MP3 files allows an equally small size of player using flash memory as the storage device and connecting directly to your computer to add music.
Be aware that just because a given audio device advertises MP3 compatibility does not necessarily mean that it will work perfectly with all of your music. Many older MP3 players may not work at all or work well with higher levels of encoding or variable bit-rates, so it's worth looking into this further before you decide what to buy.
Also, many devices which are primarily intended for another purpose, such as DVD players, may only work if you place all the MP3 files directly onto the CD, and not organize them into separate directories of folders.
CD copy protection and Legal issues
(For a more comprehensive coverage of this subject, see PCstats article on Legally Copying Software and Music )
In the US and Canada, as well as most other parts of the world, consumers are allowed to make copies of music they have purchased, as long as the copies are for personal use. In other words, you can legally create MP3 files from your CD collection to use in your MP3 player, or to make a mix CD to play at a party. You cannot, however, share the MP3 files with others, or donate the aforementioned mix CD to the host of the party without violating copyright. This is fairly simple and straightforward, but if you live in the US, things are a bit more complicated.
As you might be aware, music companies such as Sony have begun adding copy-protection schemes to their audio CD releases. Generally, these schemes are designed to prevent the CD from being read or copied by computer CD drives. The companies use a number of techniques, too many to list here. The common factor of all of them so far is that there is a way around them, often an easy one. Thing is, under the US Digital Millennium Copyright Act (DMCA), it is a violation of copyright to duplicate a digital product that has been copy-protected. Essentially, under US law, you may copy music you have purchased, unless the owner of the copyright for that music thinks that you shouldn't.... Hmm.
Efforts are under way to allow consumers some wiggle room to backup their music collections, but currently nothing much has changed.
Find out about this and many other reviews by joining the Weekly PCstats.com Newsletter today!