If you wish to create a custom audio CD from your newly created MP3 files, the easiest thing to do is to use CD creation software such as Ahead's Nero, or Roxio Easy CD Creator. For the purposes of this article, we will use Nero, but the process is similar in other software.
To recreate CD audio files, the software simply uncompresses the files and converts them back to audio-CD format. Of course, any quality that was lost in the making of the MP3 file is still lost. The new CD tracks should be acoustically identical to the MP3 files used in their creation.
Because of this, if you are creating MP3s mostly to make your own mix CDs, it makes sense to encode them using the highest bit-rate possible. The reason for this is that once you burn them both onto an audio CD, a 64Kb/s sampled song takes up exactly as much space as a 320Kb/s track, second for second, so you might as well have the better sound quality that higher bit-rates provide.
To create audio CDs in Nero:

Open the program, select 'audio CD' from the left-hand pane and click 'new.'
From the main window, use the file browser pane on the right to locate the MP3 files you wish to use, then drag them into the left-hand pane to add them to your CD.
The bar across the bottom indicates how much space you have left. The red line can be considered the limit.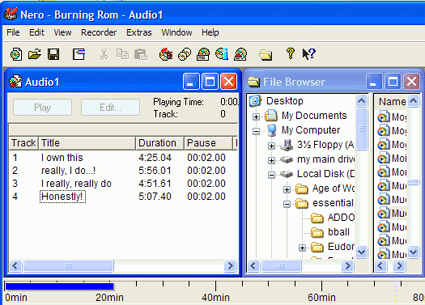 Once you have finished adding files, go to 'file\write CD...' to open the write window. Ensure that 'finalize CD' is checked, then click 'write' to create your CD.
If you find that you are having difficulty creating a good CD, you might want to try using lower recording speeds when creating the CD. This can also be accomplished in the 'write' window.