| | |
| --- | --- |
| General News | |

... 43 news stories awaiting approval
macOS Catalina - The Full List of 235 Incompatible Apps!

Make sure you check for incompatible apps before you upgrade to macOS Catalina, because it no longer supports 32-bit apps! Let's take a look at the full list of 235 incompatible apps that the macOS Catalina installer has been programmed to look for.

macOS Catalina - Don't Upgrade Until You Do This First!

macOS Catalina (or macOS version 10.15) is coming in October 2019, bringing with it a slew of really nice improvements and new features. However, unlike earlier macOS releases - you need to prepare for macOS Catalina, or you could run into trouble right after the upgrade!

Beginners Guides: Hard Drive Data Recovery

Killed a hard drive without backing up? Deleted your babies first photo and already emptied the recycling bin? Not to worry, you can probably recover your data with the help of this guide from PCSTATS.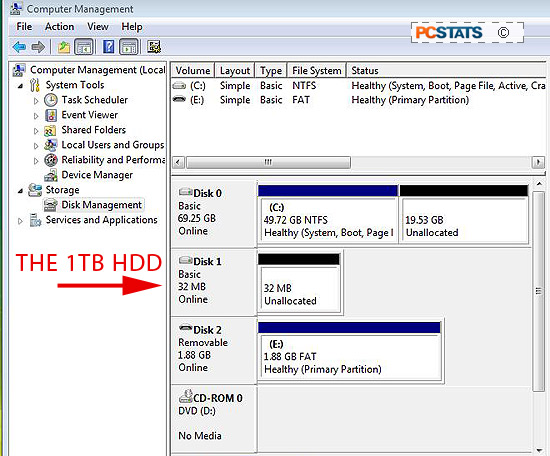 "The loss of factory hard drive capacity seems to be an increasingly common occurrence with very large capacity (ie. 1TB) hard drives, but it's not specific to any one hard drive manufacturer. It can happen to brand new drives or existing hard drives full of data. In either case the data portion of the drive isn't generally affected. If a new or existing hard drive in your computer suddenly pops up with a capacity of 32MB, or another value equally small compared to the true drive size, don't freak out, the data should still be there."


ASUS ROG Strix Carry Gaming Mouse Review

Today we are reviewing ASUS' super portable and stylish ROG Strix Carry gaming mouse. A tiny mouse that aims to please, it has some impressive specs – including an optical sensor, replaceable OMRON switches, a leather 'Carry' case, and a 2.4GHz wireless connection with battery life for up to 300 hours of non-stop gaming. The question is; can ASUS have made a successful gaming mouse without any RGB included?! Let's find out.

Control Benchmark Test & RTX Performance Analysis

Control by Remedy Games is an open-world third-person shooter- set in a building. Besides the interesting setting, graphics are great and the game has support for multiple NVIDIA RTX raytracing technologies, making this probably the first game where RTX is really worth it.

Asustor AS5202T Nimbustor 2 2-bay NAS Review

The 2-bay AS5202T NAS is one of the first members of a new product line from Asustor called Nimbustor, alongside a 4-bay AS5304T model – the AS5304T is the Nimbustor 4, while the AS5202T is the Nimbustor 2. The new model line sees a world's first, with the introduction of 2.5-Gigabit Ethernet ports to the Asustor range and both Nimbustor models come with a pair of 2.5GbE ports.

G.SKILL Releases Damn Ugly DDR4-4300 Memory Kits

These may be the damn ugliest pairs of memory we've ever seen... tech specs are impressive though.

"G.SKILL has released a new high-frequency, high-capacity memory kit to the G.SKILL Trident Z Royal series at DDR4-4300MHz CL19-19-19-39 and DDR4-4000MHz CL16-18-18-38, both in kit capacity of 64GB (8x8GB) and 32GB (4x8GB). Once again, these extraordinary G.SKILL Trident Z Royal memory kits are built with high performance Samsung B-die components.

As an excellent choice for tasks that require both high-capacity and extreme speed memory, the high-performance DDR4-4300MHz CL19-19-19-39 64GB (8x8GB) is shown in the stress test screenshot below, validated on the latest ASUS ROG Rampage VI Extreme Encore motherboard and the Intel™ Core® i9-9820X processor. This is the perfect memory solution for building an all-powerful workstation for various content creation workloads, including 3D rendering and multimedia editing.

Additionally, a low latency 64GB (8x8GB) memory kit at DDR4-4000MHz CL16-18-18-38 is shown in a similar stress test run in the screenshot below, also validated on the ASUS ROG Rampage VI Extreme Encore motherboard and the Intel™ Core® i9-9820X processor. Under this memory specification and test system, the memory read bandwidth on AIDA64 is shown to surpass a speed of 101GB/s in quad-channel memory mode.

These extreme performance RGB memory specifications in 64GB (8x8GB) and 32GB (4x8GB) kit capacities will support the latest Intel XMP 2.0 for easy overclocking setup and will be available via G.SKILL worldwide distribution partners in Q4 2019."

LG 27GL850 Review: Fast IPS for Gaming

The LG 27GL850 is currently one of the most popular and hotly requested gaming monitors in the market, but what makes it so special? It is the first IPS monitor that claims to hit TN-level response times. Combine that with a 27-inch panel size, 2560 x 1440 resolution and 144 Hz refresh rate with adaptive sync, it's positioned as the perfect monitor for gaming.

Borderlands 3: PC graphics performance benchmark analysis

We take a look at Borderlands 3 (2019) in our usual in-depth ways, closing in on 30 graphics cards tested. That would be tested on the PC gaming wise relative towards graphics card performance with the latest AMD/NVIDIA graphics card drivers.

Xigmatek Zest

The Xigmatek Zest is one hefty chassis that throws RGBs at us in every possible way: by embedding them into two 200 mm fans, the company logo, and a third fan in the rear, just for good measure. It looks like a sleek and large case that promises to handle any hardware.

Siege of Centauri

"Games that first launch through some kind of early access program are a bit of a conundrum for me, when it comes to reviewing them. A game can change quite significantly between that first version and its release state, so opinions and impressions may lose validity. When Siege of Centauri entered Steam Early Access and I was provided a key by Stardock, I thought of an approach that might help me navigate the issue and that was to use it for the Saturday streams I do. That way I not only am somewhat regularly playing the game and experiencing the changes it receives, but also capturing my impressions of the game (when I am not trying to cover some of the news of the week). If nothing else, it seemed like a good idea and now the time has come to review Siege of Centauri in its release state."

Borderlands 3 Benchmark Test & Performance Analysis

Borderlands 3 is the latest installment in the epic loot-and-shoot series. The graphics are greatly improved and you are free to pick between DirectX 11 or DirectX 12. We took the game for a spin using 23 of the latest graphics cards, testing 1080p, 1440p and 4K, in both DirectX 11 and DirectX 12.


Netgear Nighthawk Pro Gaming XR300 router

We review Nighthawk Pro Gaming XR300 router this gaming router is compatible with the new AC standard aka WIFI 5. Armed with the DUMAoS this can we considered a more budget XR500 at 199 USD. The performance is there alright. The Dual-band 5000 MHz and 2400 MHz router has been optimized for gaming.

Enerpad Universal Powerbank AC-42K EU Review

With a massive battery capacity of 41600mAh, two AC 220V/110V sockets and three USB outputs the Universal Powerbank AC-42K EU by Enerpad should be all you need to cover your electrical needs in your upcoming trip.