[>>]

[>>]

[>>]

[>>]

More>>

Search...

| | |
| --- | --- |
| General News | |

... 139 news stories awaiting approval
[LATEST]
ASUS Launches Tinker Board in North America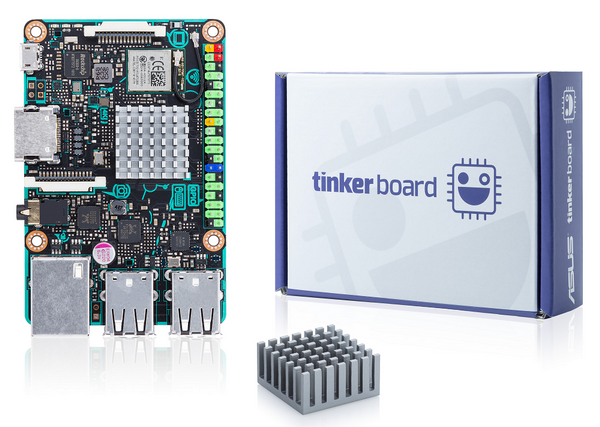 ASUS, maker of the world's best-selling, most award-winning motherboards, is excited to launch the ASUS Tinker Board in North America today. Imagine the freedom to make your ideas come alive, the ability to invent an IoT device for a connected home or just having fun creating an entertainment hub for the family or powering your DIY robot project at school. With Tinker Board, the possibilities to create personalized devices are endless. Tinker Board is a single-board computer (SBC), which makes it the ideal foundation for makers, hobbyists, educators, and electronic DIY enthusiasts to develop and build low-cost, great-performing computers.
ASUS Tinker Board offers class-leading performance, robust multimedia support, IoT connectivity, and enhanced DIY design and compatibility with a wide range of leading SBC chassis and accessories. The result is a near credit card sized computer that offers people the freedom to tinker and apply their ingenuity to create platforms for a wide variety of uses.
Key features of Tinker Board include:
CPU: 1.8GHz Rockchip® RK3288 SoC quad-core processor
GPU: Mali-T764 GPU
Video: HD/UHD video playback support – including H.264/H.265 decoding
Audio: 192kHz/24-bit audio support
Memory: 2GB of dual-channel LPDDR3
Storage: Micro SD(TF) slot features SD 3.0 support
Connectivity: Bluetooth° 4.0 + EDR and on-board 802.11b/g/n WiFi
Networking: 1Gb Ethernet
Ports: (4) USB2.0 ports, (1) HDMI 1.4 out port, (1) 3.5mm audio jack
I/O Ports: (1) 40-pin GPIO interface header, (1) 15-pin MIPI DSI, (1) 15-pin MIPI CSI, (1) 2-pin contact point for PWM and S/PDIF signals
Power: Suggested 5V/2A AC adaptor via the micro-USB port (power adaptor not included)
OS: ASUS TinkerOS (Debian-based Linux) & Android Support
Dimensions/Weight: 85.60mm x 56mm x 21mm, 45g without included heatsink
AVAILABILITY & PRICING

ASUS Tinker Board is available now at Amazon and Micro Center with a suggested MSRP of $54.99. For additional information and support on this exciting new product, please visit our Tinker Board website at Tinker Your Way to the Future.

AMD unveils Radeon Pro Duo graphics card

AMD has announced its first dual-GPU graphics card designed for professionals: the Polaris-architecture-based Radeon Pro Duo. Built on the capabilities of the Radeon Pro WX 7100.

Nixeus NX-VUE27P 1440P IPS Monitor

It might not be much to look at but the Nixeus NX-VUE27P has specifications to impress like a 27" AH-IPS panel and a 1440P resolution. Oh, and did we mention its priced less than $399 USD?

Project Build: Carmine - Part 2 @ LanOC Reviews

So a few weeks ago I got started on our Ryzen based project build. At the time the plan was to put together a reasonable Ryzen build with a nice red theme. We picked out the case, the motherboard, and a power supply. Well, today I'm going to run through the rest of the go fast bits so to speak. That means we need some sort of storage to get our OS on, memory, a video card, and to pick out which CPU we want to go with as well. So today we run through those parts and at the end I will include a small preview of what else is coming for this build. I'll give you a hint, while the original plan was to put together something reasonable things have gone a little crazy on the water cooling front.

GeIL EVO Forza DDR4-2400 32GB Memory Kit Review

GeIL has quite a few different lines of DDR4 memory. We've already taken a look at their Super LUCE memory and now its time to take a look at the EVO Forza memory. EVO Forza is part of their gaming series memory so it is targeted at gamers and enthusiasts. The kit we are taking a look at today is their GFY432GB2400C16QC which is a 32GB kit that runs at 2400 MHz with timings of 16-16-16-36 at 1.2V. This is marketed as a quad-channel kit, but it can easily be used as a dual-channel kit on Intel Z170 and Z270 platforms as well. Let's get this kit in a test system and see what it can do!"

AZIO MK Retro Keyboard

The MK Retro is AZIO's take on the humble typewriter modernized to the mechanical keyboard experience. Featuring unique aesthetics, pillar-style feet, and two color options to choose from, it aims to introduce some much needed style to the sub-$100 keyboard market.

Roccat Isku+ Force FX Analog Keyboard Review

On the face of it, you would be forgiven for thinking that the Roccat Isku+ Force FX is no different to its predecessor. It is true that it keeps the tried-and-tested Isku design and layout, but this keyboard is most notable for its 6 analog keys. Will this really give you 'total gaming domination' as Roccat claim?

Windows 10 Creators Update vs. Ubuntu 17.04 Linux Radeon

"Given Microsoft's Windows 10 Creators Update earlier this month and the never-ending advancements to the open-source Linux graphics driver stack along with the recent release of Ubuntu 17.04, here are some fresh benchmarks of Windows 10 vs. Ubuntu Linux when running a wide variety of cross-platform games with an AMD Radeon RX 580 and R9 Fury graphics cards."


EVGA GeForce GTX 1080 FTW2 review

We check out the EVGA GeForce GTX 1080 FTW2 iCX 8G, and heck yeah this is not your regular one. Meet the all custom, cooled and tweaked EVGA "For-The-Win2" Edition. This SKU is a more premium version that comes with some new features, e.g. read sensors everywhere. We'll heck out the 8 GB product fitted with a nice and impressive two slot cooler, some extra LED functionality and a product that comes with some sexy out of the box clock frequencies.

be quiet! Pure Base 600

The be quiet! Pure Base 600 is aimed at the purists out there. There are no colored elements or a front door, just a clean and understated design. However, do not let that fool you as the chassis offers excellent liquid-cooling capability and a great amount of storage flexibility, all while being quiet, especially thanks to the built-in fan controller.

XFX Radeon RX 580 8GB GTS Black Edition

"What surprised me most about this card when I was overclocking was that I was not able to get it above a 1440MHz clock speed no matter what I tried. This is 88MHz less than I was able to push out of the PowercColor card I just looked at last week. Kind of a downer after those lofty results, but not every GPU or CPU is going to deliver stunning OC results. That does not mean another card will overclock better or worse. It just means this card was not the best overclocker. Temperatures were not a limiting factor while overclocking this card, with a maximum temperature of 57 °C while overclocked, putting it just three degrees warmer than the RX 480 GTR. The four massive copper composite heat pipes that carry the thermal load to the large fin array in XFX's Quad Com heat sink package coupled with the 100mm Supercell fans really do work to keep the silicon, memory, and digital VRM cool. If anything should go wrong with the card, XFX has you covered for three years with its limited warranty. Just in case."

AMD Ryzen 5 1600X Overclocked Benchmark Results At 4.1GHz

A recent trip to the local Micro Center location in St. Louis, Missouri showed that all the AMD Ryzen 5 6-core processors were sold out and rightly so as the Ryzen 5 1600X and Ryzen 5 1600 are both exceptional values. The AMD Ryzen 5 1600X is the flagship processor of the Ryzen 5 series and boasts 6-cores and 12-threads of processing goodness at over 4GHz clock speeds for just $249.99. AMD released the first quad-core processor (Phenom II X4) in January 2009, so many enthusiasts are ready to add more cores to their system here in 2017. No wonder they are sold out locally!

How to get LAN Sponsors @ LanOC Reviews

With a lot of the aspects of hosting a LAN event, you can normally find someone with experience in the area. That isn't always the case when it comes to getting and keeping event sponsors. Most people fly blind when they start and frankly it leads to emails that if you look back later you would be extremely embarrassing. Even though I have always done well with sponsors, looking back on some of my emails I wish I could go back and just stop myself. Well, I don't have a time machine, at least not yet, so for now I will settle for stopping some of you before you make mistakes. Hopefully, with a few tips I can help everyone host better events. Better events all over will lead to more events for everyone to go to and we can help keep the LAN tradition alive and well. So hang on I've put together a whole bunch of information, I hope it helps.

Alienware 13 Review

you want a reasonably small and portable gaming laptop, the Alienware 13 is one of the leading options on the market. With its 13.3-inch display, the footprint of this laptop is smaller than a typical 15-inch laptop, and if you're willing to put up with extra thickness and weight, it's possible to use it as a portable workstation instead of an ultraportable.

Noontec-TerraMaster D2-310: Direct Attached Storage with a kick.

D2-310 is a direct attached storage device by Noontec-TerraMaster. Most of the market is moving away from DAS devices to network based devices however, there is still a need for simple and fast solutions to store data locally. D2-310 offers USB 3.1 connectivity and supports RAID redundancy in a two bay shell. Whether you are looking for a device to …



The best Guides by the best writers on the internet; PCSTATS Beginners Guides explain computers, software, and all those other wonderful things that cause you frustration.

Learn how to use your computer better, master the internet while protecting yourself, and know what to do when your hard drive kicks the bucket.



"Get the 'Stats and Stay Informed!"