At a certain point in ones' career, there comes the realization that a dog-earred, scruffy nylon notebook bag given out by some long forgotten trade conference has outlived itself and it's time to find a proper replacement. That replacement carry-all doesn't have to be the leather Muzetto bag from Waterfield Designs , it's just that a swag bag with non-ironic vintage company logos and super squeaky plastic straps will only take you so far in life.
Waterfield Designs' leather Muzetto satchel is the ideal conveyance for the essentials of business - a notebook and/or iPad, some papers, pens, a smart phone, business cards, c'est tout. If you need sheer haulage, there are other bags in the Waterfield stables like the ubiquitous 'Cargo' for that. The Muzetto is substantial, but it is a compact.
Behind the large oiled leather flap of the Waterfield Designs Muzetto bag we find one main pocket flanked by three large but slim secondary pockets. The main pouch will comfortably carry an 11" notebook in a sleeve while an outer padded pocket can accommodate an iPad. A manilla envelope full of papers or a magazine easily slips into the rear pouch. Pens and other small items can be tucked safely away in the inner, zippered pocket. If the outer padded pocket isn't pulling iPad duty, there's a small pocket in there just the right size to hold a smart phone.
The essential take away is that there's a finite amount of space within the Muzetto vertical notebook bag. For example, it can carry a notebook and small power brick, OR an iPad, small stack of folders, paper note pad, keys, pens, business cards and phone. To borrow a page from the "Designing 007" exhibition currently happening in the City of London's Barbican Center , the Waterfield Designs' Muzetto bag is like the Aston Martin DB5 of vertical messenger bags - it'll do quite a bit, but it won't swim under water like Bond's Lotus Esprit.

Waterfield Design Muzetto Notebook Satchel



The Nitty Gritty
The leather Muzetto notebook bag is made by Waterfield Designs in San Francisco. Waterfield has been around about 12 years and was founded by ex-bike courier, Gary Waterfield. Over the decade or so that PCSTATS has used Waterfields' bags, the company has steadily gained acclaim for designing IT friendly gear that's aesthetically good looking, sublimely functional and damn well made.
Part of the success of Waterfield Designs is the companies intuitive design approach and ingenuitive use of materials. Durable synthetic fabrics like ballistic Nylon, Neoprene and industrial coverings like Indium wear well and stand up to the rigors of a mobile work life. In this instance, it's tough oiled leather on the outside surfaces of the Muzetto and a smoother leather on the part of the bag that rides against the wearers' hip and inside the bag. Behind the flap is a synthetic material with give and lining the inside bright yellow rip-stop nylon for contrast.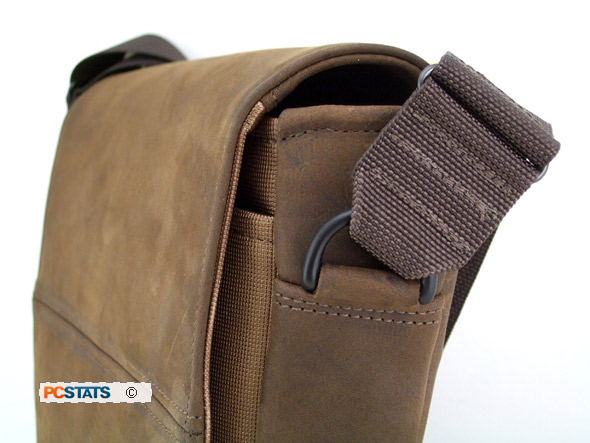 Gravity holds the outer oiled leather flap closed. D-rings are sewn into the side of the case so the shoulder strap can angle across the wearers shoulders.
Waterfield Designs' Muzetto notebook bag is available in brown or black leather, in five sizes ranging from 10" to 15". Cost varies from $179 to $259 USD respectively. In this review PCSTATS is looking at the 11" Muzetto bag in brown leather with copper accent colour which retails for retails for $219 USD via www.sfbags.com.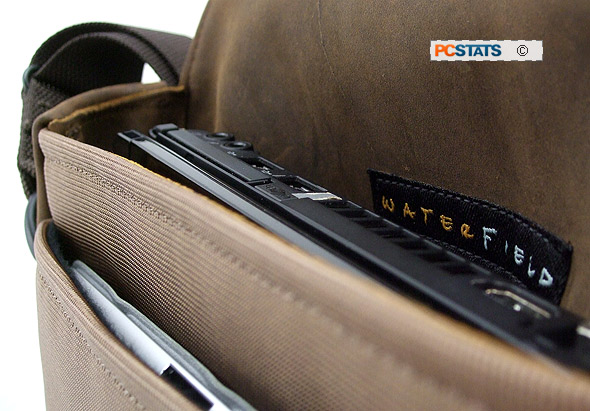 The Muzetto notebook bag comfortably holds an 11" notebook and iPad in the two main pockets. The main compartment is not padded, so there's more space for other items when not carrying a notebook. Waterfield recommend using a notebook sleeve.
Empty, the 11" Muzetto bag weighs 2lbs and has overall outside dimensions of roughly 13.5" x 10.5" x 2.75" (HxWxD). According to the maker it fits a MacBook Air, in our tests we had no problems dropping in an 11" wide notebook and iPad in the outside padded pocket. The Muzetto also comes in a more economical waxed canvas version.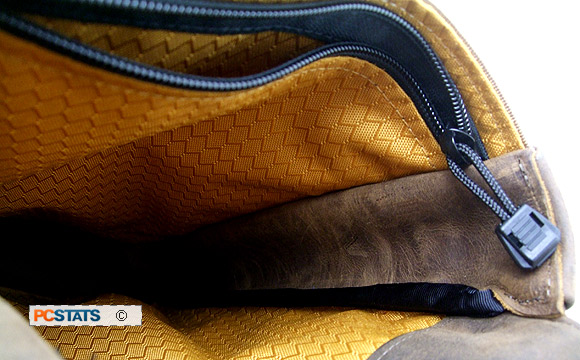 The Muzetto's main pocket is flanked by yellow rip stop nylon which provides better contrast when searching for items in the dark depths of a bag. The leather strip along the side continues around the entire pouch, effectively giving two thicknesses of leather padding to its' contents.
Since the inside pocket is not padded, a notebook sleeve is best used when carrying around a laptop. At its simplest a notebook sleeve need be nothing more than a soft cloth covering. This is enough to prevent most errant paper clips, staples, grit, and metal pen clips in a bag from scratching the outer surface of a laptop to death. On that note, the zipper of the inside pocket could be heard running along the edge of the notebook we tested the Muzetto bag with.
Next up, a closer look at the Waterfield Muzetto bag from all sides.