| | |
| --- | --- |
| General News | |

... 50 news stories awaiting approval

Samsung 970 Pro 512 GB

Samsung's 970 Pro flagship SSD offers incredible performance, especially when it comes to writes, where it tops the charts with up to 2.4 GB/s, thanks to the use of MLC flash. Reads are even faster at 3.5 GB/s. If only the SSD was more affordable: $200 for 512 GB is not exactly cheap.

PC Specialist Nucleus AMD Threadripper 2990WX Workstation

The AMD Ryzen Threadripper 2990WX blew our minds when we first reviewed it a couple of months ago. It's an absolutely stunning basis for a high-end workstation, with nothing from Intel to compete with its 32-core grunt just yet. This time around, we are taking a look at the same processor in a workstation from PC Specialist. Called the Nucleus, it's so named because of the latter's creative role in generating everything we do with a PC (apparently).


Hands On & Initial Benchmarks With An Ampere eMAG 32-Core ARM Server

"Especially with Qualcomm's Centriq efforts going quiet in recent months, one of the most interesting ARM server efforts at the moment is Ampere Computing -- the company founded by former Intel president Renee James and with several other ex-Intel employees on staff. They started off with the acquired assets from what was AppliedMicro and their X-Gene ARMv8 IP and for the past year have been improving it into their recently announced eMAG processors."

CORSAIR STRAFE RGB MK.2 Keyboard

CORSAIR has updated the original STRAFE RGB keyboard after three years and aims to offer a similar enthusiast-grade keyboard with more value for money. The new STRAFE RGB MK.2 now has hardware playback, more dedicated buttons, and support from a new unified software driver, and retains the rarely-seen option of the Cherry MX Silent Red RGB switch.

Cooler Master CM310 Mouse and MP860 RGB MousePad

With the continued demand for RGB components and peripherals there doesn't seem to be any end to what manufacturers will 'RGB'. With both keyboards and mice sporting synchronisable lighting the next logical accessory to receive this treatment would be your mousepad. Cooler Masters new MP860 incorporates fully customizable lighting and synchronisation available with other Cooler Master portal supported products. Priced at £79.99 it also features both cloth and aluminium reversible surfaces, but does the addition of RGB lighting justify this premium price?

Cooler Master's MP860 mouse pad

Cooler Master's MP860 mouse pad jazzes things up with two separate mousing surfaces and a ring of RGB LED zones around its perimeter. We see whether this RGB LED mousing sandwich enhances the gaming experience.

Google Pixel 3 And Pixel 3 XL Review

Google unveiled an array of new hardware at a posh event in New York City last week, including the Pixel Slate, the Google Home Hub, and the products we'll be showing you here, the Pixel 3 and Pixel 3 XL. The Pixel Slate is an Intel-powered convertible tablet running Chrome OS, the Home Hub is a touch-screen equipped Google Home device, and the Pixel 3 and Pixel 3 XL likely need no introduction – they are Google's latest flagship smartphones running the recently released Android Pie...


ZADAK SHIELD Double Capacity DDR4 32GB 3600MHz Single Stick

AURA2 RGB lighting which was built ahead of many competitors, the SHIELD DC(Double Capacity) DDR4. Co-developed with ASUS ROG team, it amazingly supports small form factor motherboards of Intel Z390 including ROG MAXIMUS XI APEX, MAXIMUS XI GENE, and ROG STRIX Z390-I Gaming. With the whole new architecture, it achieves not only double capacity of 32GB for single slot, but also high frequency of 3600MHz with impressive stability. Such a widely praised high-end memory module in the PC world comes along once in a lifetime.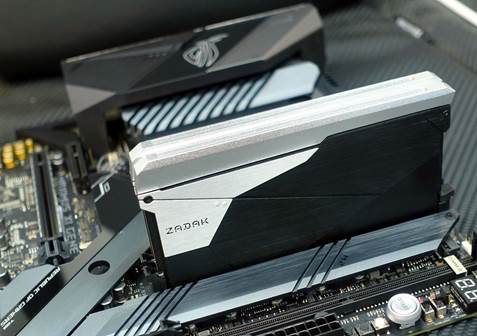 In 2018 ZADAK takes the biggest leap since the original DDR4. SHIELD DC DDR4 comes with double capacity of 32GB for one single stick. The IC dies for SHIELD DC DDR4 were meticulously screened that one IC was chosen out of 10 thousand ICs. ZADAK adopts the whole new architecture with special circuit design on PCB offering double capacity as well as incredible stability under high speed operation. The unprecedented design and functionality of the SHIELD DC DDR4 breaks the limits of inadequate memory on the two-slot platforms. For content creators, 3A gamers, and those gamers who prefer a compact PC for space-saving, ZADAK SHIELD DC DDR4 gives you the double capacity, double speed, and double enjoyment.
The SHIELD DC DDR4 fully supports the latest ASUS ROG Z390 motherboards. It starts at a clock speed of 3000MHz, going up to 3200MHz at a voltage of 1.35V with CL14-14-14-34 and 3600MHz. It comes with single channel packaging as well as kit of dual-channel one with the highest capacity of 64GB (32GBX2). The RGB lighting of SHIELD DC DDR4 is synchronized with ROG AURA2 so users can regulate the preferable colors and manage the LED flashing patterns.
Instead of light diffuser, ZADAK SHIELD DC DDR4 employs the specially-designed chamfer inside the aluminum top bar presenting perfect RGB lighting effect. The metal machining craftsmanship and thicker aluminum material of 1.5mm give multi-layer design on the heat spreader.
Small form factor with only two-slot motherboard had a problem with inadequate memory. The ZADAK team is comfortably over those limits. SHIELD DC DDR4 is a groundbreaking product. For the enthusiast users and gamers who want to get the maximum capacity and high speed of memory module in their system while using motherboards with two slots only now will have the option of opting for ZADAK SHIELD DC DDR4. It will be on the market in late October with the MSRP USD$799/899/999 for 3000/3200/3600MHz.

Samsung Galaxy A7 2018 Preview

Samsung just launched the Galaxy A7 2018 smartphone, with triple rear cameras at the incredible Galaxy UNPACKED KL 2018, and we have the first units! In our preview, we will unbox the Samsung Galaxy A7 2018, and share with you the official tech briefing, a colour comparison and its key features!

Samsung 970 EVO 500 GB

The Samsung 970 EVO is the company's offering for users who want the blazing speeds of NVMe, but aren't willing to pay premium for the 970 Pro. Read speeds of the 970 EVO match the 970 Pro; writes are lower, but still very good with 1.7 GB/s.

Zotac GeForce RTX 2080 Ti AMP 11 GB

Zotac's RTX 2080 Ti AMP is the company's current GeForce RTX flagship. The card is built around a large triple-slot, triple-fan cooler that delivers amazing temperatures of only 65°C. It's the first custom-design that we review that's sold at a price matching the NVIDIA Founders Edition: $1,299.

Ooma Butterfleye Smart Security Camera with Facial Recognition

Recently Ooma has been branching out into the smart home segment utilizing their VoIP Telo units as a hub. Their smart home/home security offering has all the devices you would expect... cameras, motion sensors, door/window sensors, smoke alarms, water sensors, etc. But today we are looking at their latest product, the Ooma Butterfleye, which is an HD wireless security camera with facial recognition.

Metallicgear Neo Micro Aluminum Case Review

In this review we will be looking at the Metallicgear Neo. Metallicgear is a brand we checked out during Computex and while most of the press (and videos) were focused on the new Phanteks Evolv X there was an entire room dedicated to Metallicgear and reasons behind launching a new brand.