| | |
| --- | --- |
| General News | |

... 120 news stories awaiting approval
SilverStone SX600-G SFX 600W Power Supply Review

While the overall build quality and performance are good, the SX600-G doesnt stand out in any particular area (other than size!) when compared to other enthusiast-grade 600W ATX power supplies. It normally would not bring home a PCPerspective Gold Award (especially with a 3-year warranty) except that the SX600-G is unique and occupies a very specific niche market. We have enjoyed our time with the SX600-G and have come to appreciate the advantages of a relatively high power small form factor PSU for use in compact, cramped chassis; even when they are designed to accommodate a full size ATX PSU. The SX600-G does an excellent job of delivering on its design goals and deserves to be recognized."

Linksys EA9200 AC3200 Tri-Band Smart Wi-Fi Router Review @ Legit Reviews

Earlier this month, Linksys launched a new flagship router featuring the companies? Tri-Band wireless-AC technology.  The Linksys EA9200 Tri-Band Router is built especially for homes or offices that have many connected devices and simultaneous wireless activities.  If you have multiple computers, smart phones, tablet PCs, game consoles, home automation or other networked devices, this might be the router you need to consider."


E-CEROS Revolution 2 Tablet Review @ Madshrimps

The tablet from the E-CEROS Chinese OEM has really impressed us in terms of performance; Revolution 2 is the successor of the original Revolution tablet which was launched last year and packs a gorgeous IPS 2048x1536 9.7 display and in some way it has some resemblances with the Apple products."

Corsair Vengeance LPX 16GB 2800MHz DDR4 Review

Packed full of promise, the latest modules in the Vengeance series of Corsair`s DDR4 memory lineup deliver excellent performance when tweaked to get the tightest timings. Out of the box they come with 16-18-18-36 primary timings using just 1.2v to run the modules. By tweaking the applied voltage a little bit you can get the timings much tighter at the rated speed and even when running at my max overclock of 3200MHz. At this speed I was able to run the timings at 15-15-15-28 2T using over 1.4v applied to the modules. The modules were not 100% stable at that speed, but were good for benchmarks all day long, delivering some substantial performance gains when run with a heavily overclocked Core i7 5960X. Full stability was gained at 16-16-16-30, but could be run tighter if you want to drop the module`s speed or increase the voltage a bit higher. Although for this test I stuck with 1.45v as my max voltage in the absence of more robust cooling methods."

Core i7-5960X vs. Core i7-5820K - Content Creation performance analysis @ ocaholic

There is a variety of customer groups, which demand as much power as possible from their computers in order to accelerate processes in order to become more efficient and in the end increase revenue or add additional value to their projects. Especially in the field of content creation, which includes editing pictures and videos or even rendering a complex scenery with beautiful effects, will benefit largely from fast processors as well as a powerful underlying system architecture. With this series of articles we`re going to compare two processors with every single article. The CPUs tested are being run at stock clocks as well as overclocked and apart from that we will also vary the memory frequency. It is our goal to show in depth which CPU is how much faster or slower than another one."

Case Mod Friday: Ex-Box PC @ ThinkComputers.org

Welcome to another Case Mod Friday showcase! This week we have Aaron Howe`s Ex-Box PC build. Here is what he had to say about it: I used to work for xbox tech support, and after leaving their employment I repaired 360`s on the side. Due to this I had some extras lying around, and wanted to see if it was possible to put a computer inside of one without any major components sticking out. All previous builds you could see GPU fans, or CPU coolers sticking out, and I felt like that was ugly. I wanted to make it be a `sleeper` - so that is what I set out to do, and believe I accomplished."

ASUS ROG Gladius Gaming Mouse Review @ Legit Reviews

ASUS has brought forward a gaming mouse that complements the Republic of Gamers product family that?s sure to grab your attention with its fierce appearance, high end features, and a strangely familiar ergonomic design. The ROG Gladius is named after the signature handheld weapon of Ancient Roman generals to complement the Maximus motherboard named after the title given to highly respected generals. This neat tidbit is printed on the inner side of the front flap on the box. It?s rare to see ASUS produce gaming peripherals, but the ROG Gladius is hardly their first gaming mouse and ASUS has more than proven their design and production capabilities in several computer hardware categories."

Toshiba Announces 6TB Enterprise Capacity HDDs

Toshiba Electronics Europe (TEE) announces the addition of 6TB[1] SATA and SAS models to its MG04 series of 3.5-inch form factor enterprise capacity class of hard disk drives (HDD). The new SAS interface models provide the benefits of 12Gbit/s[2] SAS transfer rates and enhanced power management features for seamless integration with the latest generation of data center infrastructure. The MG04 series is specifically designed for midline and nearline business critical workloads.

The new MG04 series 6TB models offer a 50 per cent[3] increase in max capacity from prior MG03 generation 4TB models and a 30 per cent[4] increase in sustained data rate. These enterprise HDDs support both industry-standard 4K native and 512e Advanced Format sector technologies for optimum performance in the latest generation servers and storage systems. Emulated 512e Advanced Format sector technology performs best in legacy applications requiring 512 sector lengths using aligned-write environments.

Both the 6TB MG04ACA and MG04SCA models offer Toshiba persistent write cache technologies, designed to help protect against data loss in the event of sudden power loss, while also helping to improve performance and data reliability. Model options supporting SAS and SATA commands to enable sanitize "instant" cryptographic erase (SIE) are also available.

Spinning at 7,200 rotations per minute (RPM), the MG04SCA and MG04ACA deliver nearline-class seek performance to improve application response times. At 6TB, the higher capacity per spindle saves rack space and reduces the footprint and operational burden of business-critical servers and storage systems to help optimize total cost of ownership in high-density scale-out environments. The 6TB models provide 50 percent better power efficiency (watts per terabyte) than the previous 4TB drive generation.

"Our customers expect to benefit from the increased capacity, efficiency and performance made possible by the latest industry-standard interface and long sector technologies," said Martin Larsson, Vice President, Toshiba Electronics Europe, Storage Products Division. "These additions to the MG04 series deliver an impressive 6TB capacity and continue to provide the benefits of Toshiba's persistent write cache technology to enhance performance for business critical server and storage systems."

The 6TB MG04ACA 6Gbit/s SATA and MG04SCA 12Gbit/s SAS models will begin sampling to OEM customers in Q1 2015.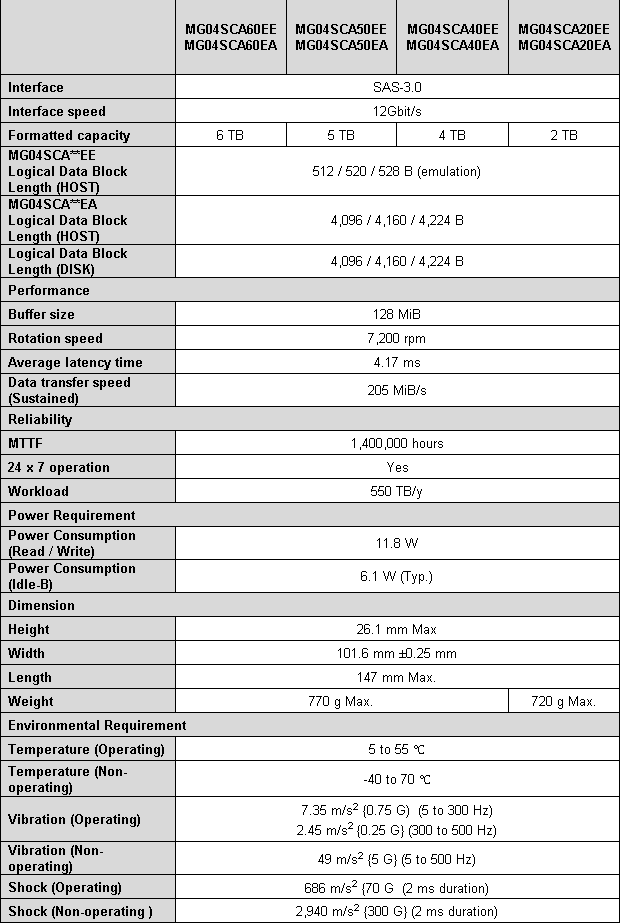 Fractal Design Core 2500 Review @ ocaholic

Fractal Design always created elegant and sleek looking products with refined details, and the new Core 2500 PC case is just like that. Apart from the good looks this case also comes with quite a few interesting features which we we`ll certainly cover on the following pages. "

ASRock Z97 Anniversary Motherboard @ Hardware Secrets

The ASRock Z97 Anniversary is an inexpensive socket LGA1150 motherboard based on the Intel Z97 chipset, supporting the fourthand the forthcoming fifthgeneration Core i processors. It brings six SATA-600 ports and six USB 3.0 ports. This motherboard was named after the Pentium 20th Anniversary Edition G3258 processor, and we will try to figure out what makes it targeted at this particular CPU."

AMD Radeon R7 240GB SSD Review @ Madshrimps

The R7 240 AMD-Branded SSD succeeds to perform really well and positions itself along with the latest Vertex 460 and Vector 150 drives from OCZ; the product succeeds to render very "

Kingston Class 10 UHS-I SDXC 256GB and MicroSD 128GB Review @ Legit Reviews

Have you ever run out of memory on your camera, smartphone or tablet at a critical moment or had to delete something you didn?t want to in order to free up space? Running our of storage space is pretty common these days and with most cameras being able to capture full 1080P HD or video or possibly 4k UHD video it is becoming obvious that our need for larger Flash memory cards is only going to continue growing. Kingston Digital is a trusted name in the memory card business and just last month they announced that they were doubling the capacities on both their Class 10 UHS-I microSD and Class 10 UHS-I SDHC/SDXC cards. This means you can get a Kingston microSD card in capacities of up to 128GB and an SDXC card with  a capacity of up to 256GB! Legit Reviews got our hands on the Kingston 128GB Class 10 UHS-I microSD card along with the Kingston 256GB Class 10 UHS-I SDXC card and put them to the test!"

KitGuru visits Logitech's G Labs in Switzerland

Logitech invited Kitguru to their test labs in Switzerland. These guys take peripheral development very seriously and we were given a tour of all their facility - their stress testing alone needs to be seen. Driving over a keyboard in a truck? Just one of the tests! These guys don't mess around.

Nvidia Shield Tablet Android 5.0 Lollipop Review

The Nvidia Shield Tablet has already landed many awards for being a great gaming tablet, I myself reviewed it just a few weeks ago and absolutely loved it! However, not all of the features were ready from day one and Nvidia have been working hard to bring the latest Android 5.0 update to their powerful tablet. The Shield Tablet is already packed full of features, as you can see from the chart below. The new update not only updates the OS, but paves the way for even more features in the near future.

Lian Li PC-V359 M-ATX Chassis Review

ian-Li have one of the best reputations in the chassis industry, it's as if this company finds it impossible to make a product that is anything less than incredible. They are the masters of aluminium chassis construction and time and time again we've seen them release award-winning chassis products that offer premium performance, style, build quality and features; and they often come with the premium price tag to match. Today looks set to continue their never-ending combo of excellence, as we take a look at their new Micro-ATX super star; the PC-V359. There is a big demand right now for a chassis that lets you show off your rig, and the common side panel window isn't always the best option. People love to show of their high-end components; who would want to spend £1000 on a graphics card if you can't admire its awesome cooler design? The PC-V359 aims to offer a fresh perspective from its unique front panel and top panel window combo.