| | |
| --- | --- |
| General News | |

... 45 news stories awaiting approval
[LATEST]
Intel Core i9-7980XE 18-Core Processor Review

Today we are able to show you the benchmark results for the Intel Core i9-7980XE Skylake-X processor, which is Intel's High-End Desktop Platform (HEDT) 18-core, 36-thread CPU (2.6 GHz base/4.4 GHz Boost 3.0) that costs $1999. This processor takes performance to the next level and the overclocked benchmarks are unreal!

[LATEST]
Intel Core i9 7980XE Linux Benchmarks: 18 Core

Besides the embargo expiring this morning on the Intel Core i9 7960X, the Core i9 7980XE Extreme Edition processor is also now fair game. Here is our look at the Linux performance for this 18 core / 36 thread processor within a single 165 Watt package."

[LATEST]
Intel Core i9 7960X Linux Benchmarks

"While Intel previously announced the expanded Intel Core X-Series line-up including the Core i9 7960X and Core i9 7980XE processors, only today is the performance embargo expiring as these CPUs begin to ship to further battle AMD's Ryzen Threadripper line-up. Here is today's launch-day Linux benchmarks of the Core i9 7960X."

[LATEST]
Intel Core i9-7980XE & 7960X Review

Finally the Skylake-X series is complete. We now have Intel's new 16- and 18-core processors on-hand an while we don't doubt Intel had planned to release Skylake-X all along, did they really plan to offer something higher than a 12-core part before catching wind of AMD's Threadripper?



[LATEST]
Intel Core i9 7980XE & Core i9 7960X

"Before overclocking, you will want to ensure you have a high-end cooling solution to keep 16 and 18 cores out of thermal trouble. I usually use a Corsair H115i as my cooler, but even as good as it is it cannot handle the thermal load of the Core i9 7980XE or Core i9 7960X with any added voltage. Stock voltages were in the 0.89v range, but it took voltages of 1.12v to 1.14v to get the processors up to 4.5GHz. As low as those voltages are, a custom water cooling solution was taxed to keep thermals in check when running Prime 95 workloads. Under most workloads, the processors would stay below 85 °C, but easily hit 99 °C and throttle or reboot while overclocked to 4.5GHz. The 4.5GHz is a bit high for daily use, with 4.2GHz to 4.3GHz a better option using 1.0v. Running at 4.2GHz is easily fast enough for just about any task."


[LATEST]
Asus' Tinker Board single-board computer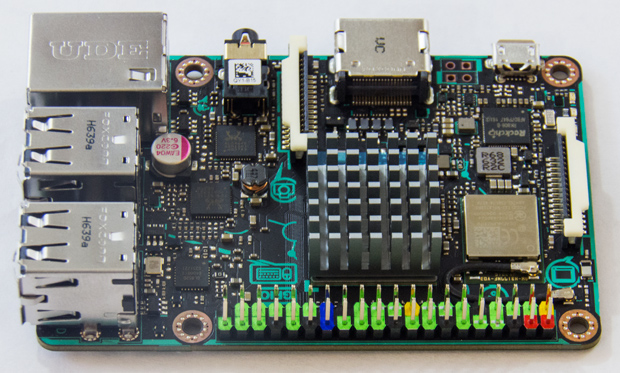 Asus' Tinker Board single-board computer wants to challenge the Raspberry Pi 3's popularity with a more powerful SoC and better networking, among other improvements. We put it to the test to see whether it's a worthy alternative to the status quo

Kingston KC1000 960GB PCIe M.2 Solid State Drive Review

Over the past few years Kingston has delegated their high-performance products to their HyperX brand. This includes memory, solid state drives, and gaming products. It is no surprised that Kingston launched their first PCI-Express solid state drive under that brand. The HyperX Predator was released over two years and now Kingston has the KC1000 under the main Kingston brand. This is to appeal to more mainstream customers, but this drive still packs in a punch with advertised sequential read and write speeds of 2700 MB/s and 1600 MB/s respectively. Kingston powers this drive with the Phison PS5007-E7 controller and Toshiba 15nm MLC NAND. Let's see what this drive can do!"

Riotoro Prism CR1280 Full Tower RGB review

We review the Riotoro Prism CR1280 Full Tower RGB, a product series that is designed for ease of use and decent looks as the side panel have been fitted with a see through windows. Armed with proper features and sure, a little RGB it does make this chassis little out of the ordinary. Wanna have a peek?

AMD A12-9800 Review: Infecting The AM4 Platform

While we wait for Zen-based APUs, AMD released Bristol Ridge through OEMs late last year, it recently became available on the retail market and this caught the attention of many. The A12-9800 costs $110 and along with promising pretty decent integrated graphics performance, you can take advantage of it on a new AM4 motherboard.


iKBC F108 RGB Keyboard

The iKBC F108 RGB is a full size keyboard with 16.8M RGB backlighting from a group of enthusiasts in Taiwan who had good build quality and value for money in mind. The keyboard features thick backlit doubleshot PBT keycaps, two colors, and four genuine Cherry MX switches to choose from, as well as driver-less controls with on-board storage.

CHERRY B.UNLIMITED 3.0 Keyboard & Mouse Kit Review

"If you are looking for a good quality wireless mouse and keyboard set and would like to use it for any activities except gaming, then you are in luck! B.UNLIMITED 3.0 from CHERRY does come with a very good battery life, a full-sized SX switch keyboard (low excursion) and an ergonomic ambidextrous mouse with two DPI settings that can be adjusted without any extra software. Its low sell price is another strong point of this product, the B.UNLIMITED 3.0 kit being available for just about 63 Euros (rechargeable batteries included)."

Project Build: Carmine - Part 3 – Custom all the things

Wow, so it was all the way back in April when our last installment of this build was published. Back at that point Ryzen 7 was new, now we have Ryzen 3 and 5 as well as Threadripper. So things have been a little crazy. At the time I was looking at cooling options and the original plan was just to add an AIO cooler but at the time no one had AM4 brackets available. I ended up reaching out to Alphacool, they had contacted me a year or two ago about working together on a build but I didn't have anything that really fit. It just so happened they had AM4 support early on, fitting this build perfectly. I will go into more details inside, but I ran into multiple delays and hiccups but Carmine is finally all together. It's about time we catch up and show off what has been done to the build.