| | |
| --- | --- |
| General News | |

... 51 news stories awaiting approval
CRYORIG Releases the Taku Monitor Stand PC Case on Kickstarter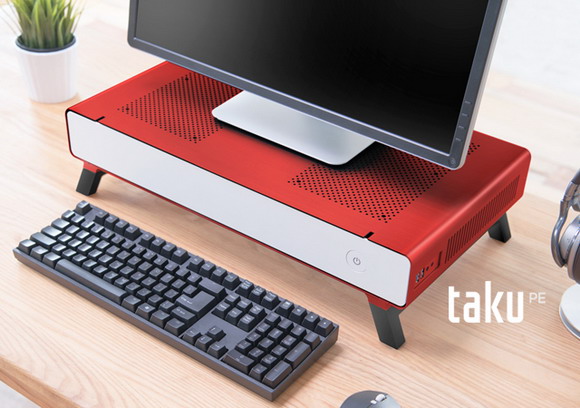 CRYORIG, the PC Cooling and peripherals innovator is releasing their first PC case project the Taku on crowdfunding website Kickstarter. The Taku, first announced and exhibited last summer, will also be shown during Computex 2017. The TAKU has been in development for over 2 Years in house, with over 6 months of co-development with manufacturing partner Lian Li. The Taku Kickstarter campaign begins on May 29th and ends on July 28th. Besides offering backers the chance to be the first people to receive the Taku, backers are also offered multiple customization options only available on Kickstarter.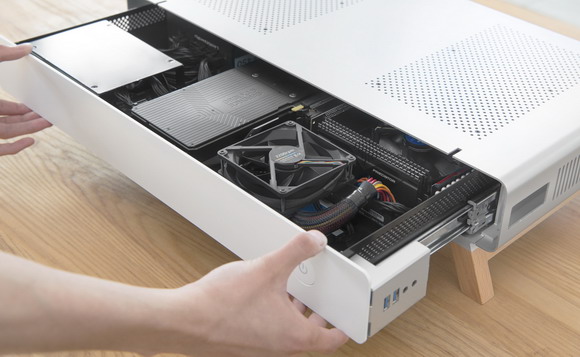 The TAKU is a hybrid between a PC Monitor Stand and a high-end ITX form factor PC case. With the TAKU, the PC footprint is minimized to free up desk space while at the same time fitting a high-performance PC system. The benefit of this state of the art design is that the monitor, keyboard and the full PC system is arranged vertically on top of each other. Meaning the total footprint is lowered, and valuable deskspace is freed. The Taku is compatible with GPU's up to 280 mm, ITX form factor mainboards, SFX or SFX-L power supplies, fully capable of housing a high-end Gaming PC. Taku's storage space is also well taken care of. The Taku can also fit 1x 3.5" HDD and two 2.5" SSD/HDD.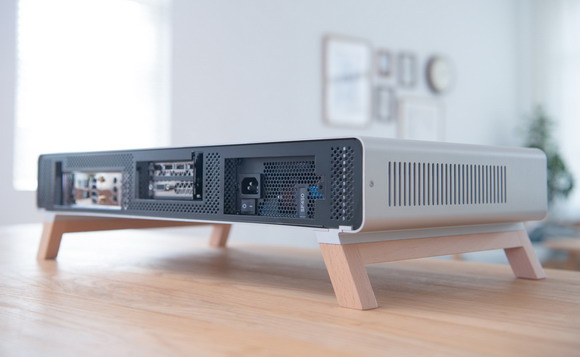 As a PC Monitor Stand the Taku can support monitors up to 15 kg and fit a full 104 key mechanical keyboard underneath the stand. The system tray can be fully slid out of the chassis for easy installation of PC components or upgrades. On the right side of the Taku you'll find dual USB 3.0 ports and audio in/out ports. An USB-Type C port will be made available in later revisions. The Taku will also include two cable management holes at the front. This allows for cables to be run through the system tray and connected to the back ports of the Taku. Providing easy and clean cable management of USB charging lines for your phone or peripheral.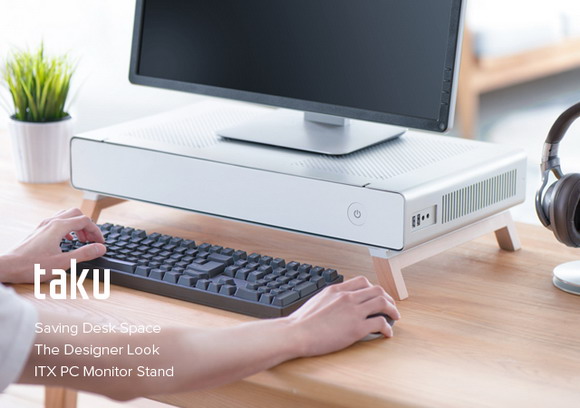 With the Taku, CRYORIG combines wood and aluminum to create an organic feeling piece of Technology that would fit perfectly into any home, or work environment. CRYORIG is going to add one C7 ITX Cooler free of charge, if the Taku project exceeds 1.000 units. The Taku campaign will begin on May 29th and offer multiple colors and material options for users to mix and match. Early bird backers will be able to get the Taku at USD$ 250 (-VAT,-shipping) with standard Taku Classics going up to USD$ 299(-VAT,-shipping), the custom TAKU PE's cost will depend on customization options. First shipments of the Taku will go out to backers beginning September 2017.

Windows 10 Creators Update Disappoints

The world is constantly changing. So is Windows 10. While small incremental updates have been ongoing, Microsoft is now rolling out their latest big cumulative update. They call this the Windows 10 Creators Update. The Creators Update will not be made available to all devices at once. It will, rather, be rolled out in phases with newer hardware being updated …

Nitro Concepts E220 EVO Gaming Chair Review

The E220 EVO Gaming Chair by Nitro Concepts is a good option for gamers on a tight budget out in the market for a great looking medium sized model (available in 7 color combinations) with good comfort levels.


BIOS Optimization Guide.

The LAN Boot ROM BIOS option is important if you use an operating systems that does not have native support for the Gigabit LAN controller. Read more here!"


MSI Z270 Gaming Pro Carbon

The MSI Z270 Gaming Pro Carbon board features a black PCB with carbon fiber overlay covering the board's heat sinks and rear panel cover. MSI also liberally sprinkled RGB LED-enabled components across the board's surface and under the board for an interesting ground effects type look. The board is designed around the Intel Z270 chipset with in-built support for the latest Intel LGA1151 Kaby Lake processor line (as well as support for Skylake processors) and Dual Channel DDR4 memory running at a 2400MHz speed. The Z270 Gaming Pro Carbon can be found in retail with an MRSP of $174.99.

Prey Performance And Optimization Guide

The AMD Radeon RX 580 has been in the wild for over a month at this point. AMD pitched the Radeon RX 580 as an ideal choice for gamers looking to upgrade from graphics hardware acquired a couple years back. Specifically, in the lead up to the launch, AMD compared the performance of the RX 580 to cards like the Radeon R9 380. So, with that in mind, we're in the lab today to test that claim using the recently launched Prey reboot from Bethesda Softworks and developer Arkane Studios, as our primary benchmark and game engine to explore. The game also just so happens to look fabulous...

ASRock X370 Taichi Motherboard

The ASRock X370 Taichi is a high-end motherboard for Ryzen CPUs, with 10 SATA-600 ports, 10 USB 3.0 and two USB 3.1 ports, supporting SLI and CrossFire. Let's take a good look at it.


Guru3D Rig of the Month - May 2017

The May edition of the Guru3D Rig of the April 2017 is here. The turn goes to Mike Norbert who built his own customized PC. The end-result is a nice looking rig of the month April 2017

changes to A55 and A75 further enhance the advantages

Several days of meetings and presentations left us a bit overwhelmed by what ARM is bringing to market towards the end of 2017 and most likely beginning of 2018. On the surface it appears that ARM has only done a refresh of the CPU and GPU products, but once we start looking at these products in the greater scheme and how they interact with DynamIQ we see that ARM has changed the mobile computing landscape dramatically. This new computing concept allows greater performance, flexibility, and efficiency in designs. Partners will have far more control over these licensed products to create more value and differentiation as compared to years past.

AMD Ryzen 5 1400 3.2 GHz

The most affordable Ryzen part at the moment, the $170 Ryzen 5 1400 quad-core processor is endowed with features you find only on Intel processors twice its price. We're interested to see where that leaves competing Intel parts within its price-range.

Origin Chronos Small Form Factor Gaming PC Review

"Pre-Built" and "Small Form Factor PC" are terms that can strike fear in the minds of hardcore PC gamers. Pre-built systems don't necessarily put quality or performance over costs, while small form factor PCs don't always get high end GPU options or efficient cooling. Origin's Chronos breaks those stereotypes with top-of-the-line, name brand components in a tiny chassis.

Razer Blade (2017) Review

I'm a big fan of Razer hardware. Their peripherals are top notch, in particular their outstanding Deathadder mice, while their laptops have surprised me in terms of how solid and well built they are. Razer seems to know what gamers are after and the latest Razer Blade is no exception.