[>>]

[>>]

[>>]

[>>]

More>>

Search...

| | |
| --- | --- |
| General News | |

... 42 news stories awaiting approval
Project build: Lunchbox 4 - Part 2 @ LanOC Reviews

So yesterday I went through and spoke about each of the components I went with for Lunchbox 4 and why I went with them. Today's the day we dive into customizing the build to make it stand out a little including adding that all important carrying handle. Then after that, I benchmark the build and figure out how the new build compares to our last Lunchbox build. Does it fit our goal of always going smaller and faster? Do I have any regrets with the new build? Well I talk about that in the last section, so don't forget to check that out as well.


SilverStone SX700-LPT 700W SFX-L Power Supply Review

SilverStone has a new take on small form factor power supplies it is calling "SFX-L." This new form factor extends the standard SFX size by 30mm allowing SilverStone to install a quieter 120mm fan than the usual higher speed and noisier 80mm and 92mm fans. How does all this work out?

Jonsbo UMX4 Review

The UMX4 is an elegant and classy case from Jonsbo. In order to also make ATX users happy, Jonsbo introduced yet another UMX series case, since the UMX3 and UMX1 are compatible with mATX and mini-ITX motherboards. The UMX4 is made from aluminum with two solid tempered glass side panels. Apart from that this case is available in black or silver and with or without the glass panels.

AVM FRITZ!Powerline 1240E WLAN Set Review

Packing very fast wired (1200Mbit/s) and wireless (300Mbit/s) connectivity the brand new and feature-rich 1240E FRITZ!Powerline WLAN Set by AVM might just be the best kit money can buy today.

Phanteks Enthoo Mini XL DS Review

With the Enthoo Mini XL DS, Phanteks has a unique case for dual systems in its portfolio, which comes with a lot of features and at an attractive price. This model is compatible with mATX and mini-ITX motherboards, if you are looking for a case that can accomodate two different system then this Phanteks is made for you. Apart from that especially friends of custom water cooling loops will love this case, since it offers a lot of flexibility in that direction. In addition this model supports a multi color illumination and a fan controller for up to six fans. For now, we're really curious to find out how this case is going to do in our review.

AMD Zen Sneak Peek @ Hot Chips 2016

In this AMD Zen sneak peek, we present to you the most in-depth technical briefing by AMD on the AMD Zen microarchitecture. Check out the slides and video!


G.SKILL Announces DDR4 3000MHz CL14 128GB(8x16GB) Memory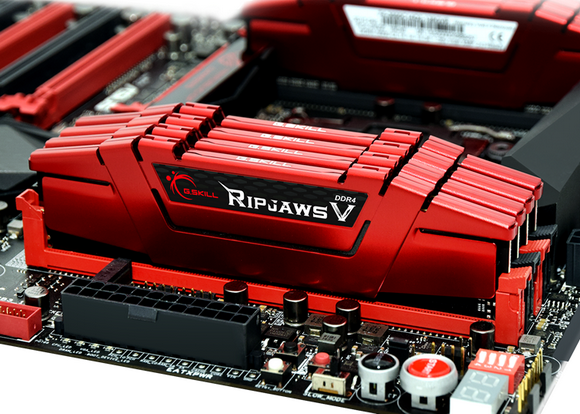 "G.SKILL International Enterprise Co., Ltd., the world's leading manufacturer of extreme performance memory and gaming peripherals, is delighted to announce the world's fastest DDR4 128GB (8x16GB) 1.35V kit at 3000MHz CL14, designed for high capacity and low latency for the Intel X99 platform. After releasing the ultimate DDR4 3200MHz 64GB(4x16GB) kit for Intel Skylake & Z170 platform in mid-December 2015, G.SKILL has continued the development of high speed DDR4 16GB module for Intel X99 platform. Today, G.SKILL is excited to announce the release of a colossal memory kit of DDR4 128GB (8x16GB) ultra-capacity at the extreme speed of 3000MHz with CL14-14-14-34 ultra low CAS Latency. It's truly one of the highest-end DDR4 solutions available for building the ultimate workstation for content creation, 3D rendering, scientific calculation, or other professional applications.
This new ultimate DDR4 3000 128GB kit will come with the latest Intel XMP2.0 standard designed for Intel X99 quad channel memory platform. The following screen shows this ultimate DDR4 kit on the Intel Core i7-5820K processor and ASUS ROG RAMPAGE V EXTREME motherboard under a stress test environment."

Thermaltake Core P3 ATX Wall-Mount Chassis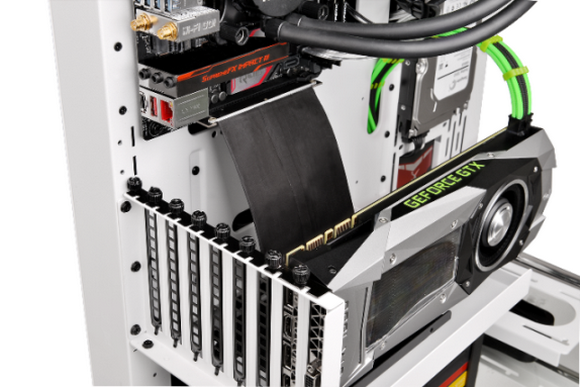 "Thermaltake today officially released the Core P3 Snow Edition ATX Wall-Mount Chassis and the Core P3 Black Edition ATX Wall-Mount Chassis . The Core P3 series retains the classic appearance of the Thermaltake open frame chassis series. To simultaneously protect and display the glory of the build, the Core P3 series is designed with 3-way placement layouts (Wall-mount, Horizontal and Vertical) as well as included a large acrylic window. The internal structure of the Core P3 series provides a versatile PSU and GPU orientation, and supports a vertical PSU layout. Furthermore, the dual GPU layout locations allow flexibility for placing the GPU either horizontally or vertically. Most importantly, the Core P3 series is AIO liquid cooler supported. The Core P3 series is not only made for modders, but also built for makers. Users can make their own Core P3 mods by downloading the 3D printable accessories available online."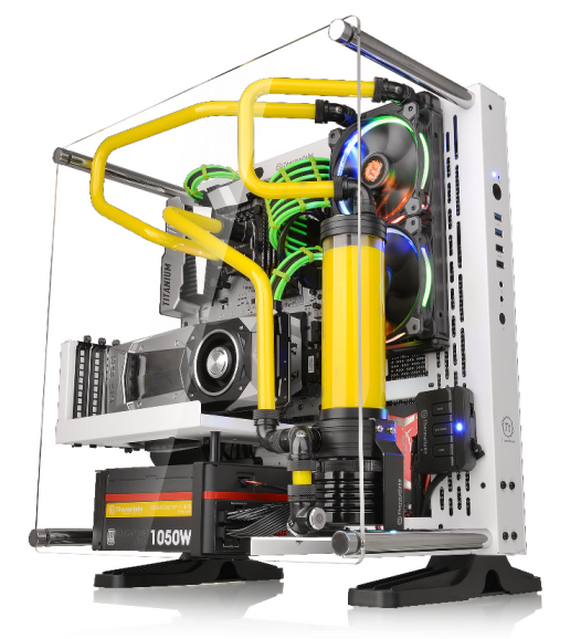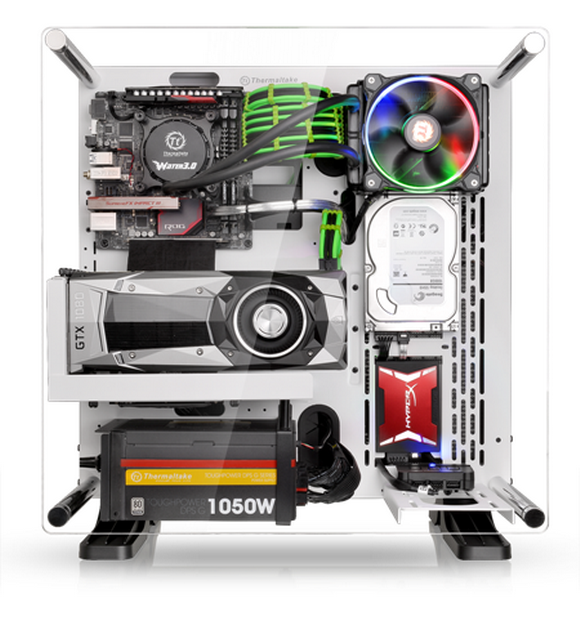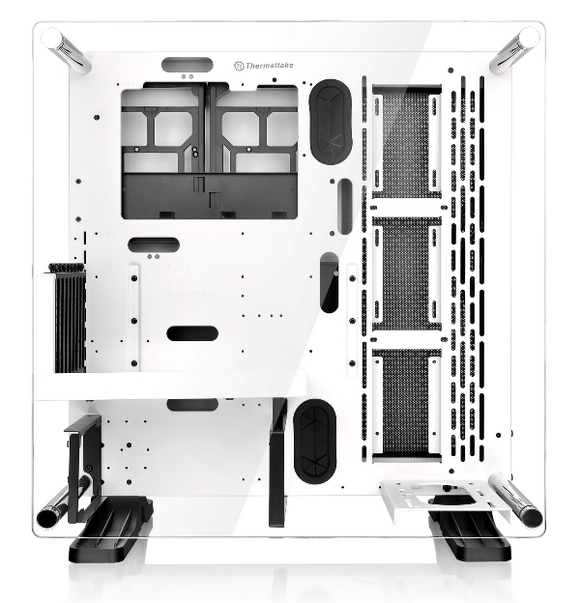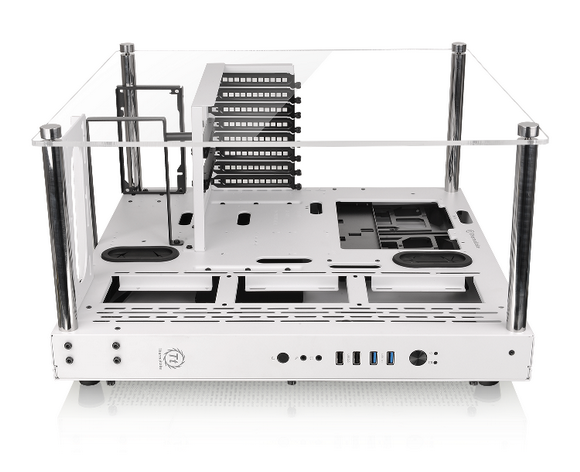 Giada Intel Xeon D Server N60E-O Motherboards

Giada has announced their N60E-O: The New Intel® Xeon® D Server Motherboards. They are storage solution for warm storage with specialized processor for maximum efficiency and performance balance.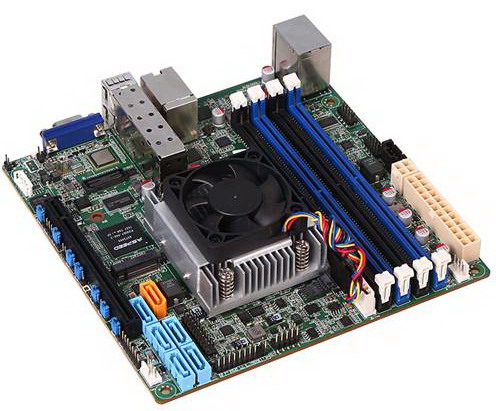 "Giada Technology, the industry leader in embedded systems and expert in server technology, today officially announces the N60E-O compact server for warm cloud storage applications powered by Intel Xeon-D processors which offer scalable performance on a tiny form factor.
Balancing value, performance and integration, the Giada N60E-O features an onboard Broadwell-DE based Xeon-D processor which is intended for entry-level enterprise storage applications particularly warm data storage. The Xeon D-1540 features 8-cores with 16 threads with an impressive TDP rating of 45W offering a great balance of performance and power draw making for a highly efficient setup.
The Giada N60E-O features the compact mini-ITX form factor (170x170 mm) for compact chassis but is compatible with most general tower-types, rack-mounted cases and mini NAS server chassis. Users can adapt the Giada N60E-O to their particularly dimensions without shifting chassis of their server.

Besides sporting a dual Gigabit Ethernet RJ45 via the Intel i210 controller, the Giada N60E-O also sports two 10-Gigabit (10Gbps) SFP+ connectivity via SOC which allows greater bandwidth and transfer efficiency. Users can now achieve higher bandwidth with less latency.
A full-speed PCI-E 3.0 (x16 speed) expansion slot is present onboard for customers to upgrade their system with a fully-functional graphics card, HBA card, RAID card or network card.
The Giada N60E-O features six (6) SATAIII 6Gbps connectors for maximum storage capacity. Users can also update to a 12G solution via the PCI-E expansion slot and get more performance from the Giada N60E-O in dense storage applications. The onboard M.2 slot expands the internal storage for faster responsiveness and system transfer and supports both SATA and PCI-E with up to 4GB/s of transfer speed. Two USB3.0 ports also offer expansion capabilities for storage and are perfect for maintenance and internal system backups via USB3.0 devices.
Giada assembles the N60E-O motherboard with choice components configured by Giada engineers to deliver high-efficiency. The Giada N60E-O features solid capacitors that are durability tested up to 12,000 hours under 105*C temperatures which is in excess of the heat generated by standard operation.
Manage your Giada N60E-O remotely via IMPI 2.0, even in an offline or suspended state via KVM modules that feature browser support which provides annual remote monitoring and diagnosis through an easy-to-use web interface (supported by N60E-O with Intel Xeon-D 1520 and higher).
The small footprint of the Giada N60E-O makes it perfect for compact installations where it complements the inherent efficiency of the processor. The processor itself which is an onboard solution allows for rapid deployment for instances wherein a quick solution for the intended applications need to be deployed instantly. SMEs and other scenarios requiring a solution for warm data or files that aren't heavily accessed on a frequent basis will benefit greatly on the optimized architecture of the Giada N60E-O's Xeon-D processor.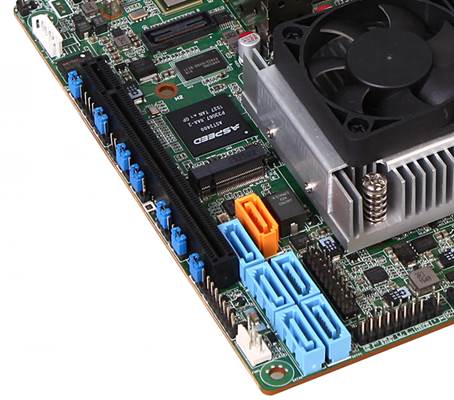 The Xeon-D processor's low power consumption and heat output makes it a highly efficient and low maintenance part, reducing the need for servicing and is completely designed by Giada engineers for 24/7 rock-solid operation. Tested with durability and stability in mind, Giada designs the N60E-O server board with dedicated components to assist in achieving this goal. Design to scale with growing business storage needs, the Giada N60E-O features support for up to six SATAIII devices controlled by the onboard SoC. Further storage can be added via the onboard M.2 slot supporting up to x4 PCI-E 3.0 speeds and also via the PCI-E x16 slot that can take in add-in board to allow expansion for more storage SATA, SAS, SCSI or whichever controller your application or infrastructure requires.

GIGABYTE Partners with Wargaming in Pan America

"GIGABYTE TECHNOLOGY Co. Ltd., a leading manufacturer of motherboards and graphics cards is proud to announce today, a promotion with Wargaming, creators of award winning free to play titles such as; World of Tanks and World of Warships, in connection to its recent launch of its new X99 and Z170 Motherboards. This promotion will qualify for all purchases made after May 30th, 2016.

GIGABYTE is bundling, with select Motherboards, bonus items, in-game currency, and in-game bonuses for World of Warships, valued at up to $30 USD. This promotion will be widely available to all GIGABYTE users in the Pan America Region, from North America, to Latin America, and also Brazil. Players can participate and obtain these free bonus items simply by purchasing, select GIGABYTE Motherboards. To promote this promotion even further GIGABYTE has created special retail boxes to signify and differentiate these select motherboards.

" Wargaming is proud to have the best naval combat game, World of Warships, supported by the finest PC hardware from GIGABYTE", stated Scott A. Steinberg, Senior Director of Business Development, Wargaming America.

New players will have an invite code available to them which they can use to obtain a premium warship, Aurora Cruiser; offered in GIGABYTE's Promotion bundle. In addition, players will have access to being a premium account for seven (7) days this includes an +50% XP, Commander XP, Credit earnings, and access to a premium port. Not only that these new players will also be given 750,000 Credits in in-game currency. Existing players will use a bonus code and will be offered a premium warship Smith, with its debut release with GIGABYTE's bundle promotion, as well as 100 Flags, an in-game consumable item.

This Promotion is available to the following GIGABYTE motherboards: X99-Phoenix SLI, X99-Ultra Gaming, X99P-SLI, Z170XP-SLI, H170-Gaming 3 and the H110M-S2H. Users can choose between a X99 Chipset Motherboard, that supports the newly launched 10-Core CPU from Intel, or the Z170, H170, or H110 Chipset Motherboards."

Matrox C900 Drives Nine Full HD Displays

"Shuttle Computer, one of the world's foremost designers of small form computers, and Matrox® Graphics Inc., a leading manufacturer of specialized graphics solutions, today announce the integration of the Matrox C900 multi-display graphics card into the Shuttle XPC cube R81710M.
What was on display in June at InfoComm 2016 in Las Vegas is now coming to Europe: The brand-new, single-slot Matrox C900 card, the world's first to drive nine 1920 x 1200 displays at 60 Hz, is now available in a Shuttle XPC.
Shuttle's renowned XPC cube series is only a fraction of the size of a normal tower PC, but delivers the same performance with high durability and strong expandability. The latest flagship model, R81710M supports the sixth generation of Intel® Core processors, 64 GB of DDR4 memory, four drives and provides a host of connectors in addition to PCI-E x16, PCI-E x4, M.2, and Mini PCIe® interfaces which can be used for the single-slot Matrox C900 graphics card to drive video walls, file servers, network video recorders and other scenarios.
Individual configurations of complete Mini PC systems going by the model name R81710M can be ordered immediately through the Shuttle Systems Configurator. Prices start at € 3189 ex Vat."

Shuttle XPC Cube SZ170R8 w/ i5-6600K

Shuttle's new SZ170R8 XPC Cub combines a potent CPU and a capable GPU - you won't need more for a nice gaming system or a VR setup. Not only is its mainboard rife with features, but the SZ170R8 also looks elegant and is incredibly small.

ADATA Launches the Ultimate SU800 SATA 6Gb/s 3D NAND SSD

"ADATA® Technology, a leading manufacturer of high performance DRAM modules and NAND Flash products, today launched the Ultimate SU800 SATA 6Gb/s 3D NAND solid state drive, part of a complete range of SSD offerings that utilize advanced 3D NAND Flash. At the forefront of SSD innovation and development, ADATA has committed to transitioning to 3D NAND across its entire SSD portfolio, from mainstream consumer offerings to hardened industrial application models designed for the harshest environments. The Ultimate SU800 is a mid-range model that makes the most of 3D NAND, or stacked Flash, representing a considerable upgrade for existing 2D NAND SSD users and a massive step up for HDD users. With its incorporation of floating gate cell NAND and a high quality SMI controller, the Ultimate SU800 arrives in diverse capacities – 128GB! to 1TB. It embodies the 3D NAND generation with higher density, improved performance, and increased reliability when compared to 2D or planar NAND Flash SSDs. ADATA plans to expand the Ultimate series of solid state drives with higher-end SU900 by September.
With multi-layered 3D NAND Flash, the Ultimate SU800 packs exponentially greater storage density into the same 2.5" form factor of current SSDs. It therefore ships in 128GB to 1TB capacities, offering customers more choice. Whether as an OS boot drive or a mass storage location, the Ultimate SU800 has diverse needs covered. The increased storage density also makes 3D NAND Flash SSDs more energy efficient than 2D NAND Flash drives, as while density grows power draw remains identical. This is even more notable when comparing the Ultimate SU800 to 2.5" internal hard drives: power savings reach 80%, especially with DEVSLP (device sleep) low power mode support. The Ultimate SU800 is an easy fit in ultrabooks, notebooks, and desktops, measuring 7mm thin and bundled with a 2.5mm spacer. Its power-saving operation helps extend mobile PC battery life even more so than current SSDs.
By virtue of its higher density, 3D NAND Flash offers greater redundancy and reliability compared to planar NAND Flash. The technology is able to withstand more read/write cycles, endowing the Ultimate SU800 with an impressive MTBF (mean time before failure) rating of 2,000,000 hours. That equals a 25% increase when put next to 2D NAND SSDs, which average 1,500,000 hours. ADATA has incorporated LDPC (low density parity check) error correcting code, data shaping, and even a RAID Engine in Ultimate SU800 firmware to ensure the best durability possible. Combined with meticulous ADATA component design, sorting, and testing, the Ultimate SU800 offers assured quality, backed by a 3-year warranty.
MSRP SU800 SSD 128GB $59.99
SU800 SSD 256GB $79.99
SU800 SSD 512GB $139.99
SU800 SSD 1TB $269.99"


Thermaltake New View 27 Gull-Wing Window ATX Mid-Tower Chassis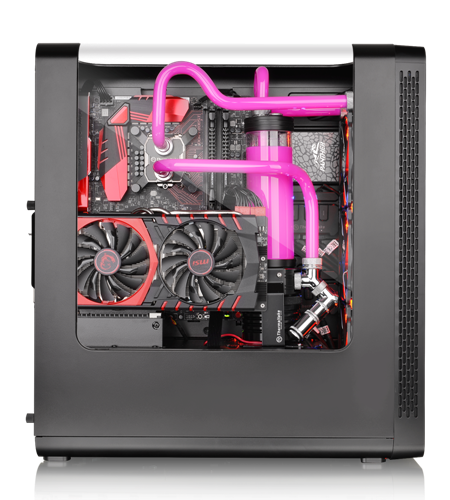 "Thermaltake is proud to announce the latest line of cases – the View 27 Gull-Wing Window ATX Mid-Tower Chassis with patented appearance design and exclusively Tt LCS Certified. Specially crafted with a curved window, users can fully display their system whilst keeping the interior dust free.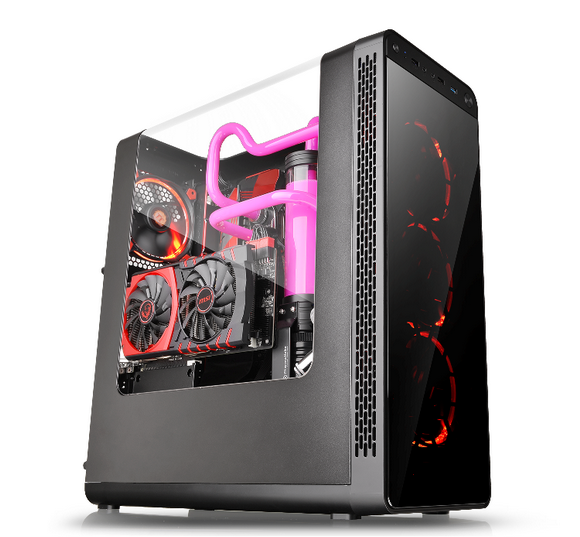 Additionally, the View 27 offers a superior hardware support with complete thermal solution. The tool-free drive bay design allows users to freely interchange the hard-drive cages to suit their particular needs. Moreover, with the dual VGA placement layout, users can choose to place the graphic card either vertically or horizontally. Most importantly, the View 27 is perfectly designed for liquid-cooling system. It is compatible with DIY liquid cooling radiator and AIO liquid cooler.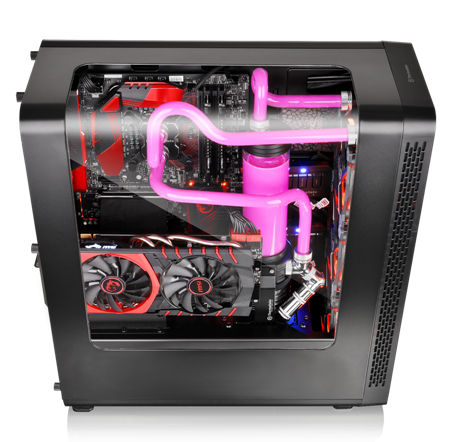 The new Thermaltake View 27 Gull-Wing Window ATX Mid-Tower Chassis is the best choice for both entry-level users and experienced PC enthusiasts!

The innovative 3.5" & 2.5" tool-free drive bay design minimizes the hassles of installation and removal, whilst allowing users to freely interchange the hard-drive cages to suit their particular needs. The dual drive bay concept of "2+4" offers a good ration for accessories and storage devices. Power cover design is another unique feature of the View 27. The entire bottom area can be used to reorganize unused cables, which makes for a tidy-looking system.

The View 27 has the capability to deliver an outstanding cooling efficiency throughout the entire case. At the front of the case, users can install up to either 360mm DIY liquid cooling radiator, or 360mm AIO liquid cooler, with a long graphic card at the same time. Additionally, a 120mm exhaust fan is preinstalled at the rear to optimize system ventilation. To keep the interior dust free, all intake ventilation holes are specially designed with removable dust filters."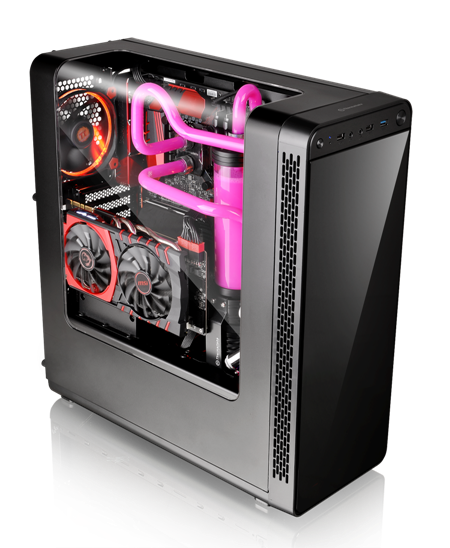 The best Guides by the best writers on the internet; PCSTATS Beginners Guides explain computers, software, and all those other wonderful things that cause you frustration.

Learn how to use your computer better, master the internet while protecting yourself, and know what to do when your hard drive kicks the bucket.



"Get the 'Stats and Stay Informed!"