| | |
| --- | --- |
| General News | |

... 21 news stories awaiting approval
Gears of War 4 PC Game Analysis

Back at the start of 2016 it was starting to look like Microsoft had completely forgotten how to deliver a solid PC game. Efforts like Quantum Break underperformed on PC hardware and the early days of the Universal Windows Platform were riddled with missing features. However, today might mark the start of a new chapter as Gears of War 4 has arrived and it is excellent – from the graphics options right down to just how well it runs.

Jonsbo RM3 Case Review

The Jonsbo RM3 Case arrived Technic3D. The RM3 supports Mini-ITX and Micro-ATX motherboards and have place for 2x 120mm and one 140mm Cooling-Fan. We will check this and many more in the following Review."


FIFA 17 Xbox One Review

FIFA returns for another year with a brand new engine after having left the old generation behind. Is it enough to keep it at the top? Let's see."

Corsair M65 Pro RGB Mouse and MM800 RGB Polaris Mouse Pad

"We have tested M65 Pro on both the MM800 and our trusty ModMyMachine aluminum pad along with the Ghost in Shell, Mafia III, Shadow Warrior, Duke 3D 20th Anniversary World Tour and CS: GO titles: thanks to the rubberized coating and ergonomic side panels, the mouse felt very comfortable, even after two hours of continuous usage. The updated sensor works well on many surfaces, while the MM800 pad and its low friction micro-textured surface allowed us to have more precise movements during office work, but also photo and video editing. The re-positioned buttons on the left panel of the M65 Pro are more accessible now to the thumb, while the DPI values up to 12K should satisfy even gamers which are active in online competitions."

Samsung 960 PRO RAID Review

Samsung recently announced their new 960 PRO; the next NVMe SSD to supersede their renowned 950 PRO. This drive builds on the success of the 950 PRO delivering Samsung's 3rd generation V-NAND along with the new Polaris Controller. 960 PRO is available in 512GB, 1TB and 2TB editions and will be available to buy next month.

Samsung 960 PRO M.2 1TB NVMe SSD review

In this review we test the new M.2 and extremely fast Samsung 960 PRO Series SSDs with all new Polaris based controller. These new M.2 units can now be purchased in volume sizes up-to 2TB and use the nvm express (NVME) 1.2 protocol which is even faster anno 2016. Storage technology is advancing with hyper fast paces while remaining competitive in pricing. Does Samsung have yet another NAND success at hand?

Thermaltake Core X31 Mid Tower Chassis Review

Thermaltake are the masters when it comes to pushing heavy-duty chassis to market at fiercely competitive prices. Now they're at it again with their latest mid-tower, the X31, which promises extensive water and air cooling support, room for up to an ATX motherboard, lots of storage, and huge graphics cards and all of that comes at a price around £80.


Mafia III - PC graphics performance review

With the new 1.01 Patch in effect we are free from 30 FPS caps, yes it is time to look at Mafia III, the Guru3D way. In this article we'll examine Mafia III in our usual geeky fashion. We'll test the game on the PC platform relative towards graphics card performance with the latest AMD/NVIDIA graphics card drivers. Multiple graphics cards are being tested and bench-marked with the latest cards such as the GeForce GTX 10 series included as well as Radeon RX series 400 cards. With the newest graphics cards and technologies we'll try and see how well this DirectX 11 title performs.

BIOSTAR A68N-5200 Motherboard Review

Despite a lot of the media focus being on Kaby Lake and AMD's fabled Zen architecture, it's important to remember that some users require a new motherboard as a matter of urgency and cannot wait for upcoming solutions. Not only that, in low-end scenarios such as a home office system or HTPC, modern processors provide more than enough performance. Some time ago, BIOSTAR decided to focus their efforts on embedded products after acknowledging the herculean task of trying to compete with ASUS, Gigabyte and other brands in the enthusiast market.

AMD pushing new projects for VR applications

AMD has launched several new projects for its virtual reality (VR) business including GPU certification. It has enhanced its software/hardware platform and established a VR supply chain, hoping to expand its presence in the VR market, and to regain share in the graphics card market with its new Polaris GPUs.

MSI GeForce GTX 1060 Gaming X 3GB Graphics Card Review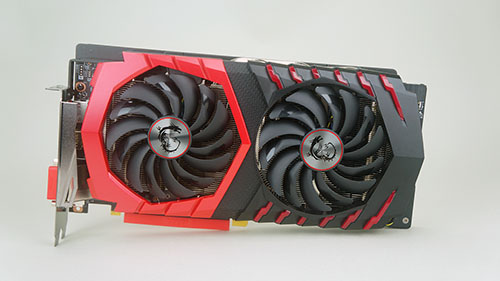 "The mainstream segment of the graphics card market seems to be the most competitive currently. With AMD releasing their Radeon RX 480 at a price-point of $229 with performance of cards from the previous generation that cost upwards of $350. This prompted NVIDIA to released their GeForce GTX 1060 graphics card earlier than expected. Now with AMD releasing their RX 470, NVIDIA has a new GTX 1060, a 3GB model. This model now only cuts the VRAM in half, but also has an extra SM unit disabled. Off the bat NVIDIA allowed for add-in-card (all-in-card) AIC partners to release their custom cards for this new GTX 1060. Today we have one such card from MSI, which is their GeForce GTX 1060 Gaming X 3GB. This card comes with a custom PCB with a nice factory overclock, MSI's TwinFrozr VI cooling solution, full back-plate, and RGB lighting options. The card comes in a $239, which gives it a $40 premium over the GTX 1060 3GB base MSRP. Let's jump in and see what this card is made of!"

Finish off your PC with this selection of great gear.

For this edition of our peripheral staff picks, we've refreshed our selection of displays, keyboards, mice, and more to account for the latest and greatest options out there for PC builders. Finish off your PC with this selection of great gear.

GIGABYTE XP1200M 1200W Power Supply Review

You read that correctly, we are reviewing a computer PSU today that is being sold under the GIGABYTE banner. GIGABYTE is best known for its motherboards, but that should put it in a good position as to knowing what kind of power an enthusiast PC system needs. Add in that this PSU is a 1200 watt beast and that should make it interesting.