[>>]

[>>]

[>>]

[>>]

More>>

Search...

| | |
| --- | --- |
| General News | |

... 26 news stories awaiting approval
Western Digital 1TB WD RE4 Enterprise Hard Drive Review

Western Digital started segmenting their storage products into tiers; external storage drives are arguably on the very lowest rung, followed by WD Green, Blue and Black Caviar desktop hard drives. Shortly thereafter, WD introduced 'RE4' drives for Enterprise Storage applications.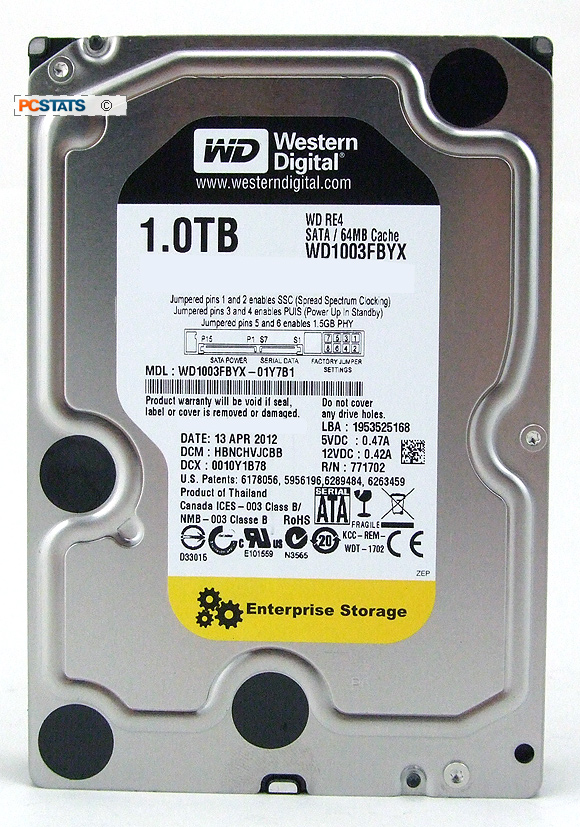 In this review PCSTATS is testing out a 3.5" Western Digital RE4 WD1003FBYX hard drive. The WD RE4 WD1003FBYX is a 1.0TB hard drive which utilizes Perpendicular Magnetic Recording and operates on the 3Gb/s SATA II interface. It features StableTrac, IntelliSeek, NoTouch ramp loading head technology, a multi-axis shock sensor, RAFF technology and RAID specific Time Limited Error Recovery. The drive supports a typical sustained data transfer rate of 128MB/s and has two platters/four heads beneath its shiny metal exterior.

Google Nexus 7 Tablet Review - XSReviews

The Google Nexus 7 is a fulfillment of a promise made last year by Nvidia, that they would soon offer a $200 tablet with the power of their latest quad-core mobile architecture. In practical terms, that means an Android tablet with the raw processing power of flagship tablets but costing a third of the price. The tablet, with Asus hardware and the latest Google Android software, offers one of the most compelling cases for tablet ownership yet at a 159 price point that UK customers have never experienced. As a friend of mine mentioned at the time, At that price, you can`t afford not to get one. Have Google crafted a masterpiece, or were too many corners cut to hit that remarkable price point? Let`s find out. A link to the article would be much appreciated."

John's VR glasses experiments

"The final topic was that of John's VR glasses experiments that he has been doing, as well as the work he is doing with the company Oculus. This is obviously a passion for John, as he talked a lot about it. He detailed out the issues with current head mounted displays, what he has done to mitigate them, and the final cludged together product that he was able to produce essentially on his own. He was quite excited to get in touch with the people at Oculus, as they have a nearly shipping product that takes HMD VR to the next level. Topics involved per eye resolution, optics, latency, absolute head position, and software support. This took up the major portion of his talk. It is an area that he obviously is very excited about and hopes to expand upon soon."

John Carmack's annual keynote address

"id Software co-founder John Carmack's annual keynote address started off on a somber note as he apologized for several issues gamers experienced with graphics driver issues when they released their triple AAA title "Rage" for the PC in October last year. Carmack discussed Rage's disappointing PC debut and stated it was "poorly handled" in its lack of driver support. After discussing id Software's Doom 3 RPG Edition for iOS they are demo'ing at Quakecon, Carmack emphasized that the company needs to focus its efforts on Doom 4 development, which means they will be repurposing their mobile development team to work on Doom 4 until it's completed."

Infographic: The Rise of Tablets

"Tablet devices are certainly the talk of the tech world thanks to the Apple iPad and other competing devices. The sales of tablets are predicted to skyrocket with more than double being sold in 2016 compared to 2012. This infographic takes you through the numbers and trends surrounding the rise of tablets."

Corsair AX1200i 1200W review: a new benchmark

Today Corsair introduced the AX1200i power supply it had announced at Computex. This isn't just any power supply, it's the first PSU for high-end desktop PCs to use digital control. The DSP is supposed to ensure extremely high efficiency and very low ripple values. It also comes with interesting features such as the ability to monitor and adjust vital parts of the PSU with software.

[DreamWare Computers] Pivos XIOS DS Media Play

With the continued evolution of the Android operating system, manufacturers are left with the ability to take a proven and versatile OS and put it on their own hardware. Furthermore, Android brings with it an incredible ecosystem of applications, accessories and interoperability with other device types. We`re used to seeing Android on our phones and tablets, but now it`s coming to our living room. Pivos is one of the latest manufacturers to release an Android powered media box and I have one here today to check out."

Patriot Viper 3 Black Mamba Edition DDR3 Review @ Vortez

The Viper Series has been synonymous with style and speed and today we see the Series enter its 3rd Generation; Viper 3. Viper 3 uses a custom designed head-spreader and has been tailored for dual and quad channel ready motherboards in a variety of capacities - 8GB, 16GB and 32GB and with frequencies from 1600MHz up to 2133MHz."

Smarter Stand for iPad Review @ TestFreaks

The Smarter Stand is one of those ideas where you say to yourself why didnt I think of that? This product is basically a pair of clips that lock onto the Smart Cover to increase its possible stand positions depending on the placement of one or two of the Smarter Stand clips. "

CM Storm Sonuz Gaming Headset Review

The earpads themselves are absolutely huge and unless you have Dumbo-size ears they will fit comfortably over your ears without any issues. The pads are made of the same soft foam as the top bridge padding and are quite comfortable even with the higher pressure on them from the rigid frame. The backside of the earcups has a slice through it filled with metal mesh, which won`t win any awards at keeping outsides sounds out (or vice versa). I didn`t notice a great deal of noise leaking out of the headphones compared to some but if you crank the volume everyone will know what you`re listening to."


The Evolution Of NVIDIAs Kepler Driver Performance

After publishing last week a look at AMD`s Catalyst Evolution For The Radeon HD 7000 Series, here`s a similar set of benchmarks to see how the NVIDIA graphics driver performance has changed for the GeForce GTX 680 Kepler graphics card since its inception."

Corsair Force GS 240GB SSD review

We review the Corsair Force GS 240GB SSD. Corsair introduces the Force GS series, and that are equipped with the 2281 series SandForce controller. Paired with SanDisk Toggle Toggle NAND flash ICs that will increase read and write performance to 555MB/s and 525 MB/s respectively which makes the Force GS the fastest SSDs they have ever brought to market. With 4K random write performance estimated at 90,000 IOPS (input/output operations per second) the product is definitely in the right performance bracket we like to see Corsair in. But have a peek at the review"

ASRock Vision 3D 252B HTPC Review

When we first took a look at the ASRock Vision 3D 137B with NVIDIA 3DTV Play last year, we were quite impressed with the machine. It offered excellent all-around performance for a system in its class and had an extensive feature set that included Blu-Ray and 3D video playback capabilities, all wrapped up in what we considered to be an attractive enclosure. So, when ASRock came to us with an updated model outfitted with a newer CPU, GPU, and other components, we were eager to check it out. Once it arrived we were pleased to see ASRock hadn't messed around with the system's aesthetics and after prepping it with an OS and various other apps, the system took residence in our home theater setup for some real-world testing. Since its arrival, the ASRock Vision 3D 252B HTPC we'll be showing you here today has been our primary playback device for Blu-Ray discs—including 3D titles—, DVDs, a host of videos and movies stored on a multi-terabyte NAS array, and for streaming content from the web...

Kingston Wi-Drive 64GB @ Bjorn3D

Earlier this year, we released a review of the Kingston Wi-Drive. Since then, Kingston has made a few changes to the Wi-Drive, including adding support for a wireless browser, and even greater capability."

Lepa G-Series 1600W review: very powerful PSU

The chance that you really need a 1600W power supply for your PC is slim. You really need to try hard to build a PC that can use that much power, at least three or four high-end graphics cards with preferably two processors and all of them overclocked to even get close to 1600W. If you do need that much power, then the Lepa G1600 is a good PSU, if a little noisy.



The best Guides by the best writers on the internet; PCSTATS Beginners Guides explain computers, software, and all those other wonderful things that cause you frustration.

Learn how to use your computer better, master the internet while protecting yourself, and know what to do when your hard drive kicks the bucket.



"Get the 'Stats and Stay Informed!"