[>>]

[>>]

[>>]

[>>]

More>>

Search...

| | |
| --- | --- |
| General News | |

... 57 news stories awaiting approval
top of the line Obsidian Series

The 750D is Corsair's latest addition to their top of the line Obsidian Series and is the third new Obsidian case for 2013. The new 750D is a full-tower enclosure that offers a little more room, enhanced cooling, with expanded drive mounting options, than Corsair's ever popular 650D mid-tower enclosure. The 750D is being introduced with an MSRP of $159.99 USD, which also makes it a little less expensive than the 650D. In addition to PC enclosures, Corsair continues to offer one of the largest selections of memory products, SSDs, power supplies, coolers, gaming peripherals, and PC accessories currently on the market.

Raijintek Ereboss Heatsink Reviewed on Frostytech.com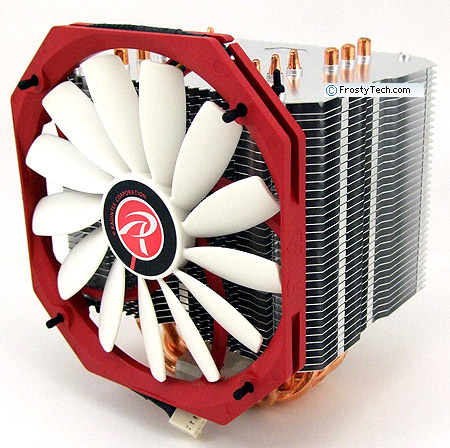 With a footprint of 140mm x 126mm, the Raijintek Ereboss heatsink may be a tight squeeze in anything less than a full tower PC chassis, so measure your clearances first. The heatsink weighs 808grams and ships with a rather odd 140x130x13mm PWM fan that spins at 1650-1000RPM. As you'd expect, Raijintek's Ereboss heatsink is compatible with Intel socket LGA2011/1366/1156/1155/1150/775 Core i3/i5/i7 processors. For AMD users still clinging to hope that their embattled microprocessor will have a come back, the Ereboss heatsink accommodates the complete line up of AMD socket AM2/AM3/FM1/FM2 chips. Since Raijintek is a relative new comer to the heatsink market, you may have a hard time tracking down this CPU cooler though.

Zalman CNPS2X Low Profile Heatsink Review

"This little heatsink from Zalman is called the CNPS2X and it looks like it should be found on an entry level videocard, motherboard chipset or possibly a miniITX motherboard. It is small. To give an idea of how small, the impeller from a 120mm fan is larger than this entire heatsink."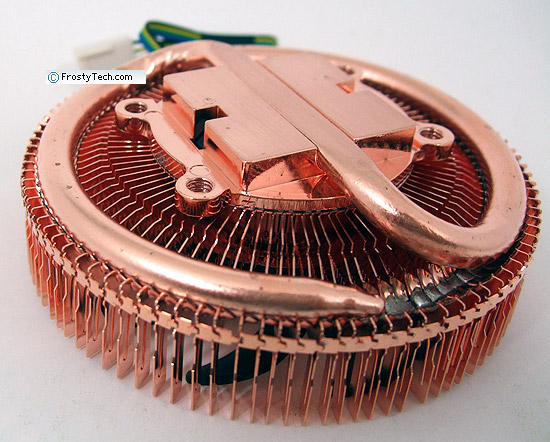 Corsair Obsidian 750D Case

Over the past few years, Corsair has steadily ramped up the number and types of computer chassis it manufacturers. The high-end 700D and 800D have been followed by a number of midrange products and one uber-expensive deluxe model, the massive 900D. The case we're reviewing today, the 750D, is meant to drop into the $200 price bracket, where it faces competition from Corsair's own 650D mid-tower as well as a number of other chassis from manufacturers that offer products at similar or somewhat cheaper price points. Despite the name, the 750D is actually somewhat smaller than the original 700D/800D family. Those chassis were 24 inches long, 24 inches tall, and 9 inches wide, while the 750D is 21.5 inches long, 22.1 inches tall, and 9.3 inches wide...

RaidSonic ICY BOX IB-WRP201SD 4 In 1 WLAN Storage Station

Nowadays no matter where i look or what press release i read it seems that almost everything in the electronics industry revolves around the portable needs people have (the ones that don`t will probably get pulled in regardless) and so daily we see all sorts of new devices emerge including smartphones, tablets, wireless speakers and headsets, battery packs, carrying/protection cases, 2.5 external HDDs, wireless access points, wireless media streamers/readers and much more. Personally i am not much into carrying multiple devices with me when i go away just to cover my portable needs but i do thing that there are some exceptions and so aside the usual battery packs which i think are a must and some wireless headsets/speakers lately Ive also been using quite a few of the latest wireless media streamers/readers and one of those has been the ICY BOX IB-WRP201SD by RaidSonic which has come to take other similar solutions like the Kingston MobileLite Wireless head on with its quite interesting set of features."

Gigabyte F2A85XN-WIFI

The Gigabyte F2A85XN-WIFI is a great little Mini-ITX board that provides a strong hardware and software feature set along with excellent performance. In terms of pricing it might be a little spendy for a small A85X motherboard, but with its only competition coming from the Asrock FM2A85X-ITX which is also priced at $105, we certainly cannot knock it in terms of value.

Asustor AS-304T

What made the Asustor AS-304T such an attractive product for us was the price tag, at $520 it is one of the cheapest Atom powered NAS devices we have tested. Furthermore there are few high-end 4-bay Atom powered NAS devices that are available for such a competitive price.

AMD Radeon R9 270X & R7 260X

When compared to Nvidia's offerings the Radeon R9 270X faces the GeForce GTX 660, with an MSRP of $200 the R9 270X will be around $20 more than most GTX 660 cards. Still the Radeon R9 270X was on average 18% faster while it should cost around 11% more. Then we have the GeForce R7 260X which is said to cost $140, placing it in direct competition with the GeForce GTX 650 Ti, a card that it is 10% faster than.

Kingwin FPX-003 Multi-Function LCD Fan

The Kingwin FPX-003 Multi-Function LCD Fan Controller fits in a 5.25" drive bay, can control the speed of 4 fans, 8W per channel, there are 4 temperature probes, has a card reader and an eSATA port. It even has an LCD which shows fan RPMs & probe temperatures. It's a great looking, feature rich, affordable product!" ~3dGameMan.com

Corsair Obsidian 750D Review @ Hardware Canucks

Corsair`s newest case, the Obsidian 750D, promises many things: it is large, feature rich and priced at a reasonable $160. It may be one of the best values currently available in the full tower market."

Samsung XP941 M.2 PCIe SSD Review (512GB)

Our attendance at the Samsung Global SSD Summit in South Korea a few months back brought us our first glimpse of a new standard in ultrabook storage performance. At the Summit, the Samsung XP941 M.2 PCIe SSD was displayed reaching 1GB/s transfer speeds and Apple has since released their 2013 MacBook Air which has a customized variation of the XP941; this attaining native performance of 794MB/s. Most recently, Sony released their newest Vaio Pro 13 which also appears to have the XP 941 installed and there is no doubt this trickle effect of distribution will become a waterfall soon enough. For the first time, even our request for XP941 review sample was put on hold as Samsung cant seem to keep up with demand."


CM Storm Pulse-R Review @ Vortez

As eSports reach new heights in popularity, it becomes apparent why makers of gaming peripherals need to stand out and be noticed with unique yet distinguishable designs to help push their brand awareness and increase desirability. Instantly we can see that the CM Storm Pulse-R looks good, so let`s take a closer look and put it to the test."

Nokia Lumia 1020 41 Megapixel Camera Phone Review @ Legit Reviews

It doesn?t seem that long ago that having a cell phone with a camera was only for those who had an excess of money laying around. It was more of a status symbol for those who wanted ?1-up? their friends and family. A few short years later, a camera phone was pretty much a standard. They?ve slowly replaced stand alone digital cameras at family gatherings, and events across the board. The traditional cell phone camera doesn?t really compare to a quality digital camera, but Nokia is looking to close the gap with their latest Smart phone. The Nokia Lumia 1020 smart phone sets itself apart from the competition with a 41 Megapixel camera!"

A Futurelooks News Flash - Western Digital My Cloud Easy to Deploy Personal Cloud Storage For Everyone (Video)

At a private event in New York, Futurelooks witnessed the launch of the Western Digital My Cloud Personal Cloud Storage Device. Unlike conventional NAS style devices, servers, or even the companys previous My Book Live product, this product was re-engineered from the ground up to be as easy to use as possible and was created to augment, or even take over, cloud storage services such as DropBox, SkyDrive and Google Drive, just to name a few. Because it sits at home completely under your control, the device adds a level of privacy that gives a bit more peace of mind. *"

Sapphire Radeon R9 280X Toxic Video Card Review @ ThinkComputers.org

Well AMDs R9 and R7 series cards are here and that means that video card manufacturers have released their own versions of these cards with custom PCB designs, factory overclocks and custom cooling solutions. One such company is Sapphire and today we are talking a look at their top of the line Radeon R9 280X Toxic. The card not only happens to be Sapphires top of the line card, but also one of the most powerful R9 280Xs out there! Sapphire has loaded this card with a factory overclock of 1100 MHz for the core with a 1150 MHz boost and the memory is also overclocked to 6.4 GHz (effective). They are using a custom PCB with a 10 phase power configuration that features double sided black diamond chokes and solid capacitors. Keeping everything cool is Sapphires Tri-X coolers that is made up of two 90 mm fans and a single 80 mm fan. Is this the perfect R9 280X for you? Read on as we take a look!"



The best Guides by the best writers on the internet; PCSTATS Beginners Guides explain computers, software, and all those other wonderful things that cause you frustration.

Learn how to use your computer better, master the internet while protecting yourself, and know what to do when your hard drive kicks the bucket.



"Get the 'Stats and Stay Informed!"