| | |
| --- | --- |
| General News | |

... 12 news stories awaiting approval
Plextor M5 Pro 256GB SSD review

1.html,In this article we test, benchmark and review the Plextor M5 Pro series SSD. Plextor has developed this product alongside a marvel controller tied to 256GB of NAND flash memory it is amongst the fastest drives we have ever tested. We sure have lots to talk about alright. The 256GB models have sutained read/write levels of 540 MB/sec and 450 MB/sec respectively. And with 4K random write performance estimated at 86,000 IOPS (input/output operations per second) it`s dressed to impress alright. Have a peek, after which we`ll dive into the technology behind it and obviously we`ll present you a nice phat performance overview."

SSD NEWS: Super Talent USB3 Express RC8 100GB Flash Drive Review - Windows To Go Tested and Certified

It was just over a year ago that we reviewed the Super Talent 50GB RC8 `SandForce Driven` USB 3 Flash Drive and made the call of it being the fastest flash drive on the planet. Our prediction then was that it would be a natural progression that, soon enough, we would be booting complete systems off of just this type of media. Imagine, simply plugging your flash drive in and accessing your desktop environment anywhere. Our analysis today looks at the Super Talent USB3 Express RC8 100GB Flash Drive and, not only does it easily command bragging rights as the most powerful large capacity Flash Drive on the planet but also, the RC8 is one of the very few certified for the Microsoft Enterprise `Windows To Go` Operating Environment."

SteelSeries Black Ops 2 Peripherals @ LanOC Reviews

Its that time of year again, the latest Call of Duty offering was just released and I (and most of the LanOC staff) has been gaming it up. Knowing that we were planning on playing, when SteelSeries introduced their Black Ops 2 peripherals, I quickly hit them up to get a set to use while we played Black Ops 2 at launch. Our coverage on the game itself should be up next week after a weekend packed full of gaming, but for now you can see what SteelSeries has to offer while you wait."

Thermaltake Armor Revo Gene Mid-Tower - BCCHardware

The left side of the Armor Revo Gene has some great features. One is the large, clear plastic window that allows you to see your hardware. The angular clear window is surrounded by rivets which give the case a nice industrial look. The second feature which I`m surprised you don`t really see too often is the headset holder. At first I thought that the headset holder could easily snap off and I would end up with an eyesore. This is not the case. It seems to have been designed to just simply pop off if you accidentally hit it too hard. . ."

Thermaltake Armor Revo Snow Edition Chassis

With black computer chassis and hardware in style, Thermaltake has started a new category of products called the Snow Edition in an attempt to stand out from the crowd. These products come mainly with a white color scheme. This time around were checking out Thermaltakes Armor Revo Snow Edition Gaming chassis."

ThinkComputers & FSP Group USA Facebook Giveaway! @ ThinkComputers.org

Thats right we are having another giveaway! This time we have some great hardware up for grabs! We have 6 prizes! They include, One (1) AURUM 750 CM Modular Cable Power Supply retail value: $179.99, Two (2) iON C1500 portable power battery retail value: $34.99, and Three (3) Mobile Safety Kit retail value: $19.99. So how can you get your hands on these prizes? All you have to do is Like ThinkComputers and FSP Group USA on Facebook and fill out our entry form! It really is that easy!"


Packard Bell Dot S Review - XSReviews

While netbooks have fallen out of the public eye, the victim of tablets` sudden success, the platform is still being developed and manufacturers are still producing new models. One of these is the unit that we`ll be looking at today, the Packard Bell Dot S. The new netbook includes a recently-released Intel Atom Cedar Trail dual-core processor and an interesting look, but will that be enough to set it apart from the pack? Let`s have a look! A link to the article would be much appreciated."

Call of Duty:Black Ops 2 @ LanOC Reviews

Call of Duty is one of the best selling franchises of all time. You can say what you will about it, but the sales numbers speak for themselves. With storylines that manage to keep you entertained and feel like a part of the action, and multiplayer that gives constant rewards and never seems to end, there is always something to do in a Call of Duty title. With the yearly installments however, the franchise has come under more scrutiny for not having enough innovation or added content year to year. It is time to take a look at Call of Duty: Black Ops 2 to see if it can still wow us and live up to the standards that gamers have come accustomed to over the years."


REVIEW: HIS 7750 IceQ X Turbo @ PureOverclock

We`ve also seen several cards from HIS, and have noted their ability to provide good products at affordable prices. The 7750 IceQ X Turbo is the latest value-oriented card in the HIS lineup, and it sports some great styling and an aggressive factory oveclock out of the box. Retailing for about $120, this card is rather affordable, and while we don`t expect it to be a gaming powerhouse, it could prove very enticing to gamers on a modest budget. Let`s take a closer look at the HIS 7750 IceQ X Turbo and see how it fares."

Rosewill RK-9100 Illuminated Mechanical Gaming Keyboard Review @ Legit Reviews

The individually backlit keys are very nicely done and the Cherry MX Blue switches make fun clicky sounds as you type away. Typing accuracy was very good on the RK-9100 and after some use you get used to the way the keys work. For example you don`t have to press them all the way down, so once you learn how the switch works you can really fly along. In games the keyboard was great and we loved the gaming mode that disabled the Windows and Application keys! Rosewill has done a very good job with the RK-9100 in terms of modes and we can`t wait to see what the next version will be able to do..."

SanDisk Extreme 480GB SSD Review

SanDisk released firmware R211 and customers celebrated. The 480GB Extreme uses the same philosophy that made the 240GB model so popular. You get a very good SSD with real premium flash at an unbeatable price."


Sony Xperia Miro Smartphone Review at HardwareHeaven

Sony Xperia Miro Android Smartphone Review @ Hardwareheaven.com Sony, like other manufacturers, look to cater for entry level consumers with devices such as the Xperia Miro, packing as much of the quality, features and performance into the device as is possible for minimal cost."

Beginners Guides: Hard Drive Data Recovery

Killed a hard drive without backing up? Deleted your babies first photo and already emptied the recycling bin? Not to worry, you can probably recover your data with the help of this guide from PCSTATS.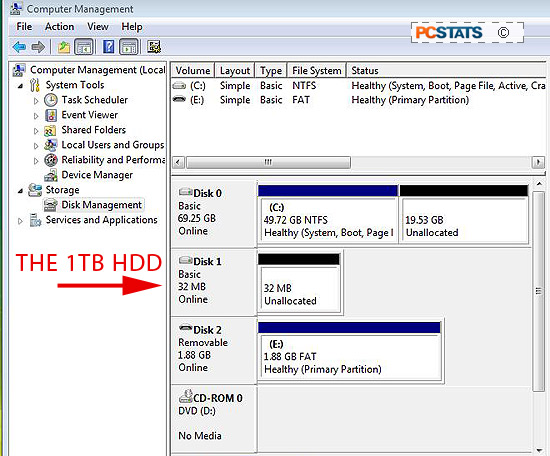 "The loss of factory hard drive capacity seems to be an increasingly common occurrence with very large capacity (ie. 1TB) hard drives, but it's not specific to any one hard drive manufacturer. It can happen to brand new drives or existing hard drives full of data. In either case the data portion of the drive isn't generally affected. If a new or existing hard drive in your computer suddenly pops up with a capacity of 32MB, or another value equally small compared to the true drive size, don't freak out, the data should still be there."