[>>]

[>>]

[>>]

[>>]

More>>

Search...

| | |
| --- | --- |
| General News | |

... 68 news stories awaiting approval
Sentey GS-6500 Burton High Tower Case

Discovering new computer products and exploring their features is what hardware reviewing is all about. The Sentey Extreme Division line of computer cases is a cut above nearly all of their competitors in this market sector. The GS-6500 is stacked with features like USB card readers, water cooling ports and removable hard drive cages. Keep reading for more information..."

Vizio Razor M3D460SR Review @ TechReviewSource.com

?The Vizio Razor M3D460SR is a 46-inch edge-lit LED HDTV that has an overall good image quality despite some minor flaws. It also has passive 3D technology, wireless networking, lots of Internet connected services and more. It does, however, have a glossy screen that shows reflections and some issues with the local dimming feature.?"

PC Power & Cooling Silencer MKIII Power Supply

Hoping to improve a good name, PC Power & Cooling (owned by OCZ) have recently released the Silencer MKIII line. The MKIII is very similar to the MKII in regards to it`s high quality manufacturing and strong warranty, but it also improves on the MKII in a couple very important ways. First, the MKIII claims to be up to 90% quieter per watt, which should hopefully deal with my complaint of noise from it`s younger brother. Second, PC Power & Cooling has now opted to make the Silencer series modular and the MKIII is debuting as the first modular supply in this line. Also sporting a more competitive price than the previous Silencer series, the Silencer MKIII is looking like a very promising power supply."

Cooler Master Cosmos II Computer Case Review @ Bigbruin.com

The Cooler Master Cosmos II is definitely a case for those who won`t settle for the run-of-the-mill. It is an extremely well thought out case that combines great convenience features with appealing aesthetics, and low noise/high performance cooling. In the end I have to agree with Cooler Master`s assessment that it was inspired by luxurious supercars."

Ultimate SFF Lanparty Machine: Intel Xeon E5 (SNB-EP 8C/16T) on an ASUS Rampage IV GENE

Here`s a treat for all hard core enthusiasts - an engineering sample of the upcoming Xeon E5 (Sandy Bridge-EP 8 Cores, 16 Threads) was spotted by our team working on a ASUS ROG Rampage IV GENE motherboard, which was housed inside a small Thermaltake mATX lanparty box. This pretty much confirms internet rumors that have been going around for quite some time that the 8-core server part will work on regular 1P desktop boards, although not officially sanctioned or validated by Intel."

ASUS Z9PE-D8 WS may well be the followup

Performance zealots will remember the ASUS Z7S WS which went head on with then Intel 'Skulltrail' D5400XS Xeon luxury gaming platform (using dual unlocked QX9775 chips), but since then ASUS has done nothing of that sort, leaving EVGA with the iconic SR-2 to mop up things in the Xeon 55xx/56xx era. This is about to change with the imminent launch of the Sandy Bridge-EP Xeon E5 platform, and the ASUS Z9PE-D8 WS may well be the followup that power hungry gamers and high frequency traders are looking for.

a PCIe 118db SNR standalone offering

Over at the 64th floor of the luxurious Trump Hotel in Vegas, we got some exclusive sneaks of ASUS's new ROG Xonar Pheobus sound card, which is a PCIe 118db SNR standalone offering. Also on display was the ROG 'ThunderFX' USB powered audio breakout box (sequel to the R3E-Black Edition's Thunderbolt), to be bundled with a planned special edit

CES 2012: GIGABYTE Shows Intel Z77 Motherboard Lineup For Ivy Bridge

While Intel is being tight lipped about the up and coming 'Ivy Bridge' platform, GIGABYTE gave us a little bit of hands on time with five of their motherboards. The Intel Z77 Express chipset supports the next generation of Intel 22nm processors. Each of the GIGABYTE motherboards we are about to show off support 'Ivy Bridge'. We didn't get any time with processors, so performance is still a mystery, but GIGABYTE has a pretty solid product stack already!

Gigabyte Unveils Intel Z77 motherboards at CES 2012

GIGABYTE TECHNOLGY Co. Ltd., a leading manufacturer of motherboards and graphics cards, today announced its participation at the Consumer Electronics Show (CES) in Las Vegas where it is debuting a number of new and exciting motherboard technologies that will be central to it's motherboard design in 2012 and beyond. International media and customers will get a sneak peak of GIGABYTE's new technologies at their suite in The Venetian Hotel, Las Vegas, from January 10-13.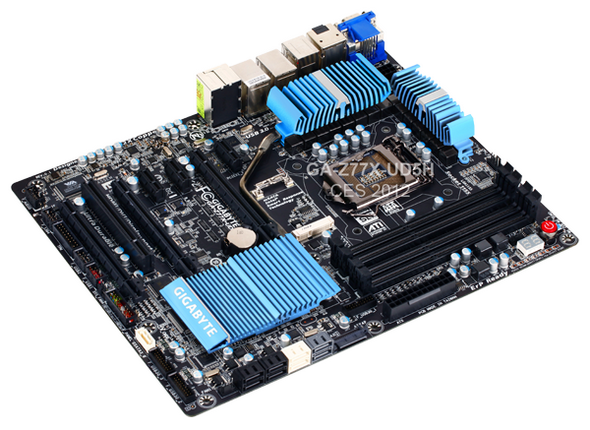 Gigabyte GA-Z77-UD5H Intel z77 / LGA1155 motherboard with mSATA
3D Power: Frequency, Voltage and Phase Control
GIGABYTE is showing forthcoming 7 series motherboards featuring the very latest in CPU power delivery with GIGABYTE's unique Digital Power Engine called 3D Power. Offering digital control over all the main onboard power zones, this new digital PWM design allows users to manipulate and monitor the power provided to 2nd Gen Intel® Core™ and Next Gen processors for the LGA 1155 socket.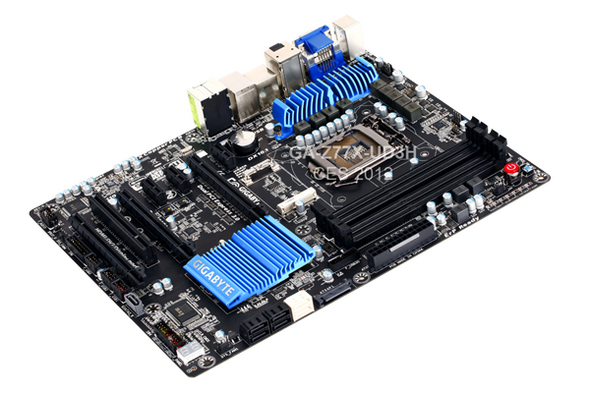 Gigabyte GA-Z77-UD5H Intel z77 / LGA1155 motherboard with mSATA
"We are very excited about the new technologies that will feature on our 7 series motherboards, and are confident that our customers will find them, together with the performance and feature improvements on Intel's future platform, extremely appealing," commented Henry Kao, Vice President of GIGABYTE Motherboard Business Unit. "Product development and debugging for the new features is progressing really well, and we expect to have a full range of products available globally by launch day."

GIGABYTE 3D BIOS (Dual UEFI)
Visitors to CES 2012 will be able to see the 2nd iteration of GIGABYTE's revolutionary 3D BIOS that is based on GIGABYTE UEFI DualBIOS™ technology. 3D BIOS offers two distinct modes of interaction in a BIOS environment, 3D Mode and Advanced Mode, that re-draw the traditional BIOS user experience with a far more intuitive and graphical interface.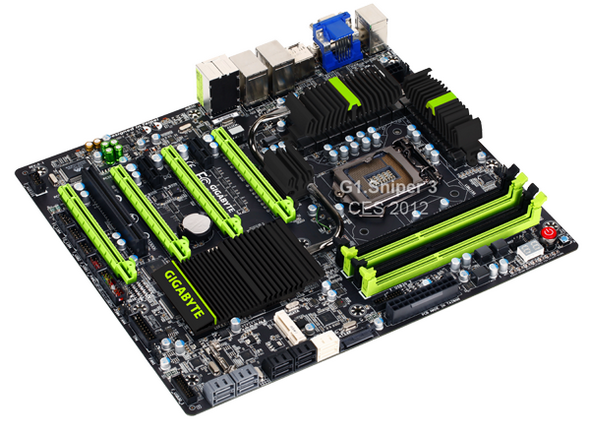 GIGABYTE G1.Sniper 3 Intel z77 Gaming Motherboard
G1.Sniper 3 Debuts with Dual LAN
The G1.Killer gaming motherboard series continues to evolve with two new GIGABYTE 7 series models planned for launch later this year. The G1.Sniper 3 motherboard features onboard Creative gaming audio together with a dual LAN configuration of Intel® Gigabit and Killer™ Game Networking controllers. Visitors to Las Vegas will also be among the first to see the G1.Sniper M3, a gaming motherboard with signature G1.Killer DNA in a compact Micro-ATX form factor.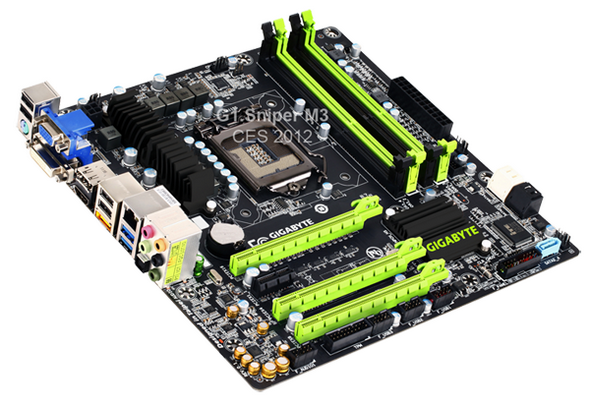 GIGABYTE G1.Sniper M3 Intel Z77 (Micro ATX) Gaming Motherboard
Powering the Personal Cloud: Bluetooth 4.0/Wi-Fi PCIe Card
Selected GIGABYTE motherboards will come with an exclusive PCIe expansion card that offers support for the latest Bluetooth 4.0 (Smart Ready) and Wi-Fi connectivity standards. With the growing availability of affordable or free remote PC operation software, such as Splashtop and VLC Remote, GIGABYTE believes that now is the time to explore and enjoy the home cloud: a personal cloud within the secure environment of a home network where the performance and functionality of desktop PCs can be utilized and controlled by portable cloud devices.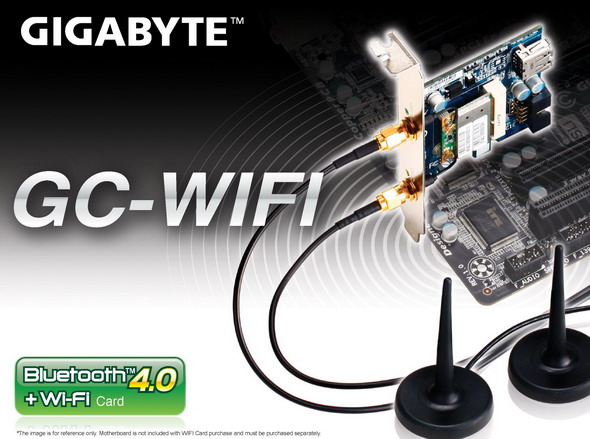 With this in mind GIGABYTE has introduced their CloudStation utility that will help future GIGABYTE Apps to communicate, share resources and control desktop PC systems.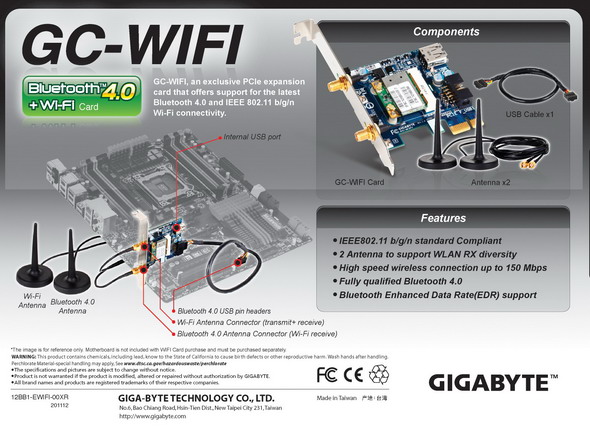 Most ATX form factor GIGABYTE 7 series motherboards will enjoy an onboard mSATA connector that, together with GIGABYTE's EZ Smart Response technology, will allow users to simply and cost effectively enjoy better responsiveness from their PCs. mSATA solid state drives have been made popular by the rapid growth of tablet PCs, and provide a cheaper solution for smart chaching because they are available in smaller capacities than traditional SSDs.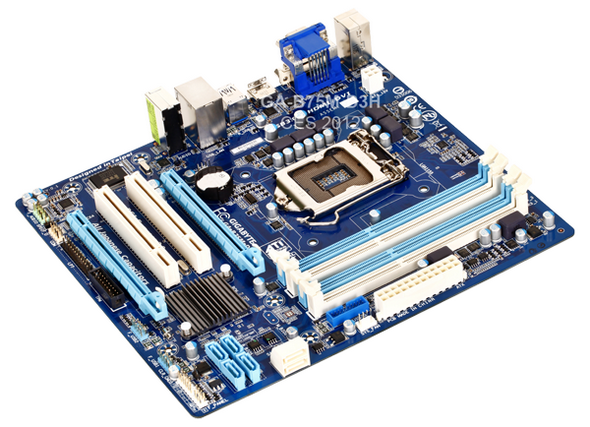 Small Business Solutions
Setting its sights on the small business market, GIGABYTE will demonstrate the B75M-D3H motherboard that represents a new product range featuring the ability to remotely monitor and manage PC health, installed software, data backup, energy saving and connectivity. This allows system integrators to add value to their products by offering these services to small businesses with between 1 and 6 PCs. Key features and selling points for these models will be manageability, affordability and GIGABYTE's Ultra Durable design quality.
Join GIGABYTE at the Venetian in Las Vegas, Suite 26106.

Storage Vision 2012 Report: Micron/Crucial, Intel and Toshiba

Prior to the start of the CES 2012 show in Las Vegas this week, major players in the storage industry kicked off their mini conference, in an effort to get the buzz going early in consumer and enterprise storage. Of course Micron and Crucial were there in force to show us their latest SSD technologies, starting with their big, bad P320h PCI Express SSD...

NVIDIA, ASUS Shipping First ICS Tablet

Today, Teasing 7-inch Tegra 3 Tablet: We weren't sure what to expect from NVIDIA's press event at CES, but the big news turned out to be that ASUS is shipping the world's first Ice Cream Sandwich tablet--starting today--an ASUS Transformer Prime, which boasts the NVIDIA Tegra 3 chip. NVIDIA CEO Jen-Hsun Huang took the stage and hosted an impressive demonstration of the new Transformer Prime...


Lenovo's IdeaPad Yoga, New Tablets, CES 2012

In addition to a number of new laptops, smartphones, and a TV, Lenovo announced the IdeaPad Yoga Ultrabook today. This new multi-mode notebook meets the specifications for an ultrabook and also has a 360-degree flip-and-fold design. Early CES 2012 coverage is here...

XFX R7970 Black Edition Double Dissipation @ Benchmark Reviews

AMD might have trouble keeping up with the competition in the CPU arena, but their acquisition of ATI allowed them to become a major player in the graphics world. AMD and NVIDIA regularly trade places in the fastest video card rankings, and while NVIDIA`s been good holding down the title with its current high-end, the Fermi-based GTX 580, it looks as if AMD`s new Tahiti-based Radeon HD 7970 will snatch the crown away...especially if it`s a hot-rod, factory-overclocked video card like today`s test subject: the XFX R7970 Black Edition Double Dissipation."

Choiix Power Fort 5600 Portab le Charger Review @ APH

In the perspective of certain people, life is difficult to live. You need to learn how to live independently, learn how to deal with irritating problems as they arise, and develop your ideas on how to survive in society. Others simply view living independently as part of something we must all learn. Some people also believe irritating problems help develop character and learn life lessons. As Albert Einstein once said, A person who has never made a mistake never tried anything new. Whatever stage of life you are going through, I personally would not know. However, personally speaking, I would rather go through the latter described. Considering myself as a technology enthusiast, catching up on some of the relatively new gadgets on the market, let`s just say I don`t necessarily have the best of luck. When it comes down to electronics, the batteries usually die in a shorter time frame than expected, considering how I like to put everything on full power. Although you might suggest the Choiix Power Fort 5.5 and the original Choiix Power Fort to fix up the issues, the thing is, I might need to stuff my pockets with two or three of each. Looking on the bright side, however, I may not have to spend quite as much now, as Choiix has come up with a bigger and better solution -- the Power Fort 5600. This little guy packs a 5600 mAh battery, while giving an extra charge boot of 2.1A @ 5V. I`m not sure about you, but as for myself, this would keep me on the road for a much longer period of time. Read on to see what we have found!"

Desktop CPU Comparison Guide Rev. 11.6

There are so many CPU models that it has become quite impossible to keep up with the different models or even remember their specifications. Therefore, we decided to compile this guide to provide an easy reference for those who are interested in comparing the specifications of the various desktop CPUs in the market, as well as those already obsolescent or obsolete. Currently covering 800 desktop CPUs, this comprehensive comparison will allow you to easily compare up to 19 different specifications for each and every CPU. Here`s the latest update in Revision 11.6 : - Added the AMD Phenom II X4 B99 quad-core processor. - Added the AMD Phenom II X2 B60 dual-core processor. - Added the AMD Phenom II X2 B59 dual-core processor. - Added the AMD Athlon II X2 B30 dual-core processor. - Added a new core (Zosma) to the AMD Athlon II X4 640 quad-core processor. - Added a new core (Propus C3) to the AMD Athlon II X4 630 quad-core processor. - Added a new core (Propus C3) to the AMD Athlon II X4 605e quad-core processor. - Updated the specifications of the AMD Phenom II X4 B97 quad-core processor. - Updated the HTT Speed specifications of the AMD Phenom II X4 B57, B55 and B53 dual-core processors. - Updated the Socket specifications of the entire AMD Athlon II X4 series of processors."



The best Guides by the best writers on the internet; PCstats Beginners Guides explain computers, software, and all those other wonderful things that cause you frustration.

Learn how to use your computer better, master the internet while protecting yourself, and know what to do when your hard drive kicks the bucket.



"Get the 'Stats and Stay Informed!"