[>>]

[>>]

[>>]

[>>]

More>>

Search...

| | |
| --- | --- |
| General News | |

... 8 news stories awaiting approval
Gigabyte GA-Z87X-D3H Mainboard Review

This is an entry-level mainboard, but not the most junior model in the family. It uses the features and functionality of the Intel Z87 chipset almost to the fullest, but has no numerous additional onboard controllers, thus staying reasonably priced. The new Gigabyte UEFI BIOS makes a terrific impression making this board stable and reliable in nominal mode and easy to work with during CPU overclocking.

Toshiba Satellite C855D-S5104

"The Toshiba Satellite C855D-S5104 is a budget-class 15-inch laptop offering sluggish performance and a stingy feature set, but it'll give you five plus hours of unplugged computing."

WD My Passport Ultra 1TB Portable Hard Drive

For those who like a little extra when purchasing a portable drive, WD's My Passport Ultra offers a compelling package. In addition to the inclusion of a soft pouch that helps keep the drive looking new, a robust backup solution is also included that's easy-to-use and effective - and even sports the option of backing-up to the cloud, via Dropbox.

GIGABYTE AMD A88X Series Motherboards for AMD Kaveri FM2+ CPUs

GIGABYTE has announced its new FM2+ motherboard lineup supporting the forthcoming 'Keveri' AMD APUs with support for existing socket FM2 Trinity and Richland APUs.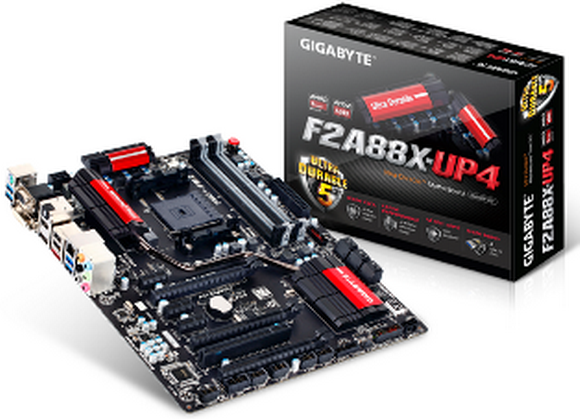 GIGABYTE A88X motherboards feature a number of features and technologies and also include the first AMD G1-Killer gaming motherboard, the G1.Sniper A88X which includes GIGABYTE AMP-Up Audio, a range of advanced audio technologies that are designed to give audio enthusiasts and PC gamers more control over their motherboard audio than ever before. GIGABYTE A88X series motherboards also offer unique GIGABYTE features, including UEFI DualBIOS™, Digital Power delivery, as well Triple Display support.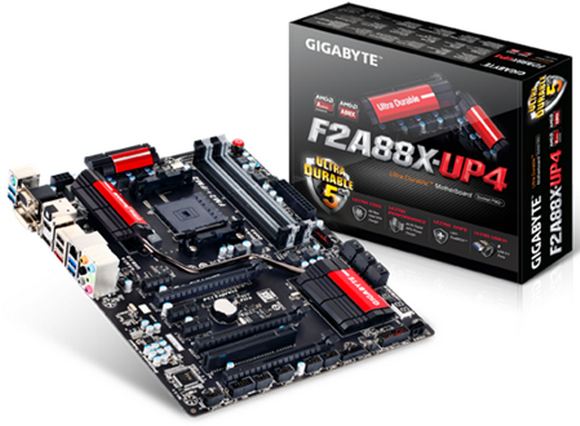 Ready for Kaveri on AMD Socket FM2+
GIGABYTE A88X series motherboards feature the new FM2+ APU socket, and are designed to get the most from forthcoming Kaveri AMD APUs, while preserving compatibility for current AMD FM2 APUs. FM2+ AMD APUs offer native support for 8 GT/s PCI Express gen 3.0 as well as DX11.1 support integrating the high performance 'Steamroller' core. AMD socket FM2+ APUs also offer native support for 4K resolution displays on HDMI and DisplayPort.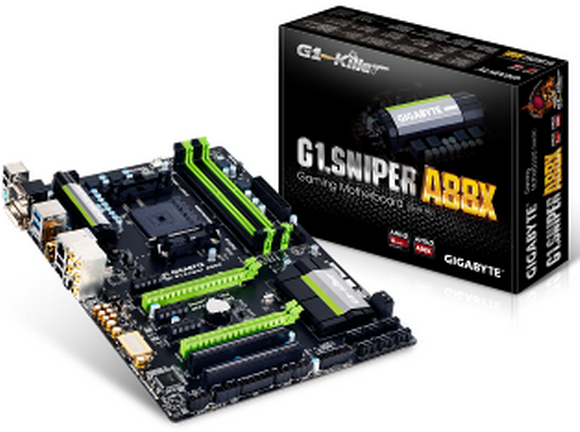 GIGABYTE A88X Series Motherboards
G1.Sniper A88X
F2A88X-UP4
F2A88X-D3H
F2A88X-HD3

F2A88XM-D3H
F2A85XM-DS2
F2A88XN-WIFI
About GIGABYTE
GIGABYTE, headquartered in Taipei, Taiwan, is known as a global leading brand in the IT industry, with employees and business channels in almost every country. Founded in 1986, GIGABYTE started as a research and development team and has since taken the lead in the world's motherboard and graphics card markets. On top of Motherboards and Graphics cards, GIGABYTE further expanded its product portfolio to include PC Components, PC Peripherals, Laptops, Desktop PCs, Network Communications, Servers and Mobile Phones to serve each facet of the digital life in the home and office. Everyday GIGABYTE aims to "Upgrade Your Life" with innovative technology, exceptional quality, and unmatched customer service. Visit www.gigabyte.us for more information.

UtechSmart Gaming Mice Roundup Review

Unfortunately the UtechSmart 8000 falls below this mark as something I`d buy. Sure it has some programmable features, but the shape of the mouse and overall comfort come forward to defeat these things (at least for me). The awkward button locations as well as the most ridiculous pre-set button settings I`ve seen makes this mouse useless to me out of the box. If I needed something quick on the go, I`d find anything else. The glowy logo and the DPI settings don`t sell me this mouse. The mouse just falls short in an attempt to be cheap by being the literal definition of cheap crap."

520W Antec NeoECO 520C Power Supply Unit

We are looking at a 520W Antec NeoECO 520C Power Supply Unit. It's a 80 Plus Bronze certified unit with a very affordable price tag. On top Antec provides a full watt guarantee.

AOC G2460PQU 24 inch Monitor

AOC is a well known manufacturer of PC Monitors. In this review we take a look at the new AOC G2460PQU 24 inch Monitor. This AOC Monitor is equipped with a 144Hz TN LED panel with great specifications.

Genius SlimStar T8020 Wireless Multi-TouchPad Keyboard

"The Genius SlimStar T8020 Wireless Multi-TouchPad Keyboard comes with 3 modes. This keyboard can be used as a mouse cursor, works with Windows 8 gestures, and is a numeric keypad mode. Also, there are 11 function keys for media control, Internet access and you can power off your computer with the touch of a button. It's perfect for just about any wireless keyboard setup." ~3dGameMan.com

Kingston SSDNow mS200 / RunCore

Kingston and RunCore recently sent us their new mSATA SSDs, which we are taking a closer look at today. From Kingston we received the 60GB and 120GB versions of the mS200 SSDs, and RunCore provided the 120GB version of the Pro V mSATA SSDs.

Icy Dock FlexCage 2 Bay and 3 Bay Hard Drive Enclosure Review @ HiTech Legion

The Icy Dock MB973SP-1B and the MB974SP-2B are very similar to each other in that they both sport an aluminum chassis with an 80mm cooling fan. The Icy Dock FlexCage MB973SP-1B is able to fit three 3.5 SATA HDDs in two 5.25 drive bays using a trayless design. Both FlexCages are powered by two 4 pin power connectors or by adapting two 15-pin power connectors via the included adapters. The tray less design means that not only is installation of drives toolless -- it is as simple as sliding the drive in and closing the door. This makes it an ideal platform for hot swapping hard drives with minimal hassle. They are both cooled by an included 80mm fan that, in its shipped configuration, pulls air from the front of the drives and exhausts it out of the back. Each of the hard drive bays has an individual hard drive activity LED that is only active when a hard drive is successfully inserted. Both fans can easily be removed and replaced with any 80mm fan using a 2-pin or a 3-pin connector. The aluminum chassis makes it both very durable and far better at dissipating heat than plastic. The main difference between the two is that pricier of the pair, the MB974SP-2B, has 2 USB 3.0 ports on the front connected via a standard USB 3.0 motherboard header, and can hold one more drive than the MB973SP-1B. This can be very useful for older cases that may not have as many places to mount a hard drive or don`t have any USB 3.0 ports on the front panel./"



Kobo Arc Android Tablet eReader Review

For many people carrying a book around to read has become a thing of the past, replaced by a phone, tablet, or e-Reader. Kobo?s e-Reader line has been one of the primary competitors for Amazon?s Kindle, that is until Amazon brought out their Kindle Fire. The Kindle Fire helped bring an Android tablet to the masses, and allowed Amazon to distribute its music and movies directly to their device. Kobo is fighting back and Benchmark Reviews tests their new 16GB Kobo Arc 7? Android Tablet eReader (model K107-KBO-16W), which features a 1.5GHz dual core TI OMAP 4470 CPU and a POWERVR SGX 544 GPU."

MSI GTX 760 HAWK 2 GB

MSI's new GeForce GTX 760 HAWK comes with several features for overclockers, like LN2 Dual-BIOS and voltage measurement points. For normal users the card has been heavily overclocked out of the box, making it the fastest GTX 760 we tested so far.

Dell XPS 27 Touch All-in-One Review

Unless you're a gamer or a content-creation professional that requires a lot of computing horsepower, the latest crop of All In One PCs probably seem very attractive. AIOs tend to be quite the lookers, with sleek lines, large and crisp displays, touch capabilities--and of course, a small footprint. We're starting to see AIOs with better and better specifications too, and although they won't be your choice of machine for pwning n00bs just yet, products like the Dell XPS 27 Touch offer very solid specifications in addition to a premium user experience and lots of ports for connecting peripherals, media cards, and more. The Dell XPS 27 Touch is one of the first generational updates to an all-in-one that we've gotten our hands on, having reviewed the original Dell XPS One 27 last year. Thus, we get to see what sort of performance boost Dell's big and beautiful AIO gets from Haswell and an updated NVIDIA GPU.

AMD Hawaii-based graphics cards

As AMD is set to announce its next-generation high-end GPU codenamed Hawaii, graphics card players including Asustek Computer, Micro-Star International (MSI) and PowerColor are expected to start mass shipping related products in October, according to sources from the upstream supply chain.



The best Guides by the best writers on the internet; PCSTATS Beginners Guides explain computers, software, and all those other wonderful things that cause you frustration.

Learn how to use your computer better, master the internet while protecting yourself, and know what to do when your hard drive kicks the bucket.



"Get the 'Stats and Stay Informed!"