| | |
| --- | --- |
| General News | |

... 63 news stories awaiting approval
REVIEW: HIS 7750 IceQ X Turbo @ PureOverclock

We`ve also seen several cards from HIS, and have noted their ability to provide good products at affordable prices. The 7750 IceQ X Turbo is the latest value-oriented card in the HIS lineup, and it sports some great styling and an aggressive factory oveclock out of the box. Retailing for about $120, this card is rather affordable, and while we don`t expect it to be a gaming powerhouse, it could prove very enticing to gamers on a modest budget. Let`s take a closer look at the HIS 7750 IceQ X Turbo and see how it fares."

Rosewill RK-9100 Illuminated Mechanical Gaming Keyboard Review @ Legit Reviews

The individually backlit keys are very nicely done and the Cherry MX Blue switches make fun clicky sounds as you type away. Typing accuracy was very good on the RK-9100 and after some use you get used to the way the keys work. For example you don`t have to press them all the way down, so once you learn how the switch works you can really fly along. In games the keyboard was great and we loved the gaming mode that disabled the Windows and Application keys! Rosewill has done a very good job with the RK-9100 in terms of modes and we can`t wait to see what the next version will be able to do..."

SanDisk Extreme 480GB SSD Review

SanDisk released firmware R211 and customers celebrated. The 480GB Extreme uses the same philosophy that made the 240GB model so popular. You get a very good SSD with real premium flash at an unbeatable price."


Beginners Guides: Hard Drive Data Recovery

Killed a hard drive without backing up? Deleted your babies first photo and already emptied the recycling bin? Not to worry, you can probably recover your data with the help of this guide from PCSTATS.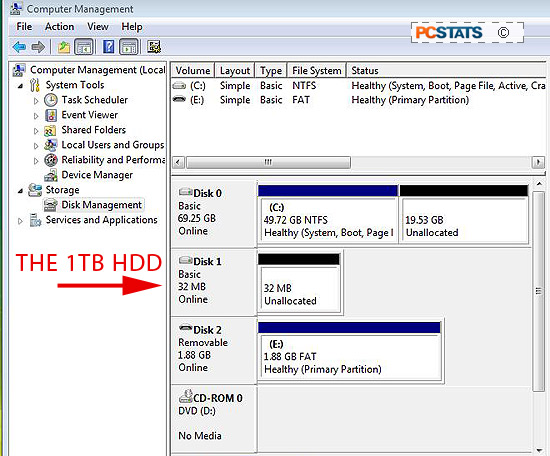 "The loss of factory hard drive capacity seems to be an increasingly common occurrence with very large capacity (ie. 1TB) hard drives, but it's not specific to any one hard drive manufacturer. It can happen to brand new drives or existing hard drives full of data. In either case the data portion of the drive isn't generally affected. If a new or existing hard drive in your computer suddenly pops up with a capacity of 32MB, or another value equally small compared to the true drive size, don't freak out, the data should still be there."

Beginners Guides: How To Install/Remove AMD Socket FM1 CPU and Heatsink

AMD made several noteworthy accomplishments with its socket FM1 'Llano' processor, the most important being the integration of a graphics core directly onto a CPU die which substantially reduced motherboard complexity. Major architectural changes were also brought forth by AMD's Fusion family of processors, yet like the socket AM2/AM2+/AM3 processors that preceded it AMD kept the socket and heatsink mounting system totally compatible. Installing a socket FM1 AMD A8-series processor into a motherboard is not too difficult, unless you've never done anything like this before and in that case a little guidance is called for.

ASUS PB278Q 27 PLS Monitor Review @ Hardware Canucks

PLS panel technology hasn`t been around for all that long but it has already made a lasting mark upon the display market. ASUS` new PB278Q puts this technology to good use in a 27 2560 x 1440 WQHD monitor that is targeted towards gamers and professionals alike."


Inter-Tech Nitrox Nobility 900W PSU

The Inter-Tech Nitrox Nobility 900 Watt PSU arrived Technic3D. See you in the following Review from Technic3D the next PSU with four +12V rails (25,0A), a 135mm Fan, 6x SATA hard disk connectors and 4x PCI-e 6+2-Pin."

Overview: LEPA G850-MAS Power Supply @ Techreaction.net

LEPA was founded in 2011 and has been coming strong on the scene with some very solid PSUs. They wont be an unknown for long in the PSU market with products like this 850W 80 plus Gold certified rating. The modular design is always nice in todays world, where a lot more people are customizing their computers and wire management is becoming a more prevalent issue in building. The LEPA 850W PSU also features Japanese-made capacitors for increased lifespan and reliability, a two-ball bearing thermal-controlled fan, and a single +12V rail. This LEPA G series unit is made with Channel Well Technology (CWT) and is, based on CWTs PUQ-G platform. Now, lets get down to the nitty gritty and figure out how well this PSU does in our overview read on."

News: Why CS:GO is the best multiplayer shooter out there

I picked up Counter-Strike: Global Offensive last week. I don`t know why it took me so longthe game came out in August, after all, and it costs only $15. Anyway, I was playing Battlefield 3 with a buddy of mine, and we were both getting slaughtered by a whole team`s worth of veteransyou know, those folks with the golden eagles next to their names and every unlock in their arsenals. I mentioned CS:GO in passing, and my friend asked, Why aren`t we playing that right now? So we did. We logged out, opened up Steam, bought CS:GO, waited for the download to finish, and jumped in. After a few hours, I rediscovered why CS is such a good gameand why other multiplayer shooters still pale in comparison."

Cisco Linksys EA6500 Smart Wi-Fi Router Review @ Legit Reviews

Working with the Cisco/Linksys EA6500 802.11ac Wireless Router reminds us why we love 802.11ac technology so much. The speeds are incredible. Having an improvement of wireless speeds is the number one thing to consider when you look at upgrading your current router..."


News: Review: Intels Next Unit of Computing

Intel has crammed a pretty capable PC into a box that will fit into the palm of your hand and dubbed it the Next Unit of Computing. With its Ultrabook guts, we think it should`ve been called the Ultrabox. Whatever you call it, though, the NUC offers a possible glimpse at the future of desktop PCs."

NZXT Phantom 820 Case Review @ ThinkComputers.org

NZXTs Phantom case really brought NZXT into the spotlight. The case was just awesome, a unique design, built in fan controller and much more. The case became so popular we saw many custom PC makers using it and component companies using it to demo their products. Since its release it is now available in red and even pink and NZXT released a value version of the case (Phanton 410). The big surprise from NZXT this year was the Switch 810. Another full tower case that again became a leader in the case market. Now just in time for the holidays we have what would happen if you took the best features from the Switch 810 and Phantom and put them into one case. The case is the Phantom 820 and it features 4 included cooling fans, integrated HUE lighting system, 4 channel digital fan controller, removable hard drive cages, USB 3.0 support and much more. Read on as we take a look at this case!"

Plantronics Voyager Legend Bluetooth Headset Review

While Im typing these lines the upcoming Wing Commander/Freelancer/Privateer/Starlancer type Squadron 42/Star Citizen crowd-funded game has now officially breached the $4.500.000 line and is heading towards $5.000.000 at full speed so i really think that congratulations are in order for Chris Roberts, his crew and of course each and every single person out there who supported this game from even before the launch date (and of course everyone after that), whether it is just by spreading the word or by pledging either in the RS page or on KS (my thanks go to all regardless). This review however does not revolve around games or anything related with games since for the past month or so quite a few people have asked for a review of the latest Bluetooth wireless headset by Plantronics to hit the market called the Voyager Legend and of course we obliged."