| | |
| --- | --- |
| General News | |

... 115 news stories awaiting approval
Raidmax Cobra Power 500W Power Supply Review

We tread off the beaten PSU path today with a power supply from Raidmax that is part of the Cobra series. The RX-500AF-B unit sports 500 watts of "Haswell Ready" power, a Bronze efficiency rating, advertised stable voltages, a "strong single +12V rail for high-end system heavy load configuration," plus a paint ball stained exterior.

ASRock Fatal1ty B85 Killer Motheroard Review

"Far too often we pay attention to the biggest and best boards on the market and overlook the ones that actually make up a large portion of the sales. Entry to mid-range components are used by the majority system builders to do a specific function and to keep costs down. Today we will be looking at a board from ASRock that falls right into the Mid-Range market but does so without skimping on features. The Fatal1ty B85 Killer is directed right at system builders that are also hardcore gamers. The Fatal1ty series of products are made to address the desires of all gamers: quality audio, network lag and FPS. The B85 Killer is one of four new boards from ASRock to carry the Fatal1ty name."

Rosewill RGS-108P POE Gigabit Network Switch

The Rosewill RGS-108P Gigabit switch is an unmanaged switch that is capable of Gigabit wire speeds on each port with a bonus. The RGS-108P can also supply Power Over Ethernet.

Gigabyte GTX 750 Ti Windforce Review

"Today we're specifically looking at the Gigabyte GTX 750 Ti Windforce, a budget-oriented card that comes with a factory overclock out of the box and a cooler design that promises very low temperatures, while looking to trounce AMD's R7 260X not only in performance, but also power efficiency. Let's take a closer look and get it on the bench to see if real world tests can fulfill Nvidia's aspirations."

Func MS-3 Revision 2 Gaming Mouse Review

"We heard rumblings of a newer version of the original Func MS-3 gaming mouse, with the latest set to promise gamers a more advanced laser engine, higher DPI, and better quality internals. So we had to get one to study more closely for ourselves. Func now has the MS-3 Revision 2, a refresh of a winning formula that captures the same outstanding ergonomics while bringing new guts to a smartly designed body. And as an added bonus, we'll also be examining the Func Surface 1030² L, an update of a double-sided gaming mouse pad that now comes with a few new and interesting features. Can the MS-3 Revision 2 and Surface 1030² L improve upon the predecessors without losing its original appeal? Let's find out."

ECS KBN-I/5200 AMD A6-5200 Mini-ITX Motherboard Review

At the beginning of the year, ECS (Elitegroup Computer Systems) announced this Kabini SoC processing unit which houses an AMD A6-5200 CPU. It also includes a Radeon 8400 GPU all in a small mini-ITX form factor APU combo. Today we got our gritty hands on this tiny power house to put it to the test. We are excited to see what this Quad Core A6-5200 APU can do. Let's take a look."

Nanoxia Deep Silence 5 Mid-Tower Case Review

"Nanoxia Deep Silence cases are well known in Europe and designed for both cool and quiet performance. Today will be looking at the Deep Silence 5 Mid-Tower chassis. This innovative case is part of a new line of future products, whose objective is to offer the perfect symbiosis of ideal system cooling and sensationally low noise levels in one package. The focus was always on two requirements: minimize noise and minimize system temperatures. It is also designed especially for the use in high-end PC- and gaming systems."

Kingston 64GB SDXC Class 3 Memory Card & USB 3.0 MobileLite

"With the advancing and growing media recording industry, faster and more reliable flash memory cards are on high demand, especially those looking for high capacity to store everything on one card. Today we finally got our hands on the Kingston 64GB SDXC Class 3 UHS-I U3 flash memory card. We also have the Kingston Mobile Lite G3 SD and Micro-SD card USB 3.0 reader as an extra bonus to be able to test the memory card today."

IMFT flash memory plant at Lehi, Utah

"Going into this event, I had a rough idea of what goes into the testing and evaluation of a computer component. That said, I was literally blown away by the sheer scope and scale of Intel's testing and validation efforts. While many of these efforts are geared towards their enterprise and data center parts, those gains have repeatedly trickled down into their consumer products, as evidenced by the recent SSD 730 being a consumer product based almost exactly on their DC 3500 part. This trickle-down effect is not limited to recent products either. The SSD 710 and 320 launched as an enterprise / consumer pair and were constructed identically. You can even go back to the very start, where Intel's X25-E and X25-M were an enterprise and 'mainstream' / consumer edition launched in tandem and were physically identical save the type of flash memory used in each."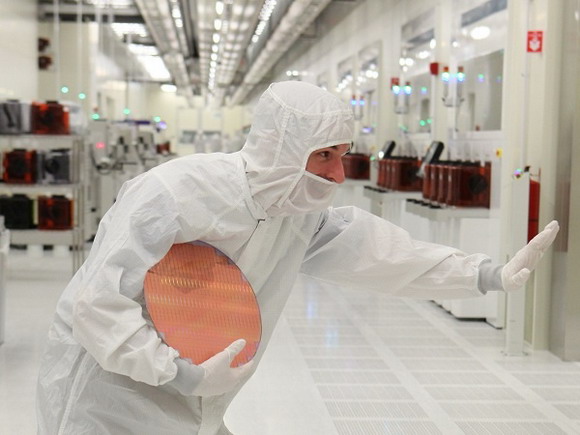 AMD Kaveri A10-7850K Overclocking – Unleashing GCN's Potential

AMD's Kaveri K Series APUs have a wealth of untapped performance potential: out of the box they come with a modest 720MHz GPU core clock speed, yet anyone who has toyed with AMD APUs in the past knows there's going to be a lot of overclocking headroom. Before we progress any further I'm going to make my intentions with this article clear – AMD's Kaveri APU is about the GPU and that's where our focus lays today. Sure you can overclock the CPU, but because the CPU and GPU are combined, overclocking the CPU reduces the thermal and power headroom of the GPU, and vice versa. Not to mention that the GPU offers the most potential for performance scaling whereas the CPU doesn't offer anywhere near as much – so picking the CPU over the GPU will leave you with less performance than if you'd have picked the GPU. Picking only the GPU for overclocking also makes sense as the A10-7850K is primarily designed to be a gaming chip, and a chip that takes advantage of GPU acceleration, so overclocking the CPU with detriment to the GPU makes no sense at all. How does the CPU have the potential to detriment the GPU you might ask? Well it is quite simple – the CPU produces more heat and uses more power than the GPU so overclocking it is likely to lead to thermal throttling of the entire APU package. With regards to TDP/power-based throttling you can get around this by disabling AMD's APM (Application Power Management) but you still have the heat issue to contend with. Therefore for the purposes of this article we're going with a GPU overclock only. For those interested in overclocking the CPU you're better off waiting for the standalone Steamroller based Athlon CPUs to hit the FM2+ socket, or going with existing FX and Athlon series AMD CPUs.

AMD Is Exploring A Very Interesting, More-Open Linux Driver

This week I was out at the Game Developer's Conference not with a focus on games but to learn about some changes they AMD currently pursuing for their Linux driver model. If this new Linux driver model goes through, the Catalyst Linux driver will be more open, but it's not without some risk. Read more in this Phoronix exclusive story."

AMD FirePro Graphics Group Test

AMD's FirePro W-series arrived towards the end of 2012, but they still pack a punch. The fact that these cards remain competitive over a year after release is testament to the strength of the architecture. We had the opportunity to pit three of the top models against each other – the W5000, the W7000 and the W9000. These range in price from under £400 to nearly £2,800 – and are aimed at quite different markets.

AMD Athlon's R3 Graphics: RadeonSI Gallium3D vs. Catalyst

"For the past week now we have been extensively benchmarking AMD's new AM1 APUs with all the current models available to the public: the Sempron 2650 / 3850 and Athlon 5150 / 5350. All of our testing up to this point has been using an updated Linux kernel and Mesa for the open-source Linux graphics driver experience with these APU Radeon R3 Graphics. Today, we're looking at the performance of the open-source RadeonSI Gallium3D driver in multiple configurations compared to the proprietary Catalyst Linux driver."

Rapoo E6300 Bluetooth Ultra-slim Keyboard for iPad Review @ TestFreaks

Rapoo have created a 5.6 mm ultra thin slim keyboard called the E6300 BT Ultra-slim Keyboard for iPad. Although it is labeled as for iPad it can work with any Bluetooth-enabled smartphones or tablets. It is composed of brushed metal and can run for one month off a two-hour charge."

AMD Athlon 5350 (Kabini AM1 Platform) FS1b APU

The gaming and enthusiast audiences love their big, quick, expensive powerhouse machines – there's no denying that. But the reality is that many users – about 38% of the market, in fact – in a wide span of geographical regions simply cannot afford or justify the latest-and-greatest in both CPU and GPU hardware. That's where AMD's Kabini APUs come into the picture. Shipping in up to 2.05GHz quad-core flavours and leveraging the GPU power of AMD's Radeon R3 graphics, can the Athlon and Sempron – Kabini – APUs prove that respectable performance is available for a sub-£40 fee?

AMD Athlon 5350 APU and AM1 Platform Review @ Legit Reviews

Earlier this month AMD released the low cost AM1 platform that they believe will succeed in the low cost general everyday use and office markets. To do well in this very competitive market AMD will need an affordable platform that has enough performance to get the daily tasks done. The AMD Kabini APU`s range in price from $31 to $55 and the mini-ITX and micro-ATX AM1 motherboards with the FS1b socket range between $25 - $35. That means you could be looking at a fully integrated desktop platform for less than $60! Does AMD have your attention now? Read on to see how this platform performs."