[>>]

[>>]

[>>]

[>>]

More>>

Search...

| | |
| --- | --- |
| General News | |

... 46 news stories awaiting approval
BIOSTAR releases the H81MDC-LSP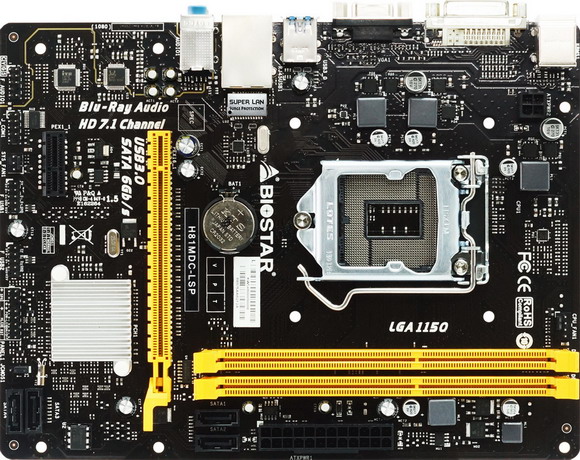 BIOSTAR has released the latest Micro-ATX Motherboard, the H81MDC-LSP. Based on the Intel H81 chipset, the H81MDC-LSP along with an upgraded sound chip and LAN surge protection. The board supports Intel 4th generation Core i7 and Core i5 processors. It features Intel single chip architecture with HD 4600Graphics, along with a new integrated memory controller that will run at speeds up to 1600MHz. The H81 chipset has two SATA 6Gb/s ports (plus four SATA 3Gb/s ports), and two USB 3.0 headers. The H81MDC-LSP supports two DIMMs for a maximum of 16Gigs of RAM. The H81MDC-LSP is a great option for small form factor systems where you rarely have more than one discrete card and two SATA drives and is a great combination for low-cost but with rich features such as HDMI video output. And being Intel based boards, they also feature Intel Rapid Start Technology and Intel Smart Connect Technology.

In addition to the normal specs, the H81MDC-LSP comes with MAGIX multimedia tools designed to enhance your music, videos and photos for free and Simplicheck, a small, intelligent tool by Simplitec GmbH that scans your PC for optimal performance. Simplicheck is based on well-proven scanning technology that has proven successful in everyday customer use.
The H81MDC-LSP is also equipped with modern high quality solid capacitors, the X.D.C (eXtreme Durable Capacitors). These are low ESR and high ripple conductive solid state capacitors that provide a stable power supply to the CPU. The life span can also be more than 6.25 times that of ordinary liquid caps. The H81MDC-LSP also has Super LAN Surge Protection which provides a LAN port with more advanced antistatic protection capabilities by adding an integrated chip to strengthen electrical stability and prevent damage from lightning strikes and electrical surges.
The boards feature the latest BIOSTAR technologies such as BIOS Flasher and BIOS Online Update for easy updating and restoration of the BIOS, as well as BIO-Remote2 for remote control of the system via Android and Apple devices.
BIO-Remote2 Technology gives users a better Home Theater environment. Users who own either Android or Apple mobile devices are able to access and control the PC remotely. Your smart device can become an intelligent and functional remote control. Moreover, BIO-Remote2 also includes both the function of mouse pad and power point presentation modes.
Lastly, the H81MDC-LSP features the Charger Booster function. It is a high powered charging solution for Apple or Android devices such as iPad, iPhone and Android phones and tablets. Charger Booster Technology is able to boost the charging time to be more efficiency and faster once any mobile device is connected to the motherboard. With Charger Booster technology, you are able to charge your devices up to 42 % faster.
The MSRP for the H81MDC-LSP is $49 USD.


Gigabyte reports revenues for March

gabyte Technology has reported consolidated revenues of NT$4.4 billion (US$141.52 million) for March 2015, representing 36.66% increase on month and 19.26% increase on year.


ASUS Strix 7.1 Surround Gaming Headset Review @ Legit Reviews

Flashy and fashionable audio wear has been a fascinating trend with new ideas being tested every year. The ASUS Strix headset lineup is perhaps one of the showiest audio products to be released that we are getting the chance to take a look at. Curves and edges give way to large owl eyes on the exterior of the earcups that light up. For the Strix 7.1, an Audio Control Station acts as a stylish desktop remote control that hides an audio processor that drives the headsets true 7.1 surround sound design."

Cougar 200K Scissor Gaming Keyboard Review

"Today we're looking at the Cougar 200K gaming keyboard, an affordable board that sports rather smart styling and a couple of interesting features, such as lighting effects and anti-ghosting technology. We often see such features on expensive keyboards, but Cougar looks to be targeting gamers who are on a tight budget yet still want something capable. Retailing for only $30, let's see how this keyboard stacks up."

Sapphire R9 290X Tri-X 8GB CrossFireX Review

Here at eTeknix, we strive to give the consumer the best possible advice in every aspect of technology. Today is no different, as we have a pair of Sapphire's amazing R9 290x 8GB Tri-x edition graphics cards to combine together for some CrossFireX action. The dedicated review for this graphics card can be found here. When striving for the best results, it is favourable to test 2 of the same models to allow for no variation in any clock speeds or variations in any integrated components, so today we should see some excellent results.

Seagate Wireless 500GB mobile storage drive

Seagate has a eye catching wireless solution with its 500GB wireless mass storage device. It is able to stream content wirelessly to your smartphone, tablet or laptop and can store movies and TV shows. It is even designed to cater to student houses and families, allowing up to three devices to stream from it at once.

NVIDIA CEO And Elon Musk On Autonomous Cars

One of the highlights of today's opening keynote at the NVIDIA GPU Technology Conference in San Jose (GTC), was NVIDIA CEO, Jen-Hsun Huang's invited special guest, Tesla CEO, Elon Musk and the "fireside chat" the two were scheduled to hold. Frankly, it was a bit shorter than expected, but when two visionaries take the stage, time does tend to fly, figuratively and literally. There's no question, Jen-Hsun Huang is a visionary when it comes to visual computing, but Musk, Musk thinks way outside the box on a lot of things – from Electric Vehicles, to Hyperloop supersonic transport, to autonomous cars that are so reliable, they're safer on the road than humans.

Samsung 850 EVO mSATA and M.2 SSD Review

Powered by their own 32-layer 3D V-NAND technology, the Samsung SSD 850 EVO replaces the 840 EVO solid state drive and delivers up to twice the density and write speed of traditional 20nm planar NAND flash components. In this article, Benchmark Reviews tests the 250GB Samsung SSD 850 EVO mSATA drive against the fastest solid state drives available.

Samsung 850 EVO mSATA and M.2 SSD Review

Back in December, Samsung launched the 850 EVO series of SSDs in the standard 2.5" form factor. Along with the 850 PRO, these were the first SSDs to utilize Samsung's new 32-layer 3D V-NAND technology. When combined with Samsung's TurboWrite technology, the 850 EVO's can attain some amazing data transfer speeds. Samsung is now expanding its lineup of 850 EVO form factors to include M.2 and mSATA versions. We just recently published a review of the M.2 version, and today we have on hand both 120GB and 1TB models of the mSATA 850 EVO to give a testing bench test drive.

DEEPCOOL Steam Castle "Steam-Punk" Case Review

It is one of those moments that you go, "Uh, what?" Deepcool Industries comes to us today with its Steam Castle micro-ATX and mini-ITX computer case for smaller system configurations. While your definition of "steam-punk" may differ from Deepcool's, one thing for sure is this case is unique in its look. How does it perform however?

Phanteks PH-TC14S Slim Tower Heatsink Review

The Phanteks PH-TC14S heatsink stands 161mm tall and weighs 740grams. It's built around six 6mm diameter heatpipes, a chunky nickel plated copper heatspreader and two black painted aluminum cooling fin towers, each 19mm wide. At the center of the heatsink is a 140mm PWM fan that operates at 1600-500RPM, producing upwards of 47dBA according to our real world noise measurements. The fan itself moves 68CFM at 1.62mmH2O, according to manufacturer specs. he aluminum fins of the Phanteks PH-TC14S heatsink have been painted black for aesthetic reasons, not anodized as several novice reviews have mistakenly reported. A coating of paint on a heat transfer surface is not ideal as it insulates the aluminum fins from the surrounding air mass to some degree.






The best Guides by the best writers on the internet; PCstats Beginners Guides explain computers, software, and all those other wonderful things that cause you frustration.

Learn how to use your computer better, master the internet while protecting yourself, and know what to do when your hard drive kicks the bucket.



"Get the 'Stats and Stay Informed!"