| | |
| --- | --- |
| General News | |

... 37 news stories awaiting approval
Synology DS416 4-bay NAS

Synology has lots of offerings for enthusiast home users and the DS416 is one of them. It uses an Annapurna Labs Dual-Core SoC that offers enough computing power while consuming very little energy.

the phenomenon of PCI-Express SSD's

We've been digging into the phenomenon of PCI-Express SSD's for a while now, covering Intel's P3700 drive as well as looking at an assortment of other models available in the market. One that was missing so far, at least from our English language publications, was Samsung's 950 Pro. We've now amended that omission with a full and in-depth review of this NVMe PCIe SSD, that in many ways represents a first in the market and surely is a harbinger of storage products to come.

2016 Samsung SUHD TV Models Revealed

At the recent Samsung Forum 2016, we were given the first look at the 2016 Samsung SUHD TV models to hit the market in the coming months. Join us as we share with you the videos and pictures we took of these new Samsung SUHD TV models.

OCZ TRION 150 SSD (240GB) review

We test and review the new OCZ Trion 150 series SSD. The new Trion 150 series is about value, we are talking 30 cents per GB. It is an SSD series that is 100% Toshiba proprietary, that includes the controller and uses new 15nm NAND flash memory.

Corsair Carbide 400Q Case Review

Corsair is breaking new ground, for them at least, with the 400Q and 400C in offering a mid tower case that has zero 5.25? bays. Allowing maximum airflow with the least amount of obstructions. Is the Carbide 400Q a contender for similarly sized cases that feature sound dampening and no 5.25? bays? That's one of the questions we're going to answer in this article for Benchmark Reviews.


Input Club Infinity ErgoDox Ergonomic Keyboard Kit @ LanOC Reviews

Almost exactly one year ago I sat down and took a look at the original Massdrop ErgoDox kit. A few months after that Massdrop in combination with what would later be called Input Club announced that they had been working on a completely new designed called the Infinity ErgoDox. It's important to note that the original ErgoDox was originally designed by Dominic Beauchamp aka Dox. Later the Geekhack and Deskthority keyboard community's worked with Massdrop to provide a full kit. The ErgoDox isn't exclusive to Massdrop but the specific design that I reviewed last year was. There are actually multiple places where you can put together your own parts or now even buy a pre-built model as well. The Infinity ErgoDox though is a new design based on the original but taking into account what they learned from the 60% Infinity Keyboard that Massdrop worked on with Input Club. The overall shape is the same but the Infinity ErgoDox uses a proper backplate and makes big steps forward with things like USB 3.0, NKRO, an LED screen, backlighting, and stabilizers. So today I'm going to dig into the new kit and see what it is all about, have a little fun building it all, then test out the new design and see how it compares to the original.

Holy Stone F181 Universe Explorer Quadcopter Drone Review

Today's review of the F181 Universe Explorer will be my first introduction to newcomer Holy Stone, whom was founded in 2014. Read on to see it in action with its 720p HD onboard video camera, our review has on-board camera footage and photos, along with videos of my experience with the Holy Stone F181 Universe Explorer Quadcopter Drone."

Razer Nabu @ LanOC Reviews

Generally, I tend to consider myself up to date with technology, I mean I spend my days testing and writing about the latest and greatest. Every once in a while though something slips past me. A few years ago at CES Razer introduced their Nabu. It wasn't really the first of its kind with Nike and Fitbit especially doing things that were similar, but it was very surprising to see Razer, a gaming company jump into the market. It wasn't really until in the past year when I noticed just how popular Fitbit has been with even my own mom having one before me. Well my wife recently decided to get them to start working on bettering ourselves and Razer came back to mind. So today I'm going to take a look at the Razer Nabu and see what it's all about.

M-Edge Beast iPhone 6/6S Case Review

The Beast, in our opinion a first glance would tell us this thing is built strong and ready for your active lifestyle. M-Edge is dedicated to making your life smooth and transitional from work to the gym to the home and as you'll see in the next while through some of the products we are working with M-Edge on that they accomplish that with ease.

ASUS ROG Maximus VIII Hero Alpha Review

Maximus VIII Hero Alpha looks identical to the standard Hero and an initial observation confirms the same theme has been implemented and a majority of the same features utilised. However, Alpha brings with it a number of significant improvements over its sibling with dual 32Gbps U.2 ports for NVMe storage, up to 3 PCI Express RAID devices, 802.11ac WiFi, RGB Strip headers and the Intel USB 3.1 controller.

Keys To Success: Four Mechanical Gaming Keyboard

In a broad sense, there are two types of keyboards in this world—those that use mechanical key switches and those that don't. If that sounds like something a keyboard snob would say, so be it, this editor stands guilty as charged, and happily so. We can accept that not everyone will find just cause to spend a premium on a mechanical plank, but one thing we'll never concede is that even the best membrane keyboards are on equal footing as those with mechanical key switches. Stick bamboo under our fingernails (not really) or subject us to a marathon of Matthew McConaughey movies (dear God, no!), such blasphemy will never leave our lips. Ah, but you probably know this already, hence why you're here eager to see how the contenders in our second roundup of mechanical keyboards stack up to one another. This time around we've assembled a collection of keyboards from four manufacturers. They include the AORUS Thunder K7, ASUS Strix Tactic Pro, G.Skill Ripjaws KM780 RGB, and Logitech G910 Orion Spark...

Netgear Nighthawk X8 R8500 AC5300 WiFi Router Review

Today, we take our first look at Netgear's flagship router, the Nighthawk X8 R8500 AC5300 WiFi Router. This router has hit shelves just in time for the holiday gift buying season and is priced at around $343 shipped from most major retailers. This price certainly reflects the standing of the Nighthawk X8 as the leader in the Netgear series of routers but our expectations of what this router brings to the table are high as this is one of the most expensive home networking devices we have looked at...

iFamCare Helmet 1080p Full HD Monitor Review

With security and safety being one of the biggest things people are concerned about when it comes to their homes, iFamCare has come out with a very diverse smart home system that lets you have a little more piece of mind while you're away from your home. The Helmet, as it is named by it's shape, boasts some pretty awesome features such as two-way talking and 1080p full HD picture to name a few. Let's start!

Scythe Ninja 4 SCNH-4000 Heatsink Review

" While Scythe doesn't overtly market its heatsinks as "silent", the company has typically produced CPU coolers which do meet the quiet esthetic. In this review Frostytech will be testing out the new Scythe Ninja 4 heatsink - a 156mm tall boxy looking thermal solution which is designed for lower noise cooling. The Scythe Ninja 4 CPU cooler weighs ~900grams and has a footprint of around 145x130mm."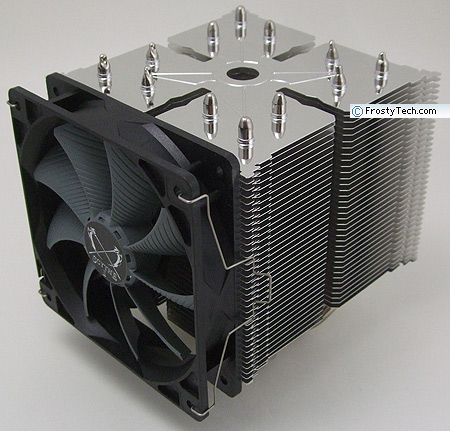 EVGA SuperNOVA 1600 T2

We have on our test bench today EVGA's flagship PSU with an enormous capacity and Titanium efficiency. We expect it to preform incredibly well because it uses Super Flower's high-end Leadex platform and comes with some formidable specs.