| | |
| --- | --- |
| General News | |

... 28 news stories awaiting approval
Crucial MX200 1TB & BX100 500GB Series SSD Review

Crucial's SSDs have been among the most reliable and best performing on the market, with last summer's MX100 being the company's greatest hit. Despite offering solid performance even by today's standards, its 'MX200' sucessor arrived only six month later and along with it Crucial also introduced the even more affordable BX100 series and a new SSD toolbox software. On today's menu is the beefy 1TB MX200 ($470) along with the 500GB BX100 ($190).

Creative Sound Blaster E3 USB DAC

"I am sure when most users hear Creative Sound Blaster it is synonymous with computer audio perfection, many of the top gaming motherboards feature Sound Blaster audio. Today I will be looking at the new Sound Blaster E3 USB DAC & headphone amplifier with Bluetooth. In addition to being a USB DAC and amplifier it also features Bluetooth connectivity allowing you to wirelessly connect with your mobile devices. So can the Sound Blaster E3 live up to Creative Sound Blaster's long legacy of audio excellence? Read on as we test the E3 and find out!"

Intel SSD 750 Series 1.2TB PCIe X4 Card Review

When it comes to pricing the SSD 750 Series isn't cheap and that is hardly going to shock anyone, after all this is an enthusiast/workstation series. The 400GB model has an MSRP of $390 and the 1.2TB model that we reviewed has an MSRP of $1030. That means the 400GB works out at a cost of $0.97 per gigabyte and the 1.2TB model $0.85 per gigabyte. Those were decent prices a few years ago, but today with SSDs such as the Samsung SSD 850 Pro 1TB fetching $0.55 per gigabyte, that makes the Intel SSD 750 series rather expensive.

Toshiba DT01ACA300 3TB SATA III HDD Review

Toshiba is one of the most well-established names in the electronics industry, and has been in business for over 135 years, with over 40 years experience in the storage industry. Toshiba has achieved many innovations over the years – they produced the world's first mass-market laptop computer, as well as the world's first wireless laptop computer and the world's thinnest widescreen 12.1" laptop. Toshiba spends billions of dollars per year on research and development, and has earned over 27,000 patents in the last 30 years. They have been producing both client and enterprise hard disk drives (HDDs) for quite a number of years now, and continue to produce HDD's of ever-larger capacity.

Kingston HyperX Predator 16GB 3000MHz Quad Channel DDR4 Kit Review

With every type of product there's always a particular brand or SKU that rules the roost, that pushes the boundaries in terms of quality and performance. In the world of desktop computer memory there are a few of these: Corsair's Dominator Platinum and G.Skill's RipJaws are a couple of examples but today we have one of the most established and prestigious: Kingston's HyperX Predator series. The Predator name doesn't just get put onto any old memory module: Kingston reserve it for the craziest frequencies, the highest quality cherry picked and speed binned SKUs and to top it all off there's a whopping great big heatsink to keep things running cool. The specific kit we have today operates at a crazy 3000MHz, or 3GHz, and remember this is just the memory. That means the memory operates at the same frequency as the Core i7 5960X's base frequency – crazy! Due to the super high frequency this kit also comes with a large heat spreader to tame the high 1.5 volts needed and it also comes with a high price tag which we'll get onto later. First let's go over the specifications of this product:

Up close and personal with Gigabyte's 5 inch GTX760 Brix

While the tide may not have turned 100%, the days when computer chassis simply grew and grew are certainly behind us. There will always be a market for massive cases, but small is not only sexy, it is also cost effective and neat. KitGuru fires up the trusty camcorder.

Thecus N7710-G 7-Bay NAS with 10 GbE

The Thecus N7710-G is a no-nonsense 7-bay NAS tower server that focuses on function over form. The user interface is humdrum but the hardware is the true star, including a 2.9 GHz Sandy Bridge processor, 4GB of RAM, and a 10 GbE card.

Windows 10 Technical Preview

TR's Cyril Kowaliski has spent some time with the Windows 10 Technical Preview, and he's jotted down his thoughts about each of the major new features and changes. His conclusion? This has the potential to be the best Windows release since Windows 7.

Intel X99 motherboard review part 2: 20 boards tested

At the end of August Intel introduced the Haswell E processors and we published a comparative test of 15 Intel X99 motherboards. Since our last test we have received another few new motherboards and we have retested some boards that did not perform optimally in our original test. In this update we introduce the new boards on the market and show the updated test results of all 20 X99 motherboards.


BIOSTAR releases the H81MDC-LSP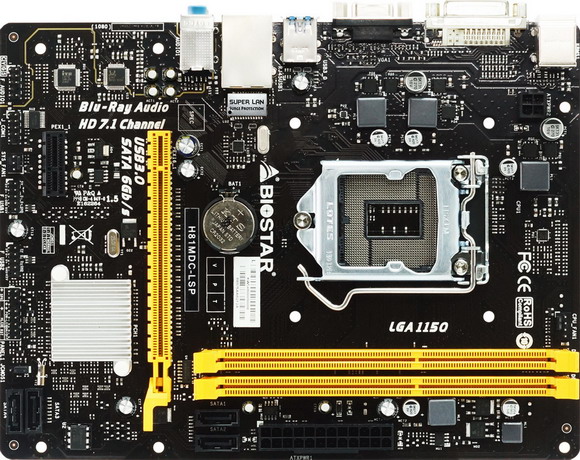 BIOSTAR has released the latest Micro-ATX Motherboard, the H81MDC-LSP. Based on the Intel H81 chipset, the H81MDC-LSP along with an upgraded sound chip and LAN surge protection. The board supports Intel 4th generation Core i7 and Core i5 processors. It features Intel single chip architecture with HD 4600Graphics, along with a new integrated memory controller that will run at speeds up to 1600MHz. The H81 chipset has two SATA 6Gb/s ports (plus four SATA 3Gb/s ports), and two USB 3.0 headers. The H81MDC-LSP supports two DIMMs for a maximum of 16Gigs of RAM. The H81MDC-LSP is a great option for small form factor systems where you rarely have more than one discrete card and two SATA drives and is a great combination for low-cost but with rich features such as HDMI video output. And being Intel based boards, they also feature Intel Rapid Start Technology and Intel Smart Connect Technology.

In addition to the normal specs, the H81MDC-LSP comes with MAGIX multimedia tools designed to enhance your music, videos and photos for free and Simplicheck, a small, intelligent tool by Simplitec GmbH that scans your PC for optimal performance. Simplicheck is based on well-proven scanning technology that has proven successful in everyday customer use.
The H81MDC-LSP is also equipped with modern high quality solid capacitors, the X.D.C (eXtreme Durable Capacitors). These are low ESR and high ripple conductive solid state capacitors that provide a stable power supply to the CPU. The life span can also be more than 6.25 times that of ordinary liquid caps. The H81MDC-LSP also has Super LAN Surge Protection which provides a LAN port with more advanced antistatic protection capabilities by adding an integrated chip to strengthen electrical stability and prevent damage from lightning strikes and electrical surges.
The boards feature the latest BIOSTAR technologies such as BIOS Flasher and BIOS Online Update for easy updating and restoration of the BIOS, as well as BIO-Remote2 for remote control of the system via Android and Apple devices.
BIO-Remote2 Technology gives users a better Home Theater environment. Users who own either Android or Apple mobile devices are able to access and control the PC remotely. Your smart device can become an intelligent and functional remote control. Moreover, BIO-Remote2 also includes both the function of mouse pad and power point presentation modes.
Lastly, the H81MDC-LSP features the Charger Booster function. It is a high powered charging solution for Apple or Android devices such as iPad, iPhone and Android phones and tablets. Charger Booster Technology is able to boost the charging time to be more efficiency and faster once any mobile device is connected to the motherboard. With Charger Booster technology, you are able to charge your devices up to 42 % faster.
The MSRP for the H81MDC-LSP is $49 USD.


Gigabyte reports revenues for March

gabyte Technology has reported consolidated revenues of NT$4.4 billion (US$141.52 million) for March 2015, representing 36.66% increase on month and 19.26% increase on year.


ASUS Strix 7.1 Surround Gaming Headset Review @ Legit Reviews

Flashy and fashionable audio wear has been a fascinating trend with new ideas being tested every year. The ASUS Strix headset lineup is perhaps one of the showiest audio products to be released that we are getting the chance to take a look at. Curves and edges give way to large owl eyes on the exterior of the earcups that light up. For the Strix 7.1, an Audio Control Station acts as a stylish desktop remote control that hides an audio processor that drives the headsets true 7.1 surround sound design."

Cougar 200K Scissor Gaming Keyboard Review

"Today we're looking at the Cougar 200K gaming keyboard, an affordable board that sports rather smart styling and a couple of interesting features, such as lighting effects and anti-ghosting technology. We often see such features on expensive keyboards, but Cougar looks to be targeting gamers who are on a tight budget yet still want something capable. Retailing for only $30, let's see how this keyboard stacks up."