[>>]

[>>]

[>>]

[>>]

More>>

Search...

| | |
| --- | --- |
| General News | |

... 43 news stories awaiting approval
Intel Core i7-5960X Haswell-E Review

Intel's Extreme Edition processor line is over a decade old now, starting way back in 2003 with the single-core Pentium 4 EE 3.4GHz. Fast forward to today, the chip we'll be looking at boasts eight cores, a massive 20MB smart cache, support for the latest DDR4 memory, and is accompanied by the new X99 chipset for more SATA 6Gb/s ports (10 rather than just two) and finally brings native USB 3.0 to Intel's flagship platform.

i7 5960X + MSI X99 Experience So Far: It's Smoking, Really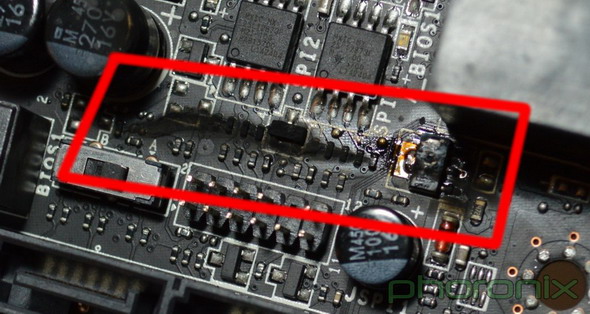 This weekend I was planning to publish the first Linux benchmarks for Intel's incredibly powerful Core i7 5960X Haswell-E processor with X99 motherboard and DDR4 system memory. Unfortunately, all I can tell you now is that it's smoking, quite literally!"

Gigabyte X99 Gaming 5 (LGA 2011-3) Motherboard Review

Intel's new "Haswell-E" high-end desktop platform recently launched with the Core i7 5960X 8 core CPU leading the way - be sure to check our review of that right here. To accompany Intel's new Haswell-E CPUs we have a brand new platform based on the X99 Express chipset and DDR4 memory. Today we are reviewing our first motherboard based on X99 Express and it is actually the same motherboard we used in our Core i7 5960X – theGigabyte G1 Gaming 5 X99 motherboard. To put it through its paces we are using Intel's flagship Core i7 5960X and a hefty 32GB of Crucial DDR4 2133MHz memory which is fresh off the Micron production line. Gigabyte's newest X99 series of boards draw a lot of their inspiration from the recent Z97 releases: they use the same colour schemes, they offer similar audio and networking combos and they are orientated towards the same market segments, albeit at a higher premium. The Gigabyte X99 Gaming 5 has impressive specifications, largely due to the fact the X99 chipset offers so much. Gigabyte have opted for the "gamer" orientation with this board by equipping the usual Killer networking and high quality audio package, we also have the almost-cliché red & black colour scheme which has proved so popular.

Nilox SRM-850 Review @ ocaholic

Today, we have a chance to look at a power supply from Nilox. To be a bit more precise we`re having a closer look at their SRM-850 offering. This PSU features a single-rail design that boasts 70A on the +12 rail. Apart from that this unit also features a very reasonable price point and we`re curious to see what it can do."

Sandberg Credit Card 850mAh Powerbank Review

Can any of you even recall how many times your smartphones have ran out of battery while you're out having drinks far away from a power socket? Having a power socket is not even a solution since i bet many of you had your smartphones ran out of battery while attending a wedding or a meeting since you obviously don't carry the wall charger with you. Portable battery packs are a valid solution to such circumstances but you really can't carry one around with you at all times since although very small they are more than what you can fit in the pockets of your shirt or jeans. A couple of years back certain manufacturers came up with a very smart idea which basically involved using several flat battery cells inside a credit-card like enclosure which you would be able to carry around you at all times whether that would be inside one of your pockets or inside your wallet. However it wasn't until recently that we began to see such solutions that feature enough battery juice to recharge most smartphones up to a full time and so since we wanted to take a look and see how far this "innovation" has progressed today we will be testing the latest Credit Card 850mAh powerbank by Sandberg


Kingston HyperX Savage 2x4GB DDR3-1866Mhz Review

Today am getting a chance to play with some new Kingston memory, this time its all about a 8GB HyperX Savage Kit. I was thinking about a good opening to announce the start of this review but Kingston has that perfectly covered. Attack the competition with HyperX® Savage memory. Its unique, asymmetrical red heat spreader is made from high-quality aluminium and has a black PCB and a diamond cut finish to make your game shine and help you stand out in the crowd. The heat spreader dissipates heat so that your system stays cool and reliable and its low profile fits under oversized CPU coolers. Built-in, hand-tuned XMP profiles mean that even noobs can overclock their platforms with simple adjustments in BIOS.


XFX TS650 650W Non-Modular Power Supply Review

XFX's PRO Series of power supplies have become very popular among system builders and enthusiasts thanks to their solid quality and competitive pricing, however, the majority of the XFX PRO series of power supplies are only based on 80 Plus Bronze rated Seasonic platforms. With the TS series XFX is ramping up the quality from Bronze to Gold rated platforms that promise to offer better efficiency and higher quality power deliver. As you'll find with many mainstream power supplies, there is a fully wired design which serves the purpose of keeping costs down but also of eeking out every last drop of efficiency since fully wired PSUs tend to have greater efficiency than modular ones. Yet the efficiency of this PSU is still fairly high-end so XFX have offered some cables to match that: all of the cables are fully black except the motherboard 24 pin but that also has decent sleeving. Like all XFX power supplies the XFX TS 650 also carries with it an impressive 5 year warranty in case anything were to go wrong, but given the high quality components and construction associated with Seasonic OEM designs like this one we are expecting a very good power supply, so let's see exactly how it performs in today's review.


Corsair HXi Series 1000 W @ techPowerUp

Corsair just introduced the new HXi series, comprised of members with Platinum efficiency and full compatibility with the Corsair Link software. Today, we will take a look at the second-strongest unit of the line with 1 kW capacity, ideal for a power-hungry system with up to four VGAs."

G.SKILL Ripjaws 4 16GB DDR4 3000 MHz Memory Kit Review @ Legit Reviews

When Intel moved the launch of the X99 platform forward it caught some companies off guard, but one company that was more than ready for the launch was G.Skill. G.Skill had no less than 23 different DDR4 memory kits ready to sell on launch day! That is an impressive number of kits and if you are looking for a 16GB, 32GB or 64GB kit of four DDR4 modules the folks over at G.Skill will be more than happy to sell you a Ripjaws 4 DDR4 memory kit that is clocked at 2133MHz, 2400MHz, 2666MHz, 2800MHz, 3000MHz, 3200MHz, 3300MHz or even the World?s fastest memory kit at 3333MHz. G.Skill has by far the most impressive lineup of DDR4 memory modules by any company and they are priced very aggressively. Today we?ll be taking a look at the G.Skill Ripjaws 4 16GB (4x4GB) DDR4 kit of memory that is clocked at 3000MHz with CL15 timings and using 1.35 Volts."

Where is the Startup Folder in Windows 8.1?

Ok, we all know that a lot of things have changed in Windows 8 and Windows 8.1 from the "Good Ol'e days". While poking around pointlessly this morning, I started to wonder where the Startup folder had gone… and is it still used at all. If you are looking for the "new" Startup, go to ...

ASUSTOR AS-204TE Review

Unless you have been living under a small stone in a field behind Bilbo Baggins' home, you may have heard the term NAS (Network Attached Storage). NAS are becoming more prevalent in the home, the small office, and the Enterprise. These flexible, inexpensive, devices can nearly do it all, which is what makes them so attractive. Well, it seems like everyone and their cousin is producing a NAS of some sort, but only a few have really got their act together. Among that small few, those that have more in R&D than they do in sales, is a company by the name of ASUSTOR. Today, ASUSTOR is no longer just a startup company. Instead, they have been producing some of the best, low-cost, NAS that money can buy. We had the chance to review their AS-302T, as well as the AS-608T and absolutely loved it. Let's see if their AS-204T can live up to our lofty expectations.

CM Storm Resonar Gaming Earphones Review

It was just 6 months ago that we reviewed an in-ear CM Storm gaming headset and while I loved the build quality, style and microphone performance, I couldn't help but notice that bass was seriously lacking on the drivers. Now this isn't really a bad thing, the headset was targeted right at the LAN gaming and eSports loving crowd and it's no secret that clear treble and minimal bass can provide tangible benefits in competitive FPS gaming, since it allows you to better hear the footsteps of your opponents. Unfortunately for CM Storm I expect a little more from my audio devices and since I like to listen to music as much as I love gaming, good all round performance is a must.

Cooler Master N600 Mid Tower Review

One can easily say that Cooler Master is a household name among PC enthusiasts. With an absolute plethora of cooling products and chassis to choose from, Cooler Master boasts one of the largest product lines in the industry. With products such as the immensely popular Hyper 212 EVO CPU cooler and the HAF 932 chassis, one can generally expect good things to come from Cooler Master. Last year Cooler Master released the N-series cases, which includes the N200, N400, and N600 models. The N600 is the premier model in the series, designed to bring enthusiast features at a more affordable price point.



The best Guides by the best writers on the internet; PCstats Beginners Guides explain computers, software, and all those other wonderful things that cause you frustration.

Learn how to use your computer better, master the internet while protecting yourself, and know what to do when your hard drive kicks the bucket.



"Get the 'Stats and Stay Informed!"