| | |
| --- | --- |
| General News | |

... 7 news stories awaiting approval
Gigabyte Z370N WIFI - The Cutest Of them all?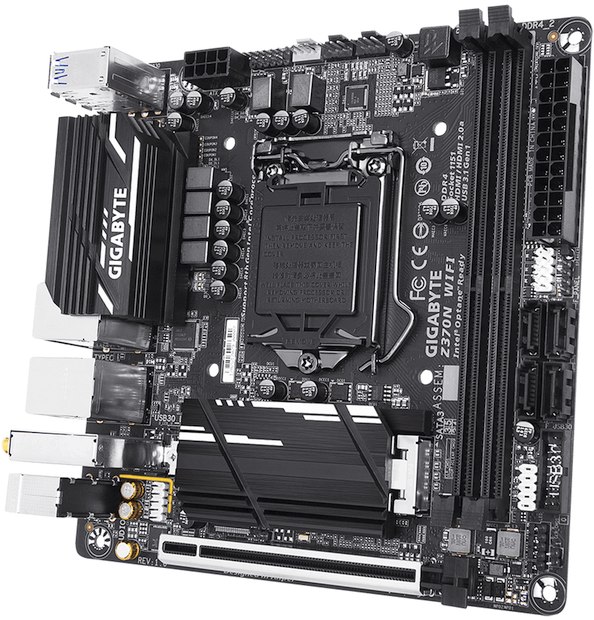 We review and test the small yet agile Gigabyte Z370N WIFI motherboard, this Mini ITX Form Factor based measures just 17x17cm, yet is as fast as its bigger bethrens. We'll pair it with the new six-core Core i7 8700K. Will it perform as fast as the more expensive SKUs? Well, heck yeah.

AMD teases 7nm Vega for machine learning in 2018

This product will target the machine learning market, with hardware and platform optimizations key to that segment. AMD mentions "new DL Ops", or deep learning operations, but the company didn't expand on that. It could mean it will integrate Tensor Core style compute units (as NVIDIA did on the Volta architecture) or it may be something more unique. AMD will integrate a new IO, likely to compete with NVLink, and MxGPU support for dividing resources efficiently for virtualization.

AMD Ryzen Desktop CPU with Ryzen Graphics Coming Feb 12

Though AMD might not use the term APU anymore, that's what we are looking at today.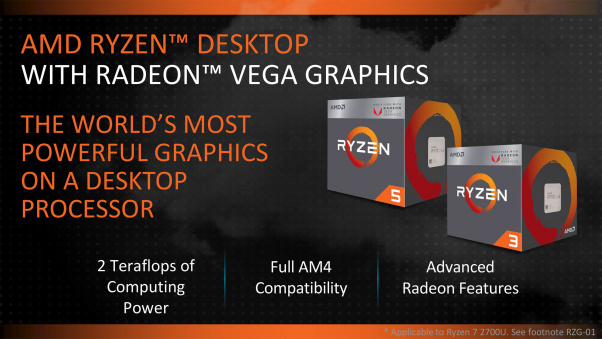 The Ryzen + Vega processor (single die implementation, to be clear) for desktop solutions will begin shipping February 12 and will bring high-performance integrated graphics to low cost PCs. Fully titled the "AMD Ryzen Desktop Processor with Radeon Vega Graphics", this new processor will utilize the same AM4 socket and motherboards that have been shipping since March of 2017. Finally, a good use for those display outputs!

AMD Drops Ryzen CPU Prices By Up to 30 Percent

AMD announced today a price drop for most of its Ryzen processor lineup, making the company's multi-core-focused parts even more competitive to Intel in terms of cost-to-performance. While not every Ryzen and Threadripper processor is seeing a price reduction, many parts are being reduced by up to 30 percent.

AMD Announces 2nd Generation Ryzen CPUs

Details are expectantly short, but what we know is that these parts will move from a 14nm process technology to 12nm from GlobalFoundries. AMD is calling the design "Zen+" and this is NOT Zen 2 – that is coming next year. You should expect higher clocks for Ryzen 2000-series processors and improvements to Precision Boost that will enable more consistent and gradual clock speed shifts in workloads of interesting like gaming.

Corsair AX1600i PSU

Today we are looking at the brand new Corsair AX1600i Digital Power supply, an expensive $500 high end unit set to target the wealthy enthusiast audience who simply need the highest levels of quality power. Corsair say this is their most efficient and powerful supply to date – this flagship unit delivers 80 Plus Titanium efficiency and incorporates high grade 105c Japanese capacitors throughout.

PlayerUnknown's Battlegrounds Gameplay

The mega-popular PlayerUnknown's Battlegrounds, aka PUBG, is finally here in full release form. With its time in the Steam Early Access easy-bake oven complete, the inspiring battle royal FPS game is now ready for mass retail consumption with an impressive new map, new weapons, vehicles and lots more. Back in September we had a blast running, gunning and dying quite a bit, to show you how the game had integrated NVIDIA's Shadowplay Highlight's custom replay features. Now we're giving this masterpiece of mayhem the formal treatment with its own gameplay and performance review...

Cougar Immersa Pro

The $80 Cougar Immersa Pro is the successor to the well-known and well-liked Immersa, one of the most popular $50 gaming headsets on the market. Even though it looks and feels almost the same, it comes with its own sound card, an RGB lighting system, and bigger speaker drivers that are tuned quite differently than those of the original Immersa.

Windows 10 Updates Are Bricking AMD PCs

Microsoft has stopped pushing a number of Windows 10 updates, including the Meltdown and Spectre mitigation patches, because they were bricking some AMD PCs. Read all about this developing story!

44 GPU Fortnite Benchmark: The Best Graphics Cards for Playing Battle Royale

Although we've thoroughly benchmarked PU's Battlegrounds at this point and it's based on the same UE4 engine, we're interested to see just how much better optimized Fortnite is and we know many of you are as well having read all of your requests for this one. Fortnite's Battle Royale mode has proven to be quite popular, attracting millions of players in a short few months.


Hyper X Cloud Flight Wireless Gaming Headset

It's been a long time coming but nearly 4 years after the original Cloud headset was announced we bring you our review of the long awaited wireless Hyper X headset. The Hyper X Cloud Flight promises all the comfort and immersive audio of the original cloud headset but with gaming grade wireless connectivity and 30 hour battery life. Is the Cloud Flight worth £139.99 and could it be the must have wireless headset of 2018?


Dream Machines DM3 Mini Gaming Mouse Review

Dream Machines is a Polish company that has been around for a couple of years now, starting off producing gaming laptops and expanding into other territories like speakers and gaming mice. The team at Dream Machines has a real focus on PC gaming and I am always one to welcome a new company to the mix, as competition and innovation is what keeps covering the PC scene so fun and exciting. Dream Machines has recently begun expanding into other territories and wants to make their presence felt here in the USA. While many gaming mice feature over the top designs with multiple buttons, the DM3 Mini is a minimalist mouse, featuring just two main buttons on a smaller, traditional ambidextrous shaped frame. Read on to learn more!

Kone Aimo represents 10 years

Roccat claims its Kone Aimo represents 10 years of gaming-mouse refinement. With a customized PixArt PMW3360 optical sensor and RGB LED lighting galore, Roccat's latest certainly has the bones to be a contender among today's gaming rodents. We took it to the mouse mat to see whether it comes out a winner.