[>>]

[>>]

[>>]

[>>]

More>>

Search...

| | |
| --- | --- |
| General News | |

... 78 news stories awaiting approval
Intel Kaby Lake Core i5-7600K & Core i7-7700K Review

The Consumer Electronics Show, a yearly event held in Las Vegas which sets the tone of the electronics market for the following year, is one of few marquee events throughout any year for the IT industry. In the PC sector it's only surpassed by Computex, and that's mainly down to the location and PC hardware focus of the Taiwan-based event. It is therefore unsurprising that Intel would choose this venue to debut their latest new CPU architecture on the desktop PC platform: the 7th Generation Core CPU, previously known by its codename Kaby Lake.

SteelSeries Arctis 3 Review

Focusing more on the Arctis 3 specifics, it is the analogue, stereo version of the line. It features fully modular cables that uses a proprietary USB joint to ensure fluid movement between various devices. It also offers 7.1 surround via software emulation in the SteelSeries Engine 3.

First AMD Naples + Radeon Instinct Reference Design Revealed!

We had earlier revealed the upcoming AMD Ryzen desktop processor, and the AMD Radeon Instinct compute accelerators. But that was not all they revealed at the AMD Tech Summit held in Sonoma last month. AMD also showcased the world's first AMD Naples and Radeon Instinct reference design!

The 10 Most Anticipated PC Games of 2017

2016 was a decent if unspectacular year for PC gaming. Several popular game franchises received high quality additions, we also saw great new IPs, but a collection of games we were excited for ended up being major disappointments. Mafia III and No Man's Sky are prime examples. Hopefully the games we're most excited to play in 2017 will meet the hype surrounding their release.

Review of HyperX Alloy FPS Mechanical Gaming Keyboard

"HyperX the enthusiast/gaming branch of Kingston have released the HyperX Alloy FPS Mechanical Gaming Keyboard. This is a full-sized keyboard designed for portability and game play. The HyperX Alloy FPS uses Cherry MX Blue keys and has 100-percent Anti-Ghosting and full N-key rollover functions. It is designed to be portable with an included travel pouch and detachable braided cable. "

Crucial Ballistix Elite 16GB DDR4 3200Mhz Memory Kit Review

We wrote some time ago when we first started to test DDR4 memory that it wouldn't be long before DDR4 memory speeds would have a 1:1 speed ratio with the CPU. Well, it didn't take long at all and we have seen these speeds for the last 12 months at least. It may be a throwback to the days of the Front Side Bus (FSB), but it was always a goal to have 1:1 CPU/memory speeds, however unachievable.

MJX Bugs 3 Drone Review

"Bugs 3 will be MJX's first venture into the brushless quadcopter drone market. Bugs 3 is being targeted as a versatile drone that can be sporty when it needs to be, yet tame enough to carry a GoPro."

Intel Core i7-7700K and Intel i5-7600K Kaby Lake

Today, the Intel Kaby Lake processors Intel Core i7-7700K with 4.20GHz and 4.50GHz Turbo as well as Intel i5-7600K with 3.80GHz and 4.20GHz Turbo are announced and already extensively tested.

Three Intel Z270 Platform Benchmarks That You Don't Want To Miss

Hundreds of reviews went up today on the new Intel Core i7-7700K Kaby Lake processor along with dozen of Intel 200 series board reviews that were also announced today. We covered the processor launch today in our in-depth look at Core i7-7700K CPU performance and then posted up two Intel Z270 motherboard reviews on boards released by ASUS and Gigabyte. Those reviews that we posted covered much of what you'd expect, but they didn't cover some of the most interesting benchmarks and platform highlights as they just don't fit well in a comparison style review. Read on to see what we did!

ASUS Prime Z270-A Motherboard Review

SUS is one of the premier motherboard manufaturers, it is one of a handful of companies that enthusiast keep an eye on for new technology. As Intel is releasing a new processor, a new motherboard chipset comes along with that. The Intel Z270 includes a number of enhancements for 4K video, new storage devices such as Intel Optane, and more. Most manufacturers will release a handful of motherboards designed to fit a wide range of users. ASUS is preparing six Z270 motherboards for the initial launch of the chipset. These motherboards are expected to range in price from $164 up to $379 at launch. Today, we are getting a chance to take an early look at the Prime Z270-A motherboard, which is expected to have an MSRP of $164 with a 3 year warranty.

2017 Samsung Galaxy A Series Launch

2017 Samsung Galaxy A Series are officially the world's most affordable IP68-capable smartphones. Check out the key features and specifications of the new Samsung Galaxy A7 (2017) and Samsung Galaxy A5 (2017) smartphones!


Cooler Master MasterMouse S Review

Something we are rather fond of, and are pleased to see is the use of Cooler Masters' advanced textured surface that not only looks great, but also deters the build-up of finger-prints while providing a stable grip for extra control. Inside we find a 32bit ARM MCU, 512KB of onboard memory, and the new 7200DPI PWM3330 optical sensor from Pixart. The MasterMouse S is accompanied by similar software that was supplied with the MasterMouse PRO L, which means we can expect an advanced level of customisation and performance controls, including the Storm Tactix feature that will expand the number of programmable buttons from 6 to 9 + 1 switch.

Vernee Apollo Lite Smartphone Reader Review

Today, a new reader review has been published on OCinside.de. Jamaicaman is testing the Vernee Apollo Lite smartphone in his first reader review. Vernee first appeared since February 2016. The Chinese smartphone manufacturer offers in its portfolio well equipped smartphones at surprisingly low prices. The models include Vernee Thor, Mars and Vernee Apollo Lite, which we evaluate in this review. Lite? The hardware equipment can not suspect that, however Apollo is ready to launch and can be booked in advance with even stronger hardware.

Toshiba CANVIO for Smartphone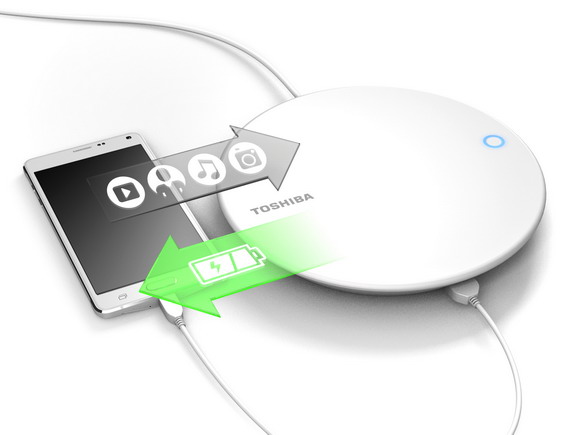 Toshiba Electronics Europe GmbH, Personal Storage Division has announced it is now shipping the 'CANVIO for Smartphone', an innovative portable storage device for backing up and charging[1] Android™[2] phones in a single operation.
It is estimated that a small minority of smartphone users have backups - and just 8% backup their phones regularly (survey conducted by AVAST)[3]. The CANVIO for Smartphone backs up and charges a connected phone in one single user operation, meaning that users will be able to feel peace of mind about saving important personal data such as photos, videos, music, documents, and contacts. Backups[4] are automatically created each time the smartphone connects without the need for user intervention and after activating this function in the intuitive Android app.
As well as smartphone charging and backup, the CANVIO for Smartphone allows users to manage data via their phones using the app. At the same time the device can simplify the set-up of new smartphones by providing an easy route to transfer data from an old phone with just a few taps. For PC users, the CANVIO for Smartphone can still be used as a conventional external hard drive, backing up data via USB Type-A and USB Type-C™[5] interfaces. Finally, it can be shared by several devices, enabling multiple users to benefit from data backup and data sharing.
"Thousands of mobile phones are lost, stolen, dropped and broken every day, yet most users backup the data on their phones infrequently, if ever at all," says Lorenzo Martinez-Palomo, General Manager of Toshiba Electronics Europe GmbH, Personal Storage Division. "Charging phones, however, is something that users have to do regularly. By providing charging and storage, the CANVIO for Smartphone provides an elegant 2-in-1 solution that gives users the peace of mind that their precious personal data will be backed up every time the phone is charged."
The CANVIO for Smartphone features a sleek, stylish, circular white casing and has a storage capacity of 500 GB[6]. The device is supplied with an AC adapter, a USB 2.0 Micro-B cable, a USB 2.0 Type-C cable and a USB Micro-B - Type-A adapter.

Thermaltake Core P1 TG Mini ITX Chassis at CES2017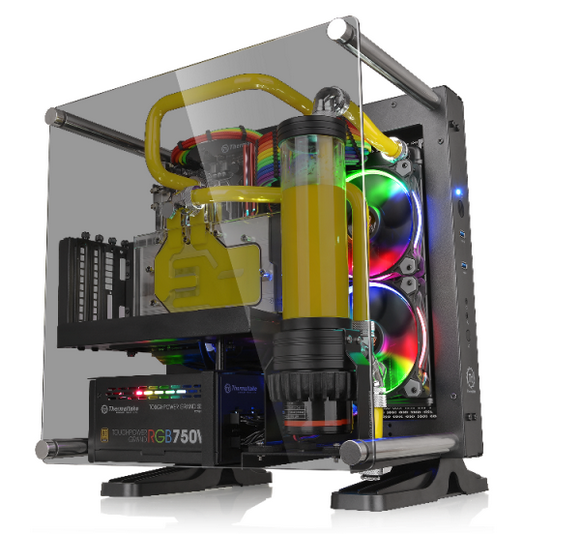 Thermaltake expands its Core P Series by adding the Core P1 TG Mini ITX wall-mount, tempered-glass chassis to the lineup. The Core P1 TG Mini ITX boasts open frame panel design with a tempered glass panel to protect the components and allows users to show off the hardware inside . It also supports the latest PC hardware, AIO and DIY liquid cooling solutions, and has the flexibility of building horizontal/vertical system by its multiple placement design. This wall-mountable case includes a riser cable for users to build the system the way they want, and other features such as the 5mm thick tempered glass panel, 1 + 3 drive bays with modular trays design and two USB 3.0 ports; plus it also accommodates two 120mm or 140mm fans on the left side and up to a single 280mm radiator. The Core P1 TG Mini ITX makes a stunning display for high-end enthusiast builds without sacrificing performance and taking up too much desk space. The new Thermaltake Core P1 TG Mini ITX Chassis is celebrating its launch at Thermaltake CES 2017.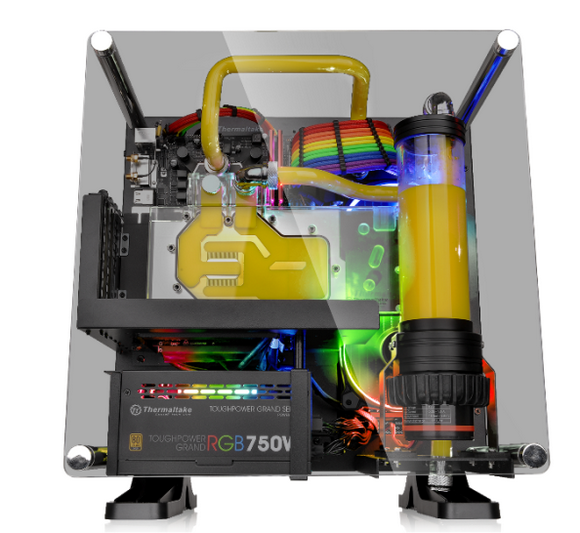 The best Guides by the best writers on the internet; PCSTATS Beginners Guides explain computers, software, and all those other wonderful things that cause you frustration.

Learn how to use your computer better, master the internet while protecting yourself, and know what to do when your hard drive kicks the bucket.



"Get the 'Stats and Stay Informed!"