| | |
| --- | --- |
| General News | |

... 59 news stories awaiting approval

Best Press Release EVER...

Quoting directly from the Asrock press release, in response to the news of iCloud being hacked and revealing photo's of certain stars being traded about the internet....

"Worried About Leaking Private Photos on Public Cloud Services? Try Our One Year Free Subscription of Private ASRock Cloud for a Change!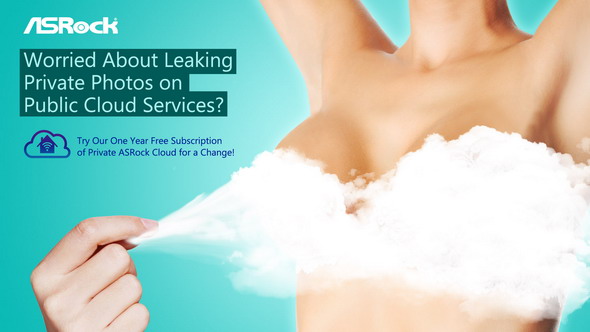 TAIPEI, Taiwan, September 5, 2014 – Now that you've heard about the massive nude celebrity photo leak this week, it's probably the right time to change your game plan for hiding those embarrassing files that for some reason you insist to keep. Either you have photos of yourself embracing the sidewalk while intoxicated, audio recordings of your best attempt of "Nessun dorma" in the showers, or just plain awful videos that will turn you into an abomination of the modern society once revealed. Instead of uploading these personal stuff into public cloud servers, why not just keep them stored in your hard drive and give private cloud solutions such as ASRock Cloud a shot?
ASRock Cloud – Orbweb ME is a personal and private cloud solution that allows users to connect to their PC with their mobile devices, such as a smart phone, tablet or another computer. Browsing, editing and moving files between devices via ASRock Cloud are merely basic functions of this wonderful Cloud solution. It's also capable of remotely turning on/off your personal computer, remote desktop to perform all the tasks you'd normally do on your computer, plus the ability of accessing file explorer from multiple devices simultaneously! Best of all, you get to keep your files in your own device's storage, so ASRock Cloud is relatively safe compared to other public Cloud services that upload these files onto servers.
Almost all ASRock motherboards support ASRock Cloud, so just abandon your old public cloud storage and sign up for ASRock Cloud by entering the promo code "ASR2014B" to get a free one year subscription of Orbweb.ME Professional version plus an additional one month upgrade for the Orbweb.ME Ultimate package!

* OrbWeb ME is provided by Kloudian Systems Inc. Restrictions may apply and the offer is subject to change, termination or discontinuation by Kloudian Systems Inc. without prior notice. Enter the link below to learn more:"
http://www.asrock.com/feature/cloud/index.html
See how ASRock Cloud works on Youtube:
http://www.youtube.com/watch?v=1CY6BCT237Q


ASUS Maximus VII Impact Review @ ocaholic

If there is a motherboard this year, which makes the heart of any enthusiast, gamer or even overclocker beat faster, than it`s the Maximus VII Impact from ASUS`s ROG department. After having set a new trend for mini-ITX gaming rigs, ASUS now brings this form factor to the next level by releasing this feature packed and powerful mini-ITX board. Next to an extra powerful VRM design and an additional sound module, there are plenty of other features and obviously, we`re going to show them all to you."




ASUS H97-PRO GAMER Motherboard @ Hardware Secrets

The ASUS H97-PRO GAMER is a mid-range socket LGA1150 motherboard based on the new Intel H97 chipset, supporting the fourth and the forthcoming fifth generation Core i processors. It brings high-end audio codec, six SATA-600 ports (allowing one SATA Express connection), and six USB 3.0 ports. Let`s take a good look at it."

Logitech G402 Hyperion Fury Gaming Mouse Review @ Legit Reviews

Logitech calls its G402 Hyperion Fury ?The world?s fastest gaming mouse?, an unintuitive and almost ironic statement since computer mice don?t move on their own. There?s only one wheel and it?s not for transporting the mouse. The buttons don?t move any faster. The slick feet on the underside aren?t anything revolutionary. One would think that perhaps this mouse is ultra-lightweight, but It isn?t and it?s actually nearly the same weight as a typical gaming mouse. Read on to find out why the Logitech G402 Hyperion Fury is so fast and see how it performs!"



Hands on with the ECS LIVA Mini PC Kit @ ThinkComputers.org

At ECSs LIVA, LEAD, L337 press event this week in Silicon Valley we were able to go hands on with their LIVA Mini PC Kit. They are dubbing this kit the worlds smallest Windows based Mini PC Kit. The LIVA has actually been out for a little while now, but at the event ECS announced the 64 GBversion (white). The black version of the LIVA is the 32 GB version. The unit itself is only 118 x 70 x 56 mm and weighs in at 190g, so yes it is very small. The device only uses 15W of power at full load and 4W during standby so it uses no more power than a light bulb!"

Antec High Current Pro Platinum 1000W (HCP-1000) Power Supply Review

A few days ago my cousin called and asked me whether or not spending 45Euros on a power supply unit to replace the one that stopped working was reasonable or just too much. To be honest with all of you at first i didn`t really realize what he was saying, i mean spending 45Euros both to purchase a PSU and have installed in your system just couldn`t be cheaper so for a second there i thought he wanted something better so he decided to ask me for suggestions. In the end that wasn`t the case so he did believe that spending that amount of money was more than he should (no wonder his previous PSU didn`t last long). That being said we`ve pointed out the reasons of owning a quality PSU numerous times in the past and so i believe that no one should trust all those cheap models in the market not only because they may stop working (that really should be the least of your worries) but also because they may drag along your entire system with them. 80 Plus Platinum certified PSUs are quite popular nowadays especially with the price drops occurred by the introduction of the 80 Plus Titanium certification (which actually took longer than expected) so today we will be taking a look at yet another such model the High Current Pro Platinum 1000W (HCP-1000) by Antec."


SanDisk Extreme PRO 480GB SATA SSD

"Recently at Computex early last month, SanDisk unveiled the successor to the SanDisk Extreme II, the SanDisk Extreme PRO which we have the opportunity of reviewing today. Like the SanDisk Extreme II before it, the SanDisk Extreme PRO is designed for users such as media professionals, gamers, and..."

Samsung 850 PRO 256GB Review

"Samsung is bringing a few new features to the mainstream market here with the 850 PRO Solid State Drive, but what's utterly special that we hope pushes those boundaries further ahead, is something called RAPID Mode. Sounds like marketing jingo, we agree, but you'd be wrong to dismiss this one. RAPID Mode is unlike anything you've seen before, promising astonishing performance increases. Buckle up and let's take a closer look at the Samsung PRO 256GB and see just what this SSD can do."