| | |
| --- | --- |
| General News | |

... 77 news stories awaiting approval
Intel Next Unit of Computing Kit DC3217BY

Chip giant Intel's less-is-more NUC is a cute half-liter box of high efficiency computing goodness that packs in the latest Core processor technology, HD Graphics 4000, mSATA and ThunderBolt. And it is quiet!

AMD FX-8350 CPU: Piledriver Arrives

AMD's new flagship processor offers a decent boost in speed over its predecessors but without significantly improved energy efficiency or pricing, it fails to alter the desktop CPU landscape.

ASUS PadFone 2, Second to none

The first PadFone showed a clear direction as to what PadFone 2 could be, and we've noticed that some of our wishes have been granted as soon as we've opened the box. The PadFone 2 Station, i.e. the tablet part of this symbiosis has become a much more beautiful and elegant device.


REVIEW: HIS 7750 IceQ X Turbo @ PureOverclock

We`ve also seen several cards from HIS, and have noted their ability to provide good products at affordable prices. The 7750 IceQ X Turbo is the latest value-oriented card in the HIS lineup, and it sports some great styling and an aggressive factory oveclock out of the box. Retailing for about $120, this card is rather affordable, and while we don`t expect it to be a gaming powerhouse, it could prove very enticing to gamers on a modest budget. Let`s take a closer look at the HIS 7750 IceQ X Turbo and see how it fares."

Rosewill RK-9100 Illuminated Mechanical Gaming Keyboard Review @ Legit Reviews

The individually backlit keys are very nicely done and the Cherry MX Blue switches make fun clicky sounds as you type away. Typing accuracy was very good on the RK-9100 and after some use you get used to the way the keys work. For example you don`t have to press them all the way down, so once you learn how the switch works you can really fly along. In games the keyboard was great and we loved the gaming mode that disabled the Windows and Application keys! Rosewill has done a very good job with the RK-9100 in terms of modes and we can`t wait to see what the next version will be able to do..."

SanDisk Extreme 480GB SSD Review

SanDisk released firmware R211 and customers celebrated. The 480GB Extreme uses the same philosophy that made the 240GB model so popular. You get a very good SSD with real premium flash at an unbeatable price."


Sony Xperia Miro Smartphone Review at HardwareHeaven

Sony Xperia Miro Android Smartphone Review @ Hardwareheaven.com Sony, like other manufacturers, look to cater for entry level consumers with devices such as the Xperia Miro, packing as much of the quality, features and performance into the device as is possible for minimal cost."

OCZ Vertex 3 240GB SSD VTX3-25SAT3-240G Review

"On the test bench today is a speedy little black box called the OCZ Vertex 3. If you haven't spoiled your computer yet with a Solid State Drive (SSD) yet, now's the time -- SSDs have never been more affordable! The Vertex 3 is a great little 240GB SSD and just the right capacity to install Windows 7 along with a bunch of programs onto, without worrying for drive space. Since this SSD is rated for 6Gb/s SATA III, you'll find it quicker than first generation SATA II drives and light years faster than a standard mechanical hard drive when it comes to booting up or launching programs."

Gigabyte Z77X UP7 Overclocking Motherboard Review

In this review we will be looking at the next generation of OC motherboards from Gigabyte called the GA-Z77X-UP7. Those of you familiar with the Gigabyte lineup will have noticed the UD has been replaced in the product name with with a UP. This was done to draw attention to the Ultra Durable 5 technology which has also been dubbed, Ultra Power.

Enthusiast Gaming Keyboards and Holiday

Ninjalane Podcast - Enthusiast Gaming Keyboards and Holiday Shopping Season In this episode we talk about the current state of the enthusiast gaming keyboard market and our plans for the upcoming holiday shopping season

Beginners Guides: Hard Drive Data Recovery

Killed a hard drive without backing up? Deleted your babies first photo and already emptied the recycling bin? Not to worry, you can probably recover your data with the help of this guide from PCSTATS.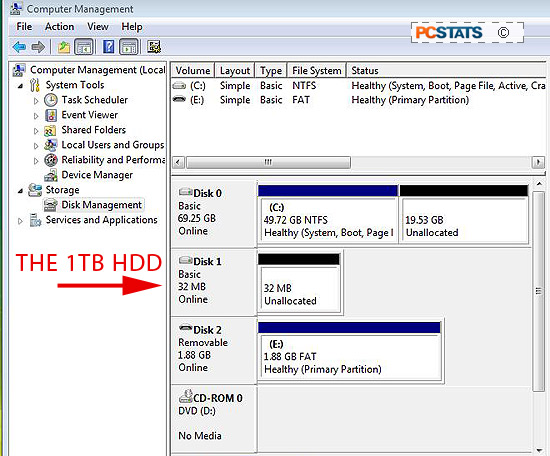 "The loss of factory hard drive capacity seems to be an increasingly common occurrence with very large capacity (ie. 1TB) hard drives, but it's not specific to any one hard drive manufacturer. It can happen to brand new drives or existing hard drives full of data. In either case the data portion of the drive isn't generally affected. If a new or existing hard drive in your computer suddenly pops up with a capacity of 32MB, or another value equally small compared to the true drive size, don't freak out, the data should still be there."

Beginners Guides: How To Install/Remove AMD Socket FM1 CPU and Heatsink

AMD made several noteworthy accomplishments with its socket FM1 'Llano' processor, the most important being the integration of a graphics core directly onto a CPU die which substantially reduced motherboard complexity. Major architectural changes were also brought forth by AMD's Fusion family of processors, yet like the socket AM2/AM2+/AM3 processors that preceded it AMD kept the socket and heatsink mounting system totally compatible. Installing a socket FM1 AMD A8-series processor into a motherboard is not too difficult, unless you've never done anything like this before and in that case a little guidance is called for.

Logitech UE Mobile Boombox review: temple of boom?

Quote: For its small size the Mobile Boombox sounds very good, even with the volume maxed out the sound doesn't distort. The volume doesn't go very high, however, and the sound is very directional. Like most Bluetooth speakers, the Boombox sounds better when you hook it up with the 3.5 mm jack instead of Bluetooth.

Lenovo IdeaPad Yoga 13 Ultrabook Review

Lenovo's IdeaPad Yoga 13 ultrabook is designed to give users flexibility in a way other ultrabooks don't: This ultrabook features a unique, dual-articulating hinge that lets the Yoga 13's touchscreen fold 360 degrees, converting the machine from notebook mode to tablet mode. Thanks to its special hinge design, the Yoga 13 can also be used in "stand" or "tent" modes as well. The IdeaPad Yoga 13 runs Windows 8. And when used in notebook mode, the Yoga 13 gives you the full desktop experience of Windows 8 with the added benefit of a touchscreen. In tablet, tent, or stand modes though, you'll appreciate all of the touch-friendly controls and features found within Windows 8...