[>>]

[>>]

[>>]

[>>]

More>>

Search...

| | |
| --- | --- |
| General News | |

... 41 news stories awaiting approval
Beginners Guides: Hard Drive Data Recovery

Killed a hard drive without backing up? Deleted your babies first photo and already emptied the recycling bin? Not to worry, you can probably recover your data with the help of this guide from PCSTATS.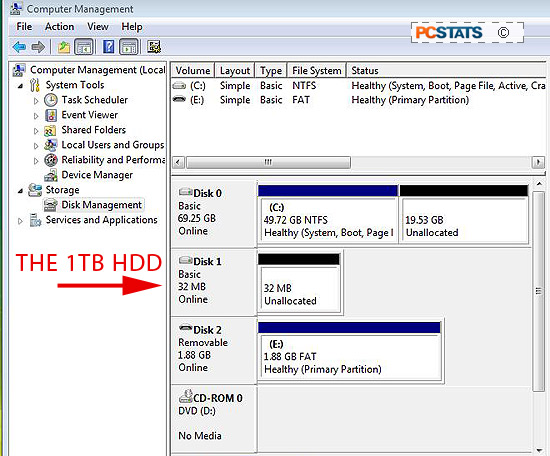 "The loss of factory hard drive capacity seems to be an increasingly common occurrence with very large capacity (ie. 1TB) hard drives, but it's not specific to any one hard drive manufacturer. It can happen to brand new drives or existing hard drives full of data. In either case the data portion of the drive isn't generally affected. If a new or existing hard drive in your computer suddenly pops up with a capacity of 32MB, or another value equally small compared to the true drive size, don't freak out, the data should still be there."

Beginners Guides: How To Install/Remove AMD Socket FM1 CPU and Heatsink

AMD made several noteworthy accomplishments with its socket FM1 'Llano' processor, the most important being the integration of a graphics core directly onto a CPU die which substantially reduced motherboard complexity. Major architectural changes were also brought forth by AMD's Fusion family of processors, yet like the socket AM2/AM2+/AM3 processors that preceded it AMD kept the socket and heatsink mounting system totally compatible. Installing a socket FM1 AMD A8-series processor into a motherboard is not too difficult, unless you've never done anything like this before and in that case a little guidance is called for.

Logitech UE Mobile Boombox review: temple of boom?

Quote: For its small size the Mobile Boombox sounds very good, even with the volume maxed out the sound doesn't distort. The volume doesn't go very high, however, and the sound is very directional. Like most Bluetooth speakers, the Boombox sounds better when you hook it up with the 3.5 mm jack instead of Bluetooth.

Lenovo IdeaPad Yoga 13 Ultrabook Review

Lenovo's IdeaPad Yoga 13 ultrabook is designed to give users flexibility in a way other ultrabooks don't: This ultrabook features a unique, dual-articulating hinge that lets the Yoga 13's touchscreen fold 360 degrees, converting the machine from notebook mode to tablet mode. Thanks to its special hinge design, the Yoga 13 can also be used in "stand" or "tent" modes as well. The IdeaPad Yoga 13 runs Windows 8. And when used in notebook mode, the Yoga 13 gives you the full desktop experience of Windows 8 with the added benefit of a touchscreen. In tablet, tent, or stand modes though, you'll appreciate all of the touch-friendly controls and features found within Windows 8...

Intel SSD 335 240GB review: 20nm entry-level SSD

If Intel manages to make the SSD 335 significantly more affordable than the Samsung 830 256GB and the Crucial m4 256GB, then it becomes a potentially interesting entry-level SSD option. With current prices the 335 is a dime-a-dozen SSD, nothing more.

How-to: installing Windows 8 without product key

Installing Windows 8 is a bit different than installing the previous version of Windows. Windows 7 you could install without entering a product key, but when you install Windows 8 you are required to fill in a key right-away. For a normal installation that doesn't matter much. But if you only want to experiment with Windows 8 for testing purposes, or for any other reason only will have it installed on your computer for a brief period, then it's a different question.

HotHardware Holiday Gift Guide: Tablets & Smartphones

Portable devices are becoming ever more powerful, and users are increasingly using them to keep up with news and friends, get work done, and remain entertained. Smartphones and tablets have never been so powerful, and if you're in market for either, it's going to be a fun holiday season. Whether it's for yourself or someone else, consider this your go-to guide for picking out the perfect tablet or smartphone. We're all about spreading the holiday cheer around here, and if it means sifting through dozens or even hundreds of devices to find the best ones, then so be it...

HH Holiday Gift Guide: Notebooks & Desktops

2012 has been a banner year for both notebooks and desktops, in terms of design and innovation. It's not every holiday season that you get to swoon over a new Windows operating system and freshly designed hardware to go with it, but those in the market this winter will be treated with Windows 8 and some slick new machines should they choose to go that route. Whether it's for yourself or someone else, consider this your go-to guide for picking out the perfect notebook or desktop PC this holiday season. We're all about spreading the holiday cheer, and if it means sifting through dozens or even hundreds of machines to find the best ones, then so be it...

ASUS PB278Q 27 PLS Monitor Review @ Hardware Canucks

PLS panel technology hasn`t been around for all that long but it has already made a lasting mark upon the display market. ASUS` new PB278Q puts this technology to good use in a 27 2560 x 1440 WQHD monitor that is targeted towards gamers and professionals alike."

Seasonic X-1250 1250W Power Supply Review

Seasonic makes some of the best enthusiast computer power supplies in the world. It has long produced some of the cleanest power producing PSUs along with being some of the quietest on the market. The new fully modular X-1250 sports many enthusiast features and touts gold level efficiency. Is this new X-1250 worthy?

Call of Duty: Black Ops 2 Review

It seems that Treyarch, the developers, have tried to focus on a more developed backstory and character storyline than actual gameplay. That may not sit well with gamers who want a full blown world war experience.

Intel's Haswell CPU

Intel's Haswell CPU is the first core optimized for 22nm and includes a huge number of innovations for developers and users. New instructions for transactional memory, bit-manipulation, full 256-bit integer SIMD and floating point multiply-accumulate are combined in a microarchitecture that essentially doubles computational throughput and cache bandwidth. Most importantly, the microarchitecture was designed for efficiency and extends Intel's offerings down to 10W tablets, while maintaining leadership for notebooks, desktops, servers and workstations.

Roundup: Power Supply Units with 600-700 W Capacity

We would like to talk about nine power supply units from the most popular 600-700 W wattage range, which represent six different series of devices from four manufacturers: Chieftec, Cooler Master, Corsair and Zalman. http://www.xbitlabs.com/articles/cases/display/chieftec-coolermaster-corsair-zalman.html


Inter-Tech Nitrox Nobility 900W PSU

The Inter-Tech Nitrox Nobility 900 Watt PSU arrived Technic3D. See you in the following Review from Technic3D the next PSU with four +12V rails (25,0A), a 135mm Fan, 6x SATA hard disk connectors and 4x PCI-e 6+2-Pin."

Overview: LEPA G850-MAS Power Supply @ Techreaction.net

LEPA was founded in 2011 and has been coming strong on the scene with some very solid PSUs. They wont be an unknown for long in the PSU market with products like this 850W 80 plus Gold certified rating. The modular design is always nice in todays world, where a lot more people are customizing their computers and wire management is becoming a more prevalent issue in building. The LEPA 850W PSU also features Japanese-made capacitors for increased lifespan and reliability, a two-ball bearing thermal-controlled fan, and a single +12V rail. This LEPA G series unit is made with Channel Well Technology (CWT) and is, based on CWTs PUQ-G platform. Now, lets get down to the nitty gritty and figure out how well this PSU does in our overview read on."



The best Guides by the best writers on the internet; PCstats Beginners Guides explain computers, software, and all those other wonderful things that cause you frustration.

Learn how to use your computer better, master the internet while protecting yourself, and know what to do when your hard drive kicks the bucket.



"Get the 'Stats and Stay Informed!"