| | |
| --- | --- |
| General News | |

... 48 news stories awaiting approval
Cooler Master 690 II Advanced Black & White Edition USB 3.0 Case Review @ Hi Tech Legion

The CM 690 II Advanced Black and White Edition case boasts more than just a fresh coat of paint. The new CM 690 II Advanced Black and White edition also adds USB 3.0 functionality, a side window, improved cable management options and a new high-airflow front bezel design. Able to mount a 240mm radiator at the top or at the bottom, the CM 690 II B&W Edition case fits enthusiast-class needs in a mid-tower form factor. Tall CPU coolers up to 177mm can also be installed inside the CM 690 II B&W USB 3.0 Edition case paired with GPUs up to 304mm in length. Depending on the motherboard model, an HD 6990 can be installed when the bottom HDD cage is removed.///"

Xigmatek Gigas mATX SFF Cube Case @ Pro-Clockers

Nope, it`s the Gigas the smallest case that Xigmatek currently makes. Am I disappointed? Heck No. if you take a look at the Gigas at their website you will see that it is one of the best looking small form factor cases out there. And the feature list is as long as any of the cases boasting the same compact size. So, how could be disappointed with taking the Gigas as the first case sample from Xigmatek. Tony Walker Owner/Operator of Pro-Clockers www.Pro-Clockers.com TDub@pro-clockers.com MSN =

Corsair Vengeance C70 Case Review @ Hardware Canucks

The new Vengeance C70 case moves away from Corsair`s typical understated chassis design and supplants it with a militaristic look that may only appeal to a select few. However, with a great looking feature list, plenty of interior space and a relatively inexpensive price, some may be willing to overlook the rudimentary exterior."

Lenovo ThinkVision LT2323z Review @ TechReviewSource.com

The Lenovo ThinkVision LT2323z is a 23-inch IPS LED panel monitor that has a business-focused design and feature set. It is the first monitor to be certified for use with Microsoft Lync, a business-focused VOIP technology. It also has a 1080p resolution and extra wide viewing angles in addition to very good image quality."

TDK ST-700 review: high-end on-ear headphones

The TDK ST-700 is are above-average headphones, that reproduce a very reasonable sound for what you pay. If you enjoy a relatively warm and smooth sound with solid bass, then these TDK headphones will provide a pleasant listening experience for you. On-ear headphones pressure the ears quite a bit, and these TDKs are no exception, so trying them on first is always a good idea.

TRENDnet TPL-402E2K 500Mbps Powerline

Sometimes when you don't use a specific product in your daily life you can fail to see its importance and in a way up until recently i did exactly that in regard to Powerline network adapters since i wasn't aware of just how many people out there actually use them to fill the gap between normal wired and wireless connections. That's also the reason as to why for the past couple of months I've been trying to test as many Powerline adapter sets as i can get my hands on so everyone who uses such devices can know exactly what each of those solutions has to offer. So following the quite good PL-550D 500Mbit/s Powerline adapter set by RaidSonic we had the chance to test roughly 2 weeks ago today we will be testing the latest TPL-402E2K 500Mbps Powerline AV Adapter Kit by TRENDnet.

Western Digital 1TB WD RE4 Enterprise Hard Drive Review

Western Digital started segmenting their storage products into tiers; external storage drives are arguably on the very lowest rung, followed by WD Green, Blue and Black Caviar desktop hard drives. Shortly thereafter, WD introduced 'RE4' drives for Enterprise Storage applications.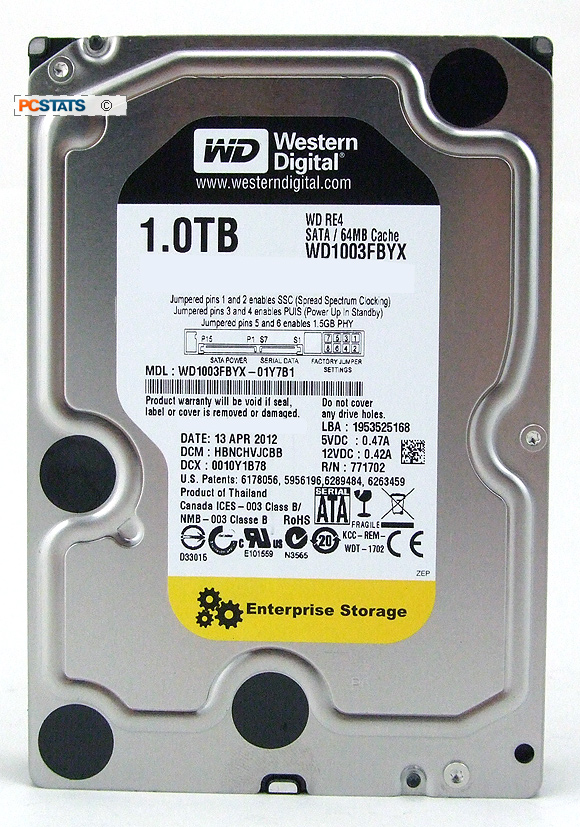 In this review PCSTATS is testing out a 3.5" Western Digital RE4 WD1003FBYX hard drive. The WD RE4 WD1003FBYX is a 1.0TB hard drive which utilizes Perpendicular Magnetic Recording and operates on the 3Gb/s SATA II interface. It features StableTrac, IntelliSeek, NoTouch ramp loading head technology, a multi-axis shock sensor, RAFF technology and RAID specific Time Limited Error Recovery. The drive supports a typical sustained data transfer rate of 128MB/s and has two platters/four heads beneath its shiny metal exterior.

Google Nexus 7 Tablet Review - XSReviews

The Google Nexus 7 is a fulfillment of a promise made last year by Nvidia, that they would soon offer a $200 tablet with the power of their latest quad-core mobile architecture. In practical terms, that means an Android tablet with the raw processing power of flagship tablets but costing a third of the price. The tablet, with Asus hardware and the latest Google Android software, offers one of the most compelling cases for tablet ownership yet at a 159 price point that UK customers have never experienced. As a friend of mine mentioned at the time, At that price, you can`t afford not to get one. Have Google crafted a masterpiece, or were too many corners cut to hit that remarkable price point? Let`s find out. A link to the article would be much appreciated."

John's VR glasses experiments

"The final topic was that of John's VR glasses experiments that he has been doing, as well as the work he is doing with the company Oculus. This is obviously a passion for John, as he talked a lot about it. He detailed out the issues with current head mounted displays, what he has done to mitigate them, and the final cludged together product that he was able to produce essentially on his own. He was quite excited to get in touch with the people at Oculus, as they have a nearly shipping product that takes HMD VR to the next level. Topics involved per eye resolution, optics, latency, absolute head position, and software support. This took up the major portion of his talk. It is an area that he obviously is very excited about and hopes to expand upon soon."

John Carmack's annual keynote address

"id Software co-founder John Carmack's annual keynote address started off on a somber note as he apologized for several issues gamers experienced with graphics driver issues when they released their triple AAA title "Rage" for the PC in October last year. Carmack discussed Rage's disappointing PC debut and stated it was "poorly handled" in its lack of driver support. After discussing id Software's Doom 3 RPG Edition for iOS they are demo'ing at Quakecon, Carmack emphasized that the company needs to focus its efforts on Doom 4 development, which means they will be repurposing their mobile development team to work on Doom 4 until it's completed."

Infographic: The Rise of Tablets

"Tablet devices are certainly the talk of the tech world thanks to the Apple iPad and other competing devices. The sales of tablets are predicted to skyrocket with more than double being sold in 2016 compared to 2012. This infographic takes you through the numbers and trends surrounding the rise of tablets."

Corsair AX1200i 1200W review: a new benchmark

Today Corsair introduced the AX1200i power supply it had announced at Computex. This isn't just any power supply, it's the first PSU for high-end desktop PCs to use digital control. The DSP is supposed to ensure extremely high efficiency and very low ripple values. It also comes with interesting features such as the ability to monitor and adjust vital parts of the PSU with software.

[DreamWare Computers] Pivos XIOS DS Media Play

With the continued evolution of the Android operating system, manufacturers are left with the ability to take a proven and versatile OS and put it on their own hardware. Furthermore, Android brings with it an incredible ecosystem of applications, accessories and interoperability with other device types. We`re used to seeing Android on our phones and tablets, but now it`s coming to our living room. Pivos is one of the latest manufacturers to release an Android powered media box and I have one here today to check out."

Patriot Viper 3 Black Mamba Edition DDR3 Review @ Vortez

The Viper Series has been synonymous with style and speed and today we see the Series enter its 3rd Generation; Viper 3. Viper 3 uses a custom designed head-spreader and has been tailored for dual and quad channel ready motherboards in a variety of capacities - 8GB, 16GB and 32GB and with frequencies from 1600MHz up to 2133MHz."

Smarter Stand for iPad Review @ TestFreaks

The Smarter Stand is one of those ideas where you say to yourself why didnt I think of that? This product is basically a pair of clips that lock onto the Smart Cover to increase its possible stand positions depending on the placement of one or two of the Smarter Stand clips. "

CM Storm Sonuz Gaming Headset Review

The earpads themselves are absolutely huge and unless you have Dumbo-size ears they will fit comfortably over your ears without any issues. The pads are made of the same soft foam as the top bridge padding and are quite comfortable even with the higher pressure on them from the rigid frame. The backside of the earcups has a slice through it filled with metal mesh, which won`t win any awards at keeping outsides sounds out (or vice versa). I didn`t notice a great deal of noise leaking out of the headphones compared to some but if you crank the volume everyone will know what you`re listening to."