| | |
| --- | --- |
| General News | |

... 20 news stories awaiting approval
Gigabyte Uranium game mouse review

1.html,We test the Gigabyte Uranium game mouse in a review, a mouse that comes with an OLED display POD that will inform you of your mouse polling rate, DPI or even battery status. The high DPI mouse is fully programmable, has additional thumb game buttons (programmable as well). Being wireless the mouse is impressive and very responsive, and armed with internal memory, all in all this might be the most impressive mouse combo that Gigabyte has put on the market."

Western Digital My Cloud 2TB NAS Review @ Legit Reviews

Ever since the emergence of Solid-State Drives, there?s been a conundrum facing laptop users in regards to storage options. Storage could be fast, large capacity, or low price ? pick two of the three. We?ve seen hybrid drives that mesh SSDs with HDDs using a caching method to boost performance but generally the SSD portion is less than ideal. Western Digital has a new spin on this concept with a hybrid drive of a different sort that they?ve aptly named Black². With it, they?ve actually combined a 120GB SSD and a 1TB HDD on a single drive, although separate save for the the SATA III interface they share. Before you go wetting yourself with anticipation, have a look at the performance numbers and our impressions to see if it truly delivers full SSD performance with HDD capacity..."


CM Storm Havoc Gaming Mouse @ techPowerUp

CM Storm`s new Havoc gaming mouse features the 8200 DPI Avago ADNS-9800 sensor which has proven to be one of the most consistent, high-performance laser sensors out there. That, coupled with plenty of buttons, should make for an interesting combination."

RadeonSI Gallium3D Is Improving But Still Long Shot From Catalyst

While NVIDIA`s binary driver is much faster and better than AMD`s Catalyst, on the open-source driver side is where AMD has been shining. While their RadeonSI Gallium3D driver for Radeon HD 7000 series GPUs and newer is not nearly as well off as their pre-HD 7000 series (R600g) Gallium3D driver, they are making progress. In this article are benchmarks showing the out of the box performance on Ubuntu 13.10 with the modern open-source driver, benchmarks with the latest kernel and Mesa and LLVM, and then the AMD Catalyst driver. A range of modern Radeon HD 7000 and R9 graphics processors were used for this open-source versus closed-source driver testing."




Case Mods of CES 2014 @ ThinkComputers.org

One of the coolest things we get to see when we visit companies at CES is the systems they have setup to showcase their products. This year we saw many different case mods and custom systems showing off hardware. So here is our little CES 2014 Case Mods Gallery! Be sure to let us know which case mod you like the best in the comments. Enjoy!"

GIGABYTE G1.Sniper 5 Z87 Motherboard Review

With the G1.Sniper 5, GIGABYTE took their motherboard design prowess to an entirely new level. They took their Z87X-OC Force design and tweaked it to appeal to the high-end gamer crowd. It starts with the green, black, and chrome board colors, highlighted by the glowing logo eyes in the chipset cooler and the green board under-lighting. The larger E-ATX form factor gives the board breathing room to house all the required features without sacrificing on port placement or spacing. The integrated cooling offers enough variety to appeal to any user as well offering active air cooling or liquid cooling for the more hard-core enthusiasts."

Seagate Backup Plus Slim External USB 3.0 2TB Hard Drive Review

The focus of this PCSTATS review is Seagate's 2TB Backup Plus Slim external USB 3.0 hard drive. The Backup Plus Slim is a self-contained 2.5" SATA-600 interface hard drive in a black aluminum and plastic enclosure which connects via USB 3.0 cable to any PC or Mac computer. The whole package weighs 150 grams and is just over 12mm thick - about the size of a smart phone. Power for the drive is supplied via the USB 2.0 or USB 3.0 port.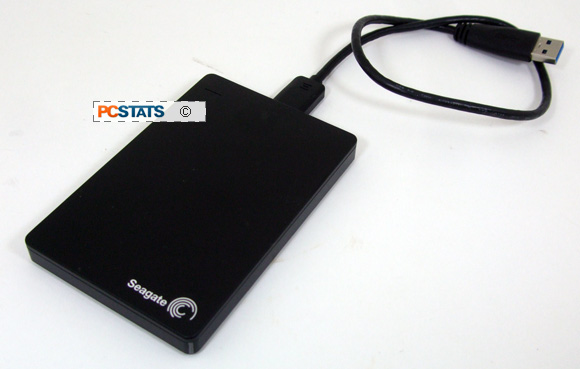 The Backup Plus Slim looks every bit like the Monolith from Kubrick's 2001:A Space Odyssey, but inside is a not particularly remarkable 5400RPM, 3-platter hard disk with 32MB of cache. The 5400RPM drive does the job, but certainly won't break any speed records. Seagate's Backup Plus Slim is covered by a 2 year warranty

Western Digital Black2 Dual Drive Review (1TB HDD/120GB SSD)

Recent designs in the laptop market are now seeing the availability of both an mSATA connector for SSDs, as well as the typical SATA connector for hard drives; the Lenovo Thinkpad is a great example of this. With the demand for additional capacity, we had also seen adapters which allowed for the swapping of optical drives for an additional hard drive. But what about newer models that have eliminated the optical drive altogether, or older models where you dont want to give up the optical drive?"

Intel NUC KIT D54250WYKH Review @ Legit Reviews

In our September 2013 review of the Intel NUC Kit D54250WYK we told you that Intel was coming up with a version that had an enclosure that was large enough to fit a 2.5-inch SATA HDD or SSD. In October 2013 we were able to get our hands on some early images of Intel NUC KIT D54250WYKH, which is the sku for the taller chassis that comes with the wiring to install a 2.5-inch notebook drive into the NUC for extra storage. Last week at the Consumer Electronics Show we were handed the Intel NUC KIT D54250WYKH, so after waiting patiently for five months we finally have a unit in our possession! Read on to see what the changes are! "

Buying advice: Gaming PC - Updated @ ocaholic

This buying advice is all about selecting the right components for your new gaming rig. What we`ve done is we`ve put together several configurations for different budgets and we also included links to Toppreise.ch and Geizhals.at with prices, that are being updated automatically."

Samsung Announces 840 EVO 1TB mSATA SSD at 1GB/s Speeds

Higher performance and capacities in a smaller SSD form factor is something many of us dream of when considering the advance of this amazing technology and this morning Samsung has tackled just that. Building on their ever popular Samsung 840 EVO Series, Samsung has just announced a new 840 EVO mSATA, fully capable of their RAPID Technology, which means that it will be fully capable of reaching read and write performance up to 1GB/s with RAPID enabled."

GIGABYTE Brix Projector Review @ Legit Reviews

The GIGABYTE Brix Mini-PC from GIGABYTE has several different versions each with different specifications. The defining difference between each of these units is the processor, well with the exception of the GB-BXPi3-4010. The GB-BXPi3-4010 has a feature quite unlike the others, a built-in WVGA projector that is capable of a 864 x 480 screen resolution! Each of these units is a barebones system, so keep that in mind. You will have to add a mSATA drive and memory to the GIGABYTE Brix of your choice. Read on as we take the Gigabyte Brix Projector for a test drive!"