| | |
| --- | --- |
| General News | |

... 50 news stories awaiting approval
Phanteks PH-TC14PE White Heatsink Review

The Phanteks PH-TC14PE (white) itself is a pretty standard dual tower, five-8mm-heatpipe-packing heatsink that retails for about $90 bucks. It stands 168mm tall and has a wide 144x161mm footprint that may have clearance issues on some motherboards where RAM slots and VRM heatsinks are too tall, too near the CPU socket. The cooler weighs upwards of 1250 grams and ships with two 140mm PWM fans arranged in a push-pull configuration. The fans spin at 1200-900RPM and are anywhere from moderately audible to pretty quiet. On the plus side, the dual-fan set up does make this heatsink a good lower noise thermal solution, as you'll shortly see.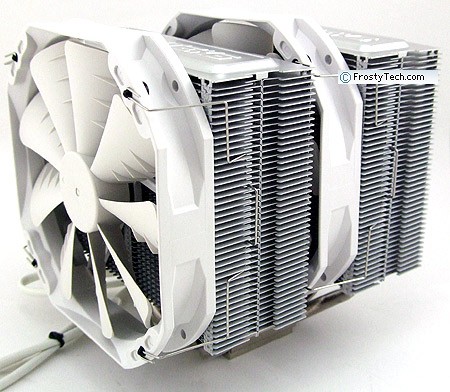 The Phanteks PH-TC14PE's five, 8mm diameter copper heatpipes fan out from a thick nickel-plated copper base plate into two 115mm tall anodized aluminum cooling towers. Both fans are held in place with easy to engage/disengage wire fan clips that lock into the sides of the fin stack. The fans rest against clear elastomer strips to isolate the rest of the heatsink from minor vibrations and such.

Guru3D Christmas Contest 2012

1.html,Wanna win some cool stuff ? It`s Christmas 2012 and that traditionally means we start-up contests here at Guru3D.com, join us in a quest to win one of the many prizes sponsored by Corsair, G.Skill, Enermax, Lepa and Gigabyte. We have some great stuff for you to win ranging from 32GB memory kits to Liquid Cooling, 5.1 kits, Headsets, and Mechanical keyboards towards a GeForce GTX 660 TI OC ! Merry Christmas everybody."

Swiftech H20-320 Elite Custom Liquid Cooling

Swiftech H20-320 Elite kit is designed with many new improvements that should help functionality and even fitment. Now lets take a closer look and see if Swiftech has taken another step in the custom liquid cooler arena."



Sparkle GeForce GTX 650 Ti review

1.html,We review and benchmark the Sparkle GeForce GTX 650 Ti Dragon series and perform an in-depth test with the latest games available. This graphics card is launched to fill the gap inbetween the Radeon HD 7770 and Radeon HD 7850. Aimed at a pricetag of roughly 150 EUR this product comes with 768 shader processors. Sparkle applies a custom PCB and their dual-fan cooler. Next to that you receive a factory overclock right out of the box. Let`s check it out shall we ?"

Philips Hue: Fancy and colourful lighting at a hefty price

The Hue lights from Philips offer a glimpse into the future of the fully automated and centrally controlled hi-tech home. Installation is very simple, the E27 bulbs fit in most common fittings and they are very energy-efficient. And unlike certain other energy-saving and LED lights, the Hue bulbs are able to provide a warm glow.

Apple, IBM, Intel and Microsoft

In the world of power constrained mobile devices, the calculus of semiconductor manufacturing, existing products and innovative technologies is increasingly complex. The titans of the industry such as Apple, IBM, Intel and Microsoft can afford to take risks adopting new technologies to push the envelope. However, this innovation must yield balanced products, hitting the right cost, power consumption and performance.

Graphics cards in Windows 8 and DirectX 11.1: more efficient

The most important improvements are primarily in the areas of 2D graphics and energy consumption. If you mainly use your PC for 3D graphics and don't care much about energy usage, you probably wonder whether there is any relevant innovation in that area. And the answer is no, unfortunately. You do get native support for 3D displays in DirectX 11.1, so developers no longer have to rely on parties such as Nvidia 3D Vision and Tridef and instead can realise this directly within DirectX. In theory this will create a unified standard for 3D displays, which should benefit video game developers. Hopefully it will make the 3D implementation more bug- and hassle-free as well, with less tweaking required on the part of gamers.

BenQ RL2450HT review: fast gaming monitor

Without a doubt BenQ has made a monitor that's very interesting for gamers. We would even go as far as saying that the RL2450HT is a better gaming display than the significantly more expensive 120 Hz XL2420T.

Kingston HyperX Beast 32GB 2400MHz DDR3 Review @ Vortez

The Beast kits come in a variety of sizes from 8GB to 64GB accompanied with varying speeds of up to 2400MHz. Today we will be sampling the upper echelon of this range with a massive 32GB (4x8GB)DDR3 running at the blistering speed of 2400MHz. Latencies run from CAS9 and upwards and as we will see, the beast not only has vicious performance but also aggressive looks to match. A wolf in sheep`s clothing this kit certainly isn`t. It`s an all-out balls to the wall extreme performance kit that has the potential to become a serious contender for our top awards."

3-in-1 Mini DisplayPort to HDMI

"In the past year or so we've seen many laptops and video cards that are coming equipped with mini DisplayPort connections but those laptops and video cards don't come with adapters so you can actually make use of those ports. Today I've got a short review for you of a product that many of you might find very useful, it's a 3-in-1 adapter that goes from mini DisplayPort output to DVI, HDMI or stand DisplayPort video inputs. The product is just a small white box really, not much special or exciting about it but it is inexpensive and it does the job it needs to do. "

BitFenix Prodigy Window Mod

"John Williamson aka Pwnography6 is back with another case modding guide. This time he takes a BitFenix Prodigy chassis and adds in a side panel window."

Rosewill RDED-12001 External Slim Aluminum Blu-Ray Writer

"The new RDED-12001 Slim External Blu-Ray Drive from Rosewill offers 6x read and write speed for Blu-Ray media in a sleek blue aluminum housing. The Rosewill RDED-12001 uses a USB 3.0 interface with dual connectors that is also backwards compatible to USB 2.0 so you can take your media almost anywhere. In addition to Blu-Ray, the RDED-12001 is fully DVD and CD capable, with 8x/6x DVD read and write to go along with 24x CD read and write speeds. The Rosewill RDED-12001 also shows tremendous versatility and is able to write DL layer discs for BR and DVD, as well as rewriteable CD/DVD and BD-RE. The slim aluminum housing of the RDED-12001 is extremely durable, making it an excellent choice for road warriors, while near silent operation puts it at home in any entertainment environment. Included with the RDED-12001 is a copy of Cyberlink PowerDVD, a premier Blu-Ray and DVD player for Windows. The RDED-12001 is plug and play, and compatible with Windows XP/Vista/7/8 as well as Mac OSX 10.6 and higher."

HD7990 Quadfire tested

The enthusiast audience waited throughout 2012 for AMD to come up with a dual GPU HD7970 solution. In the end they failed to deliver, so it fell onto partners to create a solution. Powercolor, VTX3D and Club3d all released the HD7990 last year – a monster dual GPU designed to battle head to head with the Nvidia GTX690.

Vegas Pro 12.

"Our render speed tests highlighted the real-world improvements that you can expect from a complicated project, but you will see the most improvements to Sony Vegas Pro 12 as you use it during your projects. One thing we did see was the power of GPU acceleration and how it produces better quality renderings and saves you quite a bit of time. The functionality and controls are improved in Vegas Pro 12 allowing you to make your keystrokes more efficient speeding up your editing times as well..."