[>>]

[>>]

[>>]

[>>]

More>>

Search...

| | |
| --- | --- |
| General News | |

... 54 news stories awaiting approval
Mach Xtreme Technology ES Ultra USB 3.0 SLC Flash Drives Coming September 1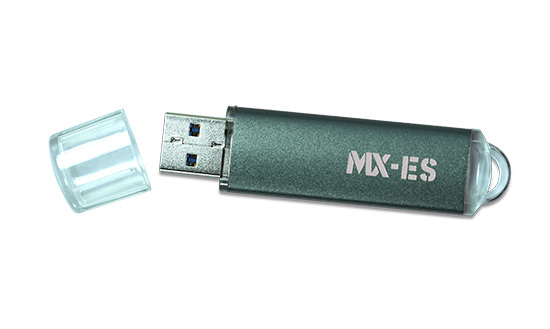 Mach Xtreme Technology Inc., a worldwide leader in top performance, high reliability and user-friendly designed PC components, today unveiled ES Ultra™ Series USB3.0 SLC flash drives. The MX-ES™ is the fastest small capacity SLC USB 3.0 flash drive on the market. The MX-ES Ultra™ flash drives will be available through MX Technologies worldwide network of authorized distributors and resellers starting Monday, September 1st
The MX-ES USB3.0 Series utilizes hand-selected top performance Single Level Cell (SLC) NAND to offer extreme performance and endurance over Multi-Level Cell (MLC) NAND, which is typically used in other USB3.0 pendrives. Changing the NAND components from MLC to SLC significantly increases the performance and longevity of MX-ES Ultra flash drive. These USB3.0 flash pendrives are much more durable and reliable and are built to endure severe operating environments such as extreme cold and hot temperatures, continuous vibration, high shock impact, intensive read-write cycles etc. Such features are essential to users that require a more robust and rugged digital storage option to ensure repeatable and reliable operation. With selected, powerful SLC flash and proven design; the MX-ES Ultra Series drastically outperforms standard ES pendrives.
The MX-ES™ flash drive delivers best-in-class balanced speeds clocking in at up to 210MB/s read and write along with its ultra compact size (72mm x 17mm x 7mm). Mach Xtreme ES Ultra flash drive comes in 16GB, 32GB and 64GB models.
ES ULTRA™ Series SLC USB 3.0 Flash Drives at A Glance:
• USB 3.0 Interface
• SLC NAND flash technology
• Max. Read Performance up to 210MB/s
• Max. Write Performance up to 210MB/s

Digital Storm Bolt II Small Form Factor PC Review

With the desktop PC market showing signs of faded interest over the past several years, Digital Storm is here to help spark interest to those who are gamers at heart. While at CES 2014, Digital Storm showed us their latest custom PC creation, the Bolt II. This hand crafted beauty is designed and built in the United States, which is a rare thing to find in manufacturing these days. The Bolt II was designed to be a Steam Machine or HTPC, but you absolutely aren't forced to use it as such. Digital Storm meant for this small form factor PC to be extremely powerful, should you choose to pick out all of the high end goodness. The basic Level 1 system comes with an i5 4590, 8GB of RAM, and a GTX 760, whereas the Level 4 starts off with a 4790k, 16GB of RAM, and a GTX 780 Ti. With that said, you have a ton of customization below, in-between, and even above these specs. Read on to see how the Digital Storm Bolt II performs when we put it to the test.

Intel Haswell Core i7-4790K vs. i7-4770K Comparison

Intel released the Intel Core i7-4790K, which created quite the stir with Intel Core i7-4770K owners. Does the Intel Core i7-4790K outperform the Intel Core i7-4770K in every way or does it fall a little flat? If you already own a 4770K, is the upgrade worth it?

Intel Haswell-E and X99 Chipset Preview

"Intel's 4th Generation Core i7 HEDT (high-end desktop) processors codenamed "Haswell-E" along with the accompanying X99 chipset will be launched at the end of this week. With this launch we will see a whole slew of new motherboards and since this will be the first consumer platform to support DDR4 we will see many new DDR4 modules as well. Today we will be going over what we know about the upcoming processors, X99 chipset, new motherboards and DDR4 memory. If you are interested in the upcoming HEDT platform then this article should give you all of the information that you need."


ADATA Premier SP610 256GB SATA Solid State Drive Review

ADATA has recently, they launched their latest SSD featuring a new controller. As part of their Premier series, this new controller helps ADATA service customers who need bang for buck performance, positioned just below their Premier Pro line. The Premier series gets a new model dubbed the SP610, which comes in a range of sizes. The SP610 sports a new Silicone Motion (SMI) controller which is something we havent yet had the opportunity to evaluate, but it does allow ADATA to drop the price for a more competitive offering. Today, were going to be putting the SP610 256GB SSD through its paces for you. "

Seagate Ships World's First 8TB Hard Drives

Seagate announced it is shipping the world's first 8TB hard disk drive. An important step forward in storage, the 8TB hard disk drive provides scale-out data infrastructures with supersized-capacity, energy-efficiency and the lowest total cost of ownership (TCO) in the industry for cloud content, object storage and back-up disaster recovery storage.
A cornerstone for growing capacities in multiple applications, the 8TB hard drive delivers bulk data storage solutions for online content storage providing customers with the highest capacity density needed to address an ever increasing amount of unstructured data in an industry-standard 3.5-inch HDD. Providing up to 8TB in a single drive slot, the drive delivers maximum rack density, within an existing footprint, for the most efficient data center floor space usage possible.
The 8TB hard disk drive increases system capacity using fewer components for increased system and staffing efficiencies while lowering power costs. With its low operating power consumption, the drive reliably conserves energy thereby reducing overall operating costs. Helping customers economically store data, it boasts the best Watts/GB for enterprise bulk data storage in the industry.
"Cleversafe is excited to once again partner with Seagate to deliver to our customers what is truly an innovative storage solution. Delivering absolute lowest cost/TB along with the performance and reliability required for massive scale applications, the new 8TB hard disk drive is ideal for meeting the needs of our enterprise and service provider customers who demand optimized hardware and the cost structure needed for massive scale out," said Tom Shirley, senior vice president of research and development, Cleversafe.
Outfitted with enterprise-class reliability and support for archive workloads, it features multi-drive RV tolerance for consistent enterprise-class performance in high density environments. The drive also incorporates a proven SATA 6Gb/s interface for cost-effective, easy system integration in both private and public data centers.
Shipping drives to select customers now with wide scale availability next quarter.

HIS Radeon R9-290X Hybrid ICEQ review

1.html,We review the liquid cooled HIS Radeon R9-290X Hybrid ICEQ edition. The card uses an LCS kit for the GPU that runs towards a 120mm radiator. On the card itself there still is a small fan that blows air over the VRM area and other components. As a result this card will remain under 80 Degrees C at full load, and does so whilst being factory clocked to a nice 1100 MHz. Under SKU code H290XQH4GD the product will be released with 4 GB of graphics memory."

OCZ ARC 100 240GB SSD Review @ Legit Reviews

Ever since OCZ decided to solely focus on their SSD products, their drive offerings have leaned towards workstation and enthusiast level drives which has left somewhat of a gap in their entry-level or value oriented product line. Given the lower margins for such products and OCZ?s financial struggles (prior to the Toshiba buyout), it?s not very surprising. Their competitors have aggressively pursued this market segment however, and we?ve seen some very economically priced drives from Crucial/Micron, Samsung, SanDisk and others. This is an important demographic as it can be the gateway to building brand loyalty and win over customers who will potentially upgrade to a more performance oriented drive later on. To plug that hole, OCZ is releasing the ARC 100 drive which is aimed squarely at the entry level SSD market, although this doesn?t mean they?ve compromised on performance for the sake of price. They?ve equipped it with their Indilinx Barefoot M10 controller which we know to be a very solid part."

BitFenix Flo Premium PC Headset Review

Back in the old days the only people i knew who used full sized closed headphones were either in the music/radio industry or they were audiophiles who just wanted to listen to their favorite tunes without having to worry about what people around them would say (yes usually at very high volume levels). Now well things have changed a lot since people use headphones and headsets for all sorts of things from listening to music while at home or on the road and answering and making calls from their smartphones up to watching movies and playing their favorite games. As a matter of fact the market for headphones and headsets is so large right now that even several PC case manufacturers have decided that they too want a piece of it. One of them is BitFenix and since their PC cases always seem to hit the bulls eye between price and features i hope the same applies for their latest Flo Premium PC Headset."

Western Digital Red 6TB and Red Pro 4TB Full Review - Bigger and Faster

It`s great to see Western Digital expand the capacities of the Red all the way up to 6TB. The upgraded NASware 3.0, extending support to NAS devices up to 8-bays is also a welcome addition. An additional bonus was the new Red Pro line, which is essentially high performance enterprise internals hiding under a red label - supported in arrays of up to 16 drives"

Satechi Smart Travel Router Review @ TestFreaks

When someone thinks of a router they think of that rather large box with antennas that connects to your network for internet access, at least I do, but technology lets us make things smaller and smaller. Today for review Ive got the Satechi Smart Travel Router and its small, can easily fit in your hand and since its small you can take it with you, hence the name of course. Its much more than a router though, it also has a USB port in it for charging but more importantly is that its a world power adapter that can be used in more than 150 countries so all of your stuff can get power wherever you are. The router is a router obviously, but its also a repeater, an access point and a client which means it can turn other devices into wireless ones, or enable wireless access for them. So read on to learn more"

Phanteks Enthoo Luxe Case Review @ ThinkComputers.org

So what do you do when youve made an awesome product that people love? Well if youre a car company you would start tweaking and changing until youve created a monster GT performance version, or maybe go the other way and make a pure luxury model. Well it just so happens that Phanteks has created just such a product with their Enthoo Pro. As such, it makes sense that they would have developed a better more luxurious version of the Pro at the same time. Today we will be taking a look at the Enthoo Luxe, Phanteks fancy version of the Pro and the true heir to the throne of the Enthoo Primo."


Delidding your Intel Haswell CPU

Being that I have had much experience with naked die cooling from back in the days when AMD still shipped their CPUs without heat spreaders, I was certain that I was up to the task to handle direct die cooling of my Intel 4770K CPU in conjuction with the MSI Die Guard. It did work for a little while. I saw major decreases in running temps, upwards of 10-20C with much better temperature consistency across the cores. Being the tinker I am, I decided to see if I could get better temperatures with different water blocks - thats where the problems began. On my next system boot, one or two of my cores jumped to 100C under load even with the CPU at stock clock settings."

Shuttle Slim-PC DS81 w/ Pentium G3258 @ techPowerUp

Shuttle`s DS81 is a Haswell supporting barebone system, optimized to minimize space while still providing good performance. With its VESA mount it can easily be installed on the back of a monitor. Thanks to native 4K output you could even use it as media PC for your new UHD TV."



The best Guides by the best writers on the internet; PCSTATS Beginners Guides explain computers, software, and all those other wonderful things that cause you frustration.

Learn how to use your computer better, master the internet while protecting yourself, and know what to do when your hard drive kicks the bucket.



"Get the 'Stats and Stay Informed!"