| | |
| --- | --- |
| General News | |

... 60 news stories awaiting approval
Zotax Zbox Nano AQ01 Plus

While Zotac maybe is most knows for their graphics cards they also are specialized on small motherboards and small desktop systems. Today we are reviewing one of those tiny small desktop PC's: the Zotax Zbox Nano AQ01 Plus. This is a very small PC that even comes with a VESA-mount so it can be attached to a TV ore monitor and be out of sight. It has a Quad-core AMD "Kabini" APU, the A4-5000 while a Radeon HD 8330 provides us with the graphics muscles. This is not a gaming machine, even though the GPU should benefit from the Mantle API, but promises to work well as either a media PC, a kitchen PC or even a bedroom PC. Does it have what it takes to compete with tables and other tiny PC's?

Buying advice: Gaming PC - Updated

This buying advice is all about selecting the right components for your new gaming rig. What we've done is we've put together several configurations for different budgets and we also included links to Toppreise.ch and Geizhals.at with prices, that are being updated automatically.

SSD Form Factors: Everything You Need to Know

When solid state drives first started replacing HDDs, they had to fit into computer chassis or laptop drive bays built for HDDs, so they had to conform to HDD dimensions. However, there's no requirement for the SSD to match the shape of a typical HDD as it's more evident today.

Ultra HD 4K Linux Graphics Card Testing

If you`ve been eyeing a purchase of a 4K Ultra HD TV this holiday season and will be connecting it to a Linux system, here`s the information that you need to know for getting started and some performance benchmarks to set the expectations for what you can expect. This article has a number of AMD Radeon and NVIDIA GeForce benchmarks when running various Linux OpenGL workloads at a resolution of 3840 x 2160."

QNAP TS-470 review: a new benchmark

The design of the QNAP TS-470 looks exactly like that of the other QNAP NAS devices we've tested, but looks can be deceiving. Inside, a 2.6 GHz processor is churning away, and with no less than four gigabit ethernet ports, this is a NAS powerhouse.



PCSTATS TechTip - More to Calculator than you think

There's more to Windows Calculator than meets the eye... I bet you already know that Calculator can flip between Scientific, Programmer and Statistical mathematical functions by going to the View menu and changing it from Standard mode. Did you also know it can calculate the down payment on a 25-year mortgage? (Go View > Worksheets > Mortgage and fill in the form to the right) Or that it contains Unit Conversion, so for example when the civilized world reports temperatures of -25 degrees Celsius, you can convert that to degrees Fahrenheit or even Kelvin.
The Worksheets also include Vehicle Leasing and Fuel Economy calculators in imperial and metric. Lastly, if you need to find out how many days till Christmas 2014, go View > Date Calculation and it'll spit out the answer in months, weeks and days, or straight days. In Windows 7 launch Calculator by Start > All Programs > Accessories > Calculator.
Catch more PCSTATS TechTips like this on our Facebook page - LikeUs to get the Tips as they're posted!

Synology DiskStation DS214play NAS Review

"The SynologyDiskStation DS214play features the Intel Evansport, a dual core CPU that has a hardware accelerated transcoding engine and built in floating point unit. Like their other NASes the DS214play is DNLA certified and uses DiskStation Manager (DSM) to control its functions. It runs the latest 4.3 version of DSM but the word from my Synology source is that DSM 5.0 is coming in the near future. "

Top 5 Liquid Cooling CPU Heatsinks - At A Glance

"Frostytech's Top 5 Liquid Cooling Heatsinks Charts rank the best self-contained liquid cooling thermal solutions we've tested, by lowest temperature and lowest noise output.Quickly discover the current Top 5 Self-Contained Liquid Cooling Heatsinks according to FrostyTech. The list is broken down by lowest temperature and quietest operation. HOW IT WORKS: The #1 Rank is considered the current Top self contained liquid cooling heatsink, #10 is considered the 10th BEST. Only self-contained liquid cooling heatsinks that Frostytech has tested in its labs are included in these charts"

EVGA Z87 Stinger Motherboard Review

For Intel's latest Haswell CPUs, EVGA has updated their Stinger motherboard with a Z87 chipset, new features and a new EFI. The Z87 Stinger measures 170.18 x 170.18mm and supports four SATA ports, one mPCI-E/mSATA port, two DDR3 DIMM slots and has a PCI-E 3.0 port for discrete graphics. For external connectivity, an E-SATA port is available in the rear as well as four USB 2.0 ports and four USB 3.0 ports with an additional pair of USB 2.0 and USB 3.0 ports via onboard headers.

MSI's new Socket FM2+ boards are primed for Kaveri

"AMD will release its first Kaveri desktop processors on January 14. At CES this week, MSI was showing several new Socket FM2+ boards ready for Kaveri. Most of them conformed to either Mini-ITX or microATX form factors, but there was one full-sized ATX model in the mix."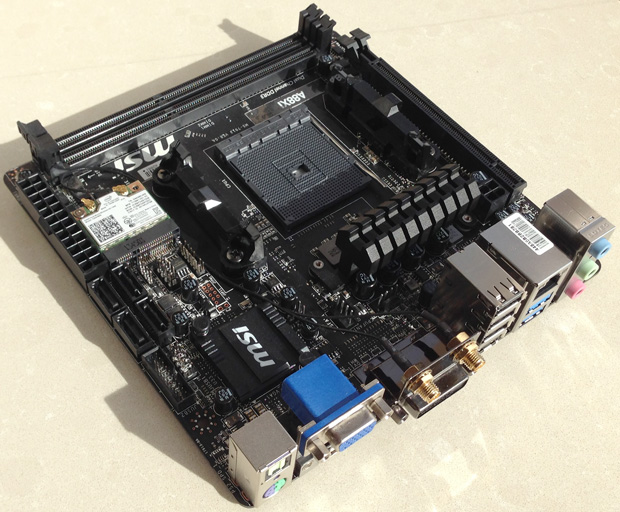 Tiny Steam machine with AMD guts

There was one system missing from that big list of Steam machines Valve published last week. As it turns out, Maingear is prepping a version of Gigabyte's Brix Pro small-form-factor PC with AMD hardware under the hood. Scott got a (literally) hands-on look at it during CES.


Micron provides DDR4 details for servers

Micron is showing DDR4 memory at the Consumer Electronics Show this year. The company had a DDR4 demo last year, too, and the new one isn't much different. However, the next-gen memory type is closer to market, and the company shared some details about when we can expect the first modules.

DDR4 memory for servers will start selling in the spring. The initial modules will target early adopters, and they'll be available directly from Crucial's website, among other sources.

Foxconn December Revenue: US$16.4 billion

Foxconn Electronics (Hon Hai Precision Industry) saw consolidated revenues of NT$490.932 billion (US$16.4 billion) for December hit a monthly record for the second time with growth of 7.62% on month and 18.87% on year, according to the company.