[>>]

[>>]

[>>]

[>>]

More>>

Search...

| | |
| --- | --- |
| General News | |

... 95 news stories awaiting approval
Diablotek Fly Mid-Tower Case Review @ Hi Tech Legion

Snippet: The Fly from Diablotek is extremely lightweight, coming in at only 7.7lbs at the weigh in. Constructed from Aluminum / Magnesium and anodized black or dark grey coating, the Fly is packing a visual punch. The Diablotek Fly is built like a tank and also has a little versatility that the end user may appreciate. There is an option to remove the hard drive cage from the chassis and mount your HDD in the lower optical drive bay, so if you happen to have one of the largest video cards coming in at over 12 long, it will slip in without any issues. With fifteen inches of space from the I/O ports to the front of the chassis the Fly covers the ring. So, let`s see if the Diablotek Fly floats like a Butterfly and stings like a Bee, and if it can score a knockout in the early rounds."

NVIDIA GeForce GTX 560 Debuts: ASUS and MSI

NVIDIA continues to flesh out their DirectX 11 GPU line-up, this time with a relatively affordable offering that drops in right between the GeForce GTX 560 Ti and GeForce GTX 550. The aptly named GeForce GTX 560 (sans Ti) launching today is essentially a replacement for the popular GeForce GTX 460 1GB. It's outfitted with a similar number of CUDA cores, texture units, and ROPs, but the updated transistor mix in the GTX 560's GPU allows NVIDIA to crank up the clocks, and thus increase performance...

Intel Z68 Express with Smart Response Technology:

If you look back to our coverage of the Sandy Bridge launch, we tested the two premiere chipsets in the 6-series, the enthusiast-targeted P67 and mainstream H67. Fundamentally, the two chipsets were very similar (and are based on the same piece of silicon), but each had a specific feature set designed for its target audience. For example, the P67 offered CPU and memory overclocking and increased power and current limits, while the H67 gave users the ability to take advantage of Sandy Bridge's built-in graphics and Quick Sync media-encoding engine. P67 users that wanted to take advantage of Quick Sync and H67 users looking to do some CPU overclocking were simply out of luck. With the Z68 Express, however, prospective Sandy Bridge users no longer need to compromise...

Kyocera Echo Dual-Screen Android Smartphone

We've seen a number of hot smartphones hit the market recently, including the HTC Thunderbolt, Droid Charge, and others. Although each phone has its own appeal, there are also a lot of similarities among today's hottest smartphones—most have a 1GHz processor, at least 16GB of storage in one form or another, at least a 4-inch display, etc. Sprint and Kyocera weren't content to simply offer more of the same in terms of smartphones. That's where the Kyocera Echo comes in to play. This smartphone features an innovative design with not one, but two, screens. The Echo is the first dual-touchscreen Android-based smartphone to hit the market, and it certainly brings a new experience to Android.

Android 3.0 Honeycomb-based netbook

The Asus Eee Pad Transformer tablet PC is one of the more interesting Android tablets on the market in that it has a keyboard docking station that essentially allows it to convert to an Android 3.0 Honeycomb-based netbook. Add to that a power dual core 1GHz NVIDIA Tegra 2 processor and a reasonable MSRP of $399 (just the tablet, 16GB version) and the Transformer looks to be one of the best options currently for Android tablet solutions, for WiFi only solutions. We're prepping a full, detailed performance review here in the coming days but we thought it would be nice to offer a teaser with our video review and a cut from the benchmark suite of test numbers we're running.

Seagate 3TB Barracuda XT 6Gb/s SATA III Hard Drive Review

On the PCSTATS test bench today is Seagate's 3TB, 6Gb/s SATA III Barracuda XT hard drive which gets around the 2.1TB desktop storage capacity limitation by creating two partitions (2.1TB + 0.9TB) with the aid of Seagate's free DiskWizard software.
The 3TB Barracuda XT (model: ST33000651AS) is a 3.5" desktop SATA III drive which uses Perpendicular Magnetic Recording technology, comes with 64MB of onboard cache and supports Native Command Queing (NCQ). Beneath its shiny metal exterior are five platters spinning at 7,200RPM, each with an aerial density of 488Gb/in2. The drives' maximum sustained data rate is pegged at 149Mb/s, average latency at a quick 4.16ms.



News: The Radeon HD 7970 GPU reviewed at TR

We`ve just posted our comprehensive, gut-busting, in-depth review of the Radeon HD 7970. We`ve included an overview of the revised Southern Islands graphics architecture that explains what makes it tick, and we`ve looked at how the 7970 stacks up against competing high-end graphics cards, both in theory and practice. Our tests include an inside the second analysis of frame latencies in the latest DirectX 11 games, and the results of our analysis may surprise you, regardless of what you`ve read elsewhere. Read on for a distinctive, TR-style take on the most complex GPU ever built:"

NZXT Phantom 410 Case @ Rbmods

NZXT is world famous manufacturer of gamer oriented computer cases. Today we will take a look at their newest case in the Phantom series, called Phantom 410. It is slightly modified, midi-sized version of the well known Phantom full-tower. Let?s take a look what it has to offer and how well it performs."

OC3D: Cooler Master Cosmos 2 Review

After what seems like an eternity of waiting since the first = images of the Cosmos 2 were first leaked OC3D can proudly bring you its rev= iew of the Cosmos 2."

REVIEW: Cooler Master Cosmos II Ultra Tower @ PureOverclock

The Cooler Master Cosmos II Ultra looks incorporate many of the successful features of the original design, while bringing new ones into the mix. Water cooling enthusiasts will still be seduced by the ability to house both 360mm and 240mm radiators internally without any modifications; home theater junkies will love the vast storage space available; and stylist disciples will love the new aesthetics. This premium tower may be the new king of the land."

Verbatims 128 GB SSD unit

SSDs are hard at work, trying to replace the old and slow hard drives. Now that the price of these spinning ones is high, perhaps it is time to upgrade? Would the Verbatim SSD offer what we need?"

TYAN Announces Sandy Bridge Server Motherboards

TYAN, an industry-leading server platform manufacturer, and a subsidiary of MiTAC International Corp., announces new single-socket servers that support the Intel® Xeon® Processor E3-1200 series (codename: Sandy Bridge). The S5510 and S5512 motherboards are ideal as entry-level servers for both small business and enterprise server customers. For high-density datacenter applications such as web hosting, TYAN has launched the industry-leading FM65-B5511 Micro Server.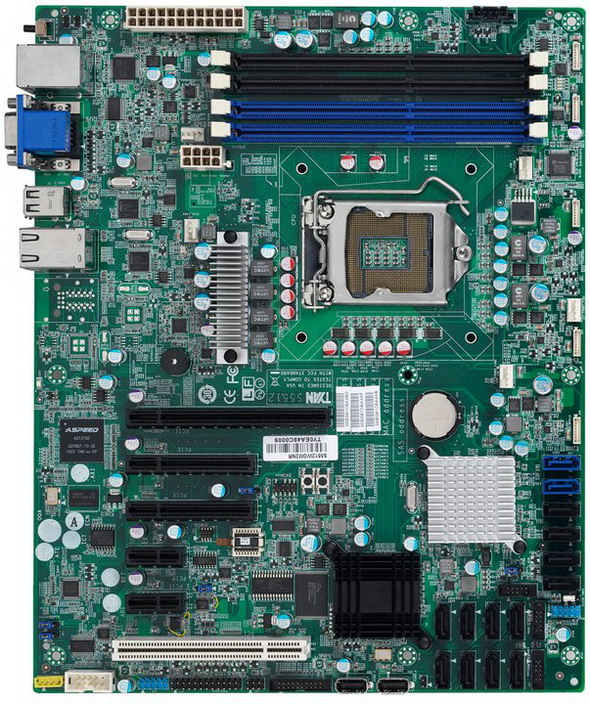 The FM65-B5511 supports up to 18 Intel® Xeon® processors in a 4U enclosure. The FM65-B5511 is based on the Micro Module Server Specification, which addresses the emerging server segment that features scale-out, single-processor nodes with higher density and lower power consumption for web services applications.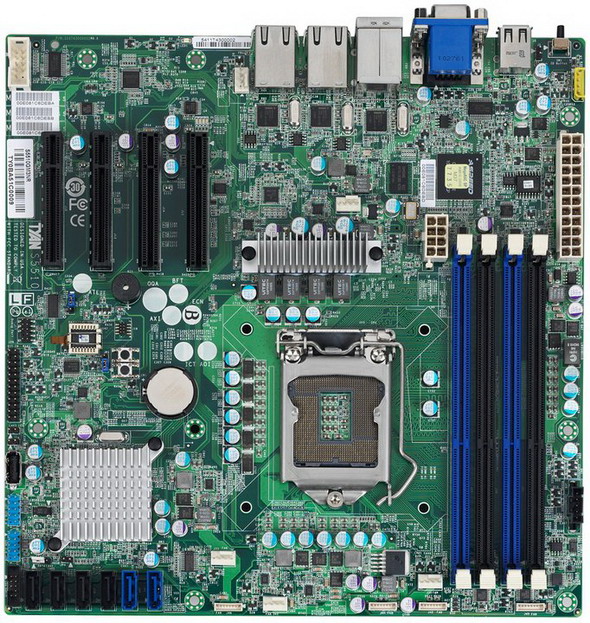 "TYAN now provides a great selection of single-processor server solutions with outstanding price/performance," said TYAN Director of Product Marketing, Kevin Hart. "The TYAN S5510 and S5512 motherboards provide higher performance and lower power consumption, as compared to the previous generation, at about the same cost."
The S5510 series is based on the Micro ATX form factor, and is available in two versions. The S5510GM3NR is a full-featured server platform based on Intel C204 chipset and features four PCI-E 2.0 x8 slots, six SATA ports with two at 6 Gb/s, three 1 G-bit network ports, and IPMI 2.0 support for out-of-band and remote management. The cost-effective S5510G2NR-LE is based on the Intel C202 chipset and features three PCI-E 2.0 x8 slots, six SATA ports at 3 Gb/s, and two 1 G-bit network ports.
The S5512 series is based on the ATX form factor and is available in four versions for rack-optimized server and small business applications. The S5512GM2NR is based on Intel C204 chipset and features five PCI-E 2.0 slots, six SATA ports with two at 6 Gb/s, two Intel 82574L Ethernet controllers, and a dedicated management port with IPMI 2.0 support.
The S5512WGM2NR provides the same features, and supports up to eight SAS ports via an integrated LSI 2008 SAS controller. The S5512GM4NR features four 1 G-bit network ports, as well as a dedicated management port, for a total of five network ports. A lower cost version is available, the S5512G2NR-LE, which features the Intel C202 chipset, four PCI-E 2.0 slots, six SATA ports at 3 Gb/s, and two 1 G-bit network ports.
The TYAN FM65-B5511 offers higher density and scalable performance with 18 removable front-loaded compute nodes, an integrated 1 G-bit or 10 G-bit switch module, and redundant (2+1) hot-swap power supplies. Each individual node supports a single Intel® Xeon® processor E3-1260L or -1220L, up to 32 GB of un-buffered ECC DDR3 memory, and two 2.5" SSD or HDD drives. Each node has two 1 G-bit network ports and features IPMI 2.0 support.
The TYAN S5510 and S5512 motherboards are available through TYAN distributors worldwide. The TYAN FM65-B5511 Micro Server will be available in late Q2 2011. OEM pricing is available upon request.

Toshiba Portege Z835-P330 Ultrabook Review

Toshiba`s Portégé R835-P330 is one of just a handful Ultrabooks currently available and is part of a new breed of laptops intended to blend ultra-portability with performance. Thin, lightweight, and well equipped, the Ultrabook form factor is the direction the Windows laptop market is headed, but first manufacturers have to get a grip on price. Early Ultrabook models have struggled to stay below the $1,000 ceiling Intel has encouraged them to stay under."

GIGABYTE LAN Optimizer Utility

GIGABYTE has released a free software application that offers user-friendly, intelligent network management. Prioritizing network-sensitive applications such as streaming media content, communications and online gaming, LAN Optimizer intelligently manages your network to deliver an optimized online experience.
"LAN Optimizer is a unique and exclusive GIGABYTE application that allows our customers to get the very best online experience by taking charge of their internet bandwidth in a way that was only available to very high-end solutions in the past," commented Henry Kao, Vice President of Motherboard Business Unit at GIGABYTE. "GIGABYTE motherboard users can now intelligently manage different types of network traffic at the touch of a button, dynamically optimizing their home network according to their needs."

LAN Optimizer offers intelligent and adaptive network analysis and management for all network traffic types. Automatic prioritization of data streams from online games, streaming media content and web browsing helps to prevent your network from being strangled by network-intensive traffic such as large data downloads. This means users can now enjoy optimized gaming, communications and entertainment connectivity, while performing multiple online tasks. In cases where an internet connection is shared, LAN Optimizer ensures that the whole family will enjoy sufficient network bandwidth, on all connected devices. LAN Optimizer is a free software application that works in conjunction with the Realtek 8111E Network LAN Controller to monitor and manage your PC's network behavior. It's simple user interface allows you to select the types of network traffic you want to prioritize, including gaming, media streaming, communications or web browsing data traffic. You can also target specific applications, choosing to prioritize or block accordingly. LAN Optimizer also features automatic management options that use adaptive networking intelligence to ensure that you are getting the best online experience possible.

See the GIGABYTE LAN Optimizer in action on GIGABYTE's MoboTV Youtube channel



The best Guides by the best writers on the internet; PCstats Beginners Guides explain computers, software, and all those other wonderful things that cause you frustration.

Learn how to use your computer better, master the internet while protecting yourself, and know what to do when your hard drive kicks the bucket.



"Get the 'Stats and Stay Informed!"